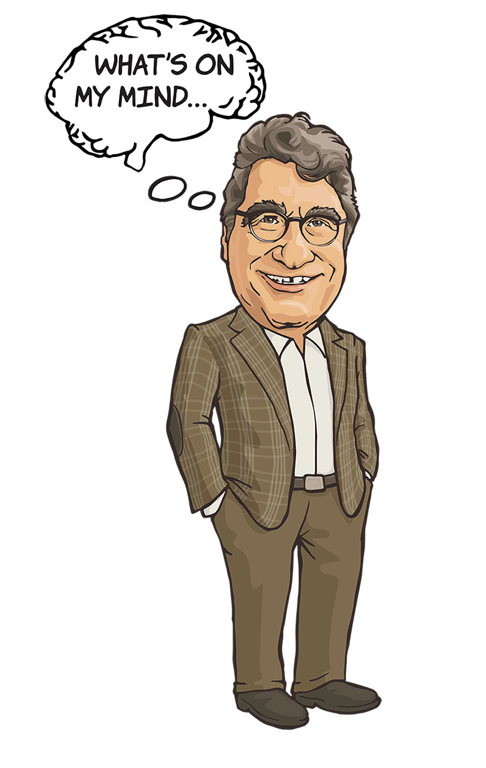 Light and inspiration are precious anytime, but especially so today, on the winter solstice. As we settle in for the year's longest night and pause for winter break, I find that reflecting on our work together over the last 12 months is a good way to warm the soul and fire the spirit for the year to come. Here, in Ghost-of-Christmas-Past fashion, is a flyover of just some of our shared accomplishments in 2018:
Our faculty continued to produce research that helps solve humanity's greatest challenges and support a healthy, prosperous society. A few (truly, only a few among many) highlights from across the disciplines:
We expanded our capacity for educating the whole student.
We kicked off the year by announcing the launch of our residential colleges capital projects initiative, expanding our commitment to 24/7 learning. A milestone of that initiative: the opening of E. Bronson Ingram College in October.
This year also marked the launch of Immersion Vanderbilt, which gives every undergraduate the opportunity to spend four years diving deep into one of their passions and then share what they've learned in a senior year project.
And because a holistic education should include a holistic approach to student wellbeing, we launched our new Student Care Network to deliver a system of inclusive health and wellness services. It's aligned with our Strategic Plan for Vanderbilt's Mental Health and Wellbeing, which provides a roadmap for supporting the mental health of the entire Vanderbilt community.
We lived our belief that an elite education should be accessible to all qualified students, regardless of means.  
Opportunity Vanderbilt, our top-ranked financial aid program that eliminated student loans for undergraduates, marked its 10th anniversary this year and helped pave the way for one of the most inclusive first-year classes in our history. Our new Bass Military Scholars Program, meanwhile, will provide financial aid for military veterans pursuing professional degrees in law, management, education, medicine and nursing, thanks to a $25 million gift from the Lee and Ramona Bass Foundation.
The excellence of our faculty, commitment to access to a Vanderbilt education, and our bold academic strategy continues to draw record philanthropic support. We set a new, $6 million record on Giving Day; received Bruce and Bridgitt Evans' $20 million gift for residential colleges and for leadership in the School of Engineering; established the Frist Center for Autism and Innovation with a $10 million gift from Jennifer and Billy Frist; and received $5 million from longtime supporters Elizabeth Sauereisen Allen and Greg Allen, which will support Opportunity Vanderbilt as well as faculty research and teaching. Alumni and donors are playing a key role in expanding support for faculty throughout their careers with the launch of the Faculty Fellowship Challenge, which is backed by an institutional investment of $25 million, to create new fellowships and directorships.
As we approach the end of the year, we have received $114 million in new gift commitments to the university. It is the very first time in Vanderbilt's history that we have crossed the $100 million mark at the mid-point of our fiscal year.  This includes the times where Vanderbilt University and VUMC were a single entity, which makes the work of our colleagues in Development and Alumni Relations even more remarkable!
Vanderbilt's excellence and financial accessibility are only possible because of generous donors who share our passion for our mission. We are grateful for all of them.
We launched new ways to create dialogue around our diversity and further build a community that is inclusive of all.
This year we were proud to welcome James Page Jr. as vice chancellor for equity, diversity and inclusion and chief diversity officer. We also launched our inaugural "Wrestling with Our Past" symposium, convening experts to grapple with the racism ingrained in the histories of our university, city and nation.
In October, we unveiled four extraordinary paintings to launch our "Vanderbilt Trailblazers" portrait series, which is part of our work to recognize pioneering members of our community whose stories have been excluded or minimized in the telling of our history.
In our effort to establish equity and increase inclusion for women on our campus, we launched a new initiative to assess the status of women students, postdocs and faculty, as well as an effort to examine workplace issues and equity among women on staff.
And because a university must provide a platform for diverse voices and ideas, we welcomed an exciting mix of timely and compelling speakers to campus. Among them: former Vice President Joe Biden; Professor Anita Hill; former CIA and NSA director Gen. Michael Hayden; international human rights lawyer Amal Clooney; former GOP presidential candidate and Hewlett-Packard CEO Carly Fiorina; and Dr. Temple Grandin, an inventor, author and advocate for people with autism.
We anchored down—on the field and off.
It was a glorious year for the Black and Gold. As our 'Dores head to the Texas Bowl, let's close our reflection on the year with a hearty cheer for a year that saw a national championship in bowling, an SEC regular-season championship in soccer, and SEC regular-season and tournament championships for women's tennis. Earlier this month, we named Malcolm Turner as the new athletics director who'll continue David Williams' exemplary work in building a winning athletics program while ensuring that our student-athletes are just as much students as they are athletes.
As you can see, we have much to be proud of in 2018. More than ever, Vanderbilt is a source of light in the world, producing ideas, knowledge, and leaders who are creating positive change. My heartfelt thanks to every one of you for your contributions this year, along with my best wishes for an equally abundant and light-filled 2019.