Robin Ingram Patton recognized for generous investment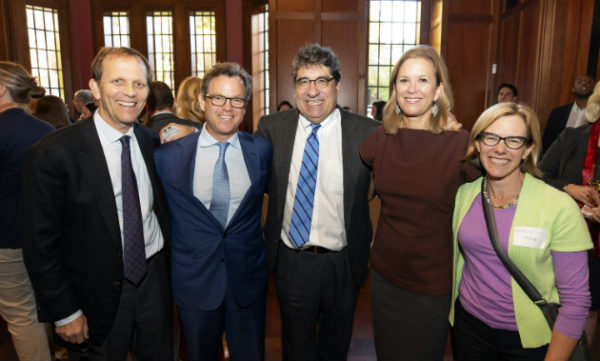 E. Bronson Ingram's deep love for Vanderbilt was remembered fondly at a celebration of the university's newest living-learning community that is named for the prominent business and philanthropic leader. He served on the Board of Trust for nearly three decades and led the board from 1991 until his death in 1995.
Chancellor Nicholas S. Zeppos and Provost and Vice Chancellor for Academic Affairs Susan R. Wente thanked the Ingram family at the festive event—held in the Great Room of the E. Bronson Ingram College—for their vital support for Vanderbilt's residential college system.
Zeppos paid tribute to Robin Ingram Patton for her generous investment in the residential college that is becoming known around campus as "Bronson."
"This is in part a story of a daughter's love and admiration for her father," Zeppos said. "Robin also has a remarkable sense of scale and design that is truly reflected in our newest living-learning community. We could not have accomplished this extraordinary project without her."
Zeppos also expressed deep gratitude to Martha Ingram, Board of Trust chairman emerita, for her "bold leadership and generous philanthropy" that helped launch Vanderbilt's first-year residential college experience—The Martha Rivers Ingram Commons—in 2008. The chancellor noted the importance of residential colleges for bringing students together from different backgrounds to live and learn together under the guidance of outstanding professors such as Sarah Igo, who is serving as the inaugural faculty director of Bronson College and residing there with her family.
"The ultimate expression of the great American collegiate university experience is to bring students together – to try to create a 'home' on campus with diversity in a small community," Zeppos said. "Then we harness the power of our world-class faculty to spark discovery and prepare our young people in the shared mission of making the world a better place."
Wente noted that education reformer John Dewey had said, "Education is not the preparation for life; education is life itself." Dewey's message continues to resonate strongly at Vanderbilt with many initiatives. "Through the residential colleges and Immersion Vanderbilt, we truly aim to provide opportunities that will have our students thinking, engaging, questioning and driving for positive change now on campus and, of course, after they graduate," Wente said.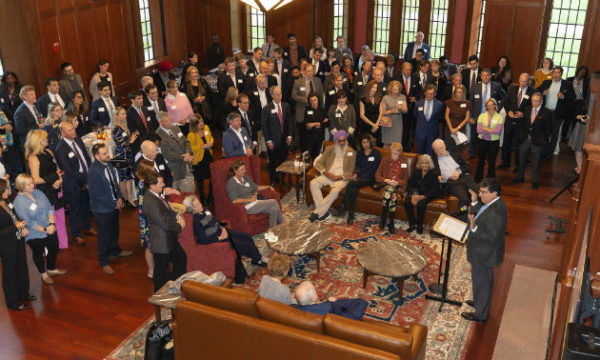 Vanderbilt's residential college system was first conceptualized in the late 1990s and then advanced through strategic planning processes in 2002 and2014. "This work has been decades in the planning for centuries of impact," Wente said. "We mark today as a key milestone in building out our residential college system and reflecting on and thinking about its profound importance in our community."
Igo, an associate professor of history, welcomed the Ingram family and approximately 150 friends and members of the Vanderbilt community to the celebration, describing some of the programs that have already made Bronson College a special place. "We have 'Bronson breaks,' where students come together over food, board games and often very lively conversation," Igo said. "We also have faculty-student dinners with topics ranging from theatre to political rhetoric, and outings to cool places like Cheekwood, Oz Arts, and the Civil Rights Room at the Nashville Public Library."
Patton concluded the celebration by sharing some of her favorite memories and insights about her beloved father. "He was tough but you would never find someone more loyal who strived to help people," she said. "He also cared deeply about Nashville and Vanderbilt."