Chancellor Nicholas S. Zeppos unveiled four portraits on Saturday that are part of a new "Vanderbilt Trailblazers" portrait series to honor members of the Vanderbilt community who broke barriers at the university and in society at large. The portraits unveiled on Saturday depict Vanderbilt alumni Perry Wallace, the Rev. Walter R. Murray Jr., the Rev. James Lawson and Bishop Joseph Johnson.
"I truly believe that symbols, pictures, history, culture and the revelation of hidden figures have to be part of the project of the university," said Zeppos. "We do things at Vanderbilt that last for hundreds of years, so let's get off to a good start. We've got a lot more walls to fill and a lot more pioneers."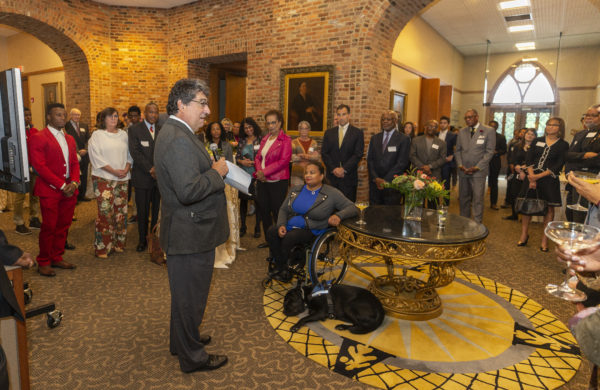 The Trailblazer portraits mark the first portraits of African Americans displayed in Kirkland Hall. Zeppos commissioned world-renowned artist Simmie Knox for the project. Knox has painted portraits of several high-profile public figures, including Oprah Winfrey, Muhammad Ali, Supreme Court Justices Thurgood Marshall and Ruth Bader Ginsburg, and the official White House portraits of President Bill Clinton and First Lady Hillary Clinton.
The portraits currently hang in the parlor of the Mary McClure Taylor Lobby in Kirkland Hall. They will remain in Kirkland Hall until they are dedicated in their permanent locations across campus next year.
At Saturday's unveiling, Zeppos credited Associate Vice Chancellor Tina Smith and Vice Chancellor for Athletics and University Affairs and Athletics Director David Williams for their work and guidance on the Trailblazer portrait series.
"I have spent much of my 19 years at Vanderbilt in this building, and the pictures that were in this building spoke to me and said that I didn't belong," said Williams on Saturday in Kirkland. "By putting these portraits up, it says to people of color that walk in here that they have a place here."
Creating welcoming, inclusive and accessible spaces that recognize and celebrate the diversity of the Vanderbilt community is a guiding principle of the FutureVU plan. The Vanderbilt Trailblazer portraits join with efforts across Vanderbilt's campus aimed at establishing symbols, art, buildings, places and programs that represent and reflect the diversity within the Vanderbilt community, including the recently unveiled Legacy Pioneers Portraits at the Bishop Joseph Johnson Black Cultural Center.
Trailblazers whose portraits were unveiled include: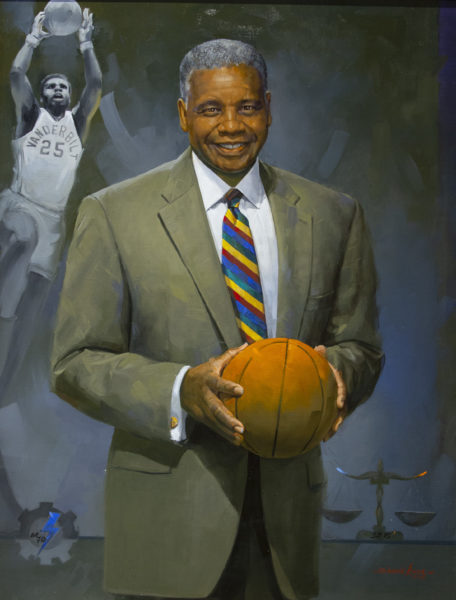 Perry Wallace, who enrolled at Vanderbilt in 1966, was an engineering student and the first African American varsity basketball player in the Southeastern Conference. Wallace received numerous honors during his time at Vanderbilt, including winning the SEC Sportsmanship Trophy after a vote by league players in 1970. Wallace's story was the subject of The New York Times best-selling book Strong Inside by alumnus Andrew Maraniss, which was The Martha Rivers Ingram Commons reading during the 2016-17 and 2017-18 academic years. His life was also recently detailed in the documentary Triumph: The Untold Story of Perry Wallace. Wallace was the 2017 recipient of the Vanderbilt University Alumni Association Distinguished Alumni Award, an honor his family received on his behalf after he died in December 2017.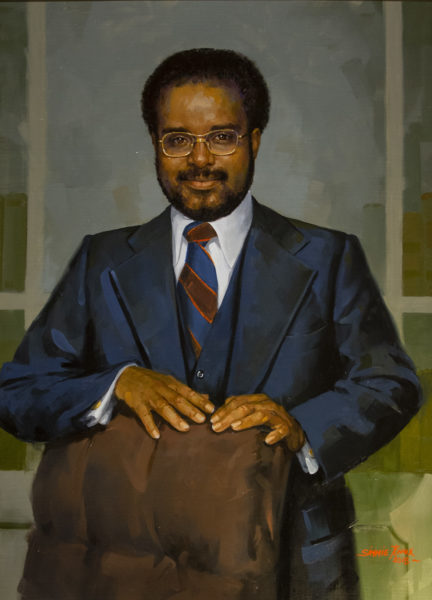 Walter R. Murray Jr., founder of the Association of Vanderbilt Black Alumni, was among the university's first African American undergraduate students. He was elected vice president of the Student Government Association and was a founder of the Afro-American Student Association. Elected a young alumni trustee in 1970, Murray became the first African American to serve on the Vanderbilt University Board of Trust. A Vanderbilt residence hall and memorial lecture were named in honor of Murray, who died in 1998.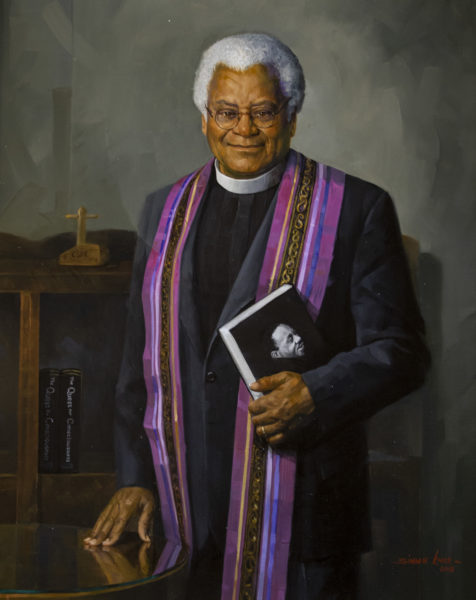 James Lawson, described by the Rev. Martin Luther King Jr. as "the leading nonviolence theorist in the world," enrolled at Vanderbilt in 1958 as a transfer student. He helped organize sit-ins to desegregate lunch counters in downtown Nashville. Lawson's participation in the sit-ins led to his expulsion from Vanderbilt in 1960 following a vote by the executive committee of the university's Board of Trust, a move that generated national headlines and prompted some faculty members to resign in protest. A compromise was worked out to allow him to complete his degree, but he chose instead to transfer to Boston University. Eventually, Lawson and Vanderbilt reconciled and, in 1996, he received the Divinity School's first Distinguished Alumni/ae Award. Lawson returned to Vanderbilt to teach as a Distinguished University Professor from 2006 to 2009, and in 2007 the university established the James M. Lawson Jr. Chair. In 2018, a scholarship for undergraduate students at Vanderbilt was named in his honor.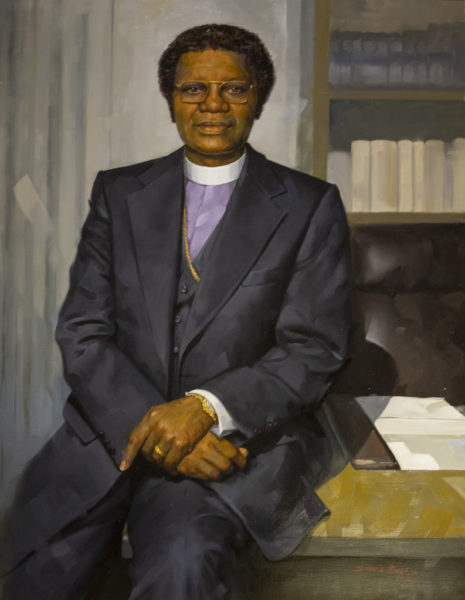 Joseph Johnson graduated from the Vanderbilt School of Religion (renamed Vanderbilt Divinity School in 1956) in 1954 and was the first African American graduate of Vanderbilt University. He was also the first African American to earn a doctor of philosophy degree from Vanderbilt, graduating in 1958. He became a professor of religion at Fisk University and was elected the 34th bishop of the Christian Methodist Episcopal Church in 1966. He was elected to the Vanderbilt Board of Trust in 1971 and he served until his death in 1979. The Black Cultural Center was dedicated in his honor in 1984. Johnson was honored by the Divinity School posthumously with its Distinguished Alumni/ae Award.
These portraits are the first in a series. As artwork continues to be established throughout campus, the Vanderbilt community will have the opportunity to provide input on ways to honor the many Trailblazers in the university's history.