Media Inquiries
Latest Stories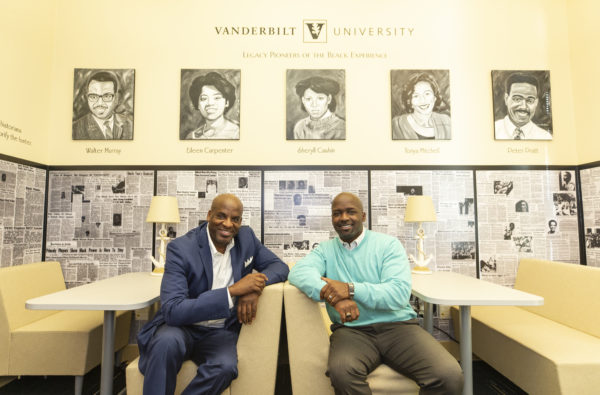 Individuals from Vanderbilt present and past who have made Vanderbilt a more inclusive space for black students, faculty and staff are the subject of 10 new portraits unveiled by the Bishop Joseph Johnson Black Cultural Center Oct. 10. The 10 Legacy Pioneer Portraits, which were painted by James Threalkill, BS'79, will hang in the Study Lounge inside the Black Cultural Center.
"This project is about helping the Vanderbilt community to see, understand and appreciate the black history of the university and those who helped shape that experience for the better," said Rosevelt Noble, assistant dean of students and director of the Black Cultural Center. "It's important for students who frequent the Black Cultural Center to realize that a lot of people made significant sacrifices to make their experience what it is today."
The portraits unveiled in the Black Cultural Center today include Rev. Walter R. Murray, Chancellor Nicholas S. Zeppos, Eileen Carpenter, Sheryll Cashin, Peter Pratt, Ray Winbush, Tonya Mitchell, Monica Peek, Akaninyene Ruffin and former Chancellor Gordon Gee. Noble notes that this is just the first class of Legacy Pioneers and that there is much more to come.
The Legacy Pioneers initiative was inspired by the Lost in the Ivy project, which Noble established back in 2007. Lost in the Ivy comprises hundreds of interviews and personal narratives on the African American experience at Vanderbilt, which includes faculty, staff, students, and alumni from across the university. More than 500 interviews have been conducted to date and the project has brought to light many stories that for years remained untold.
The Legacy Pioneer initiative came to life when Noble repeatedly heard the stories told during the interviews about the lasting impact of particular individuals or events in improving the Vanderbilt culture. Subsequent research through old newspapers, magazines and other artifacts confirmed the oral narratives and identified some individuals as pioneers for their enhancements to the black experience.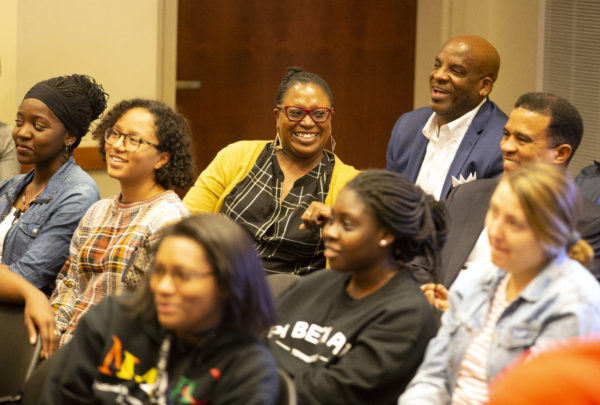 In viewing the full arc of Vanderbilt's integrated racial history, Noble was struck by how many of the Legacy Pioneers were not aware of the lasting impact of their actions on the Vanderbilt experience. "Many of them did not realize the impact of their actions; however, the university is much better for it today."
The Legacy Pioneers portraits will hang in the undergraduate study lounge. The lounge displays a wallpaper created especially for the room, comprised of a collage of newspapers articles pulled from the archives of The Hustler. All of the articles displayed reference black people or black issues spanning from 1964 through December 2017. In addition, the newly renovated Legacy Lounge re-opened inside the Black Cultural Center with an expanded historical timeline containing over 500 facts related to black history at Vanderbilt.
Ultimately, Noble hopes that the students, faculty and staff who see these portraits will be inspired and motivated to continue the efforts of those who came before them.
"I hope that by learning about the legacy pioneers and engaging with the university's racial history, students will have a greater appreciation for their current experience, as Vanderbilt has not always been like it is now."