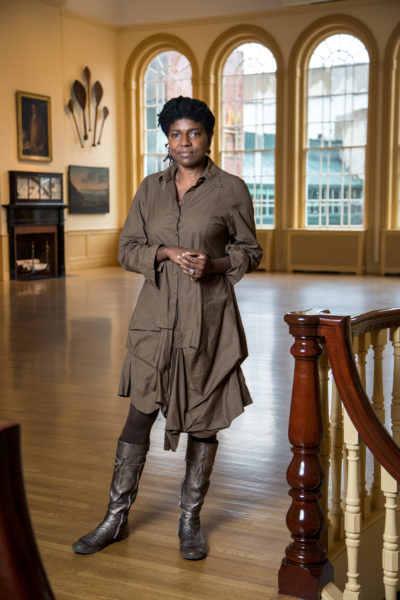 Maria Magdalena Campos-Pons will launch the lecture series "Art, Democracy and Justice" with three prominent artistic voices at the Frist Art Museum on Nov. 14.
The event, which is free and open to the public, will begin at 6:30 p.m. in the Frist Auditorium.
"This is a deeply important time in our nation's history for these conversations on the integral relationships between art, democracy and justice," said Campos-Pons, the Cornelius Vanderbilt Chair of Fine Arts and professor of art. "Art does not happen in a vacuum. Art mirrors society, and is a testimony to our time."
Campos-Pons, whose own work investigates themes of history, memory, gender and religion and how they inform identity—wants to connect the Art Department and Vanderbilt, more broadly, to a growing dialogue around the world about what is shifting in the practice of art and democracy.
"I'm particularly excited for our visiting speakers to add to the expanding reach and rigor of our Art Department's curriculum," Campos-Pons said.
Joining Campos-Pons for the inaugural event are:
Holland Cotter, co-chief art critic and a senior writer at The New York Times; His numerous awards include the Pulitzer Prize for Criticism and the Lifetime Achievement Award for Art Writing from the College Art Association. Cotter, a former contributing editor to Art in America, earned a master of philosophy in South Asian art from Columbia University.
Olu Oguibe Nigerian-born artist and writer; His work has been exhibited in museums and galleries around the world and he is a senior fellow of the Smithsonian Institution. He received the 2017 Arnold Bode Prize of the City of Kassel for Documenta14.
Adam Szymczk, Polish artist who was artistic director of Documenta14 (Athens/Kassel). He co-founded the Foksal Gallery in Warsaw and served as director of Kunsthalle Baselm, a place for innovative contemporary art exhibitions of an emerging generation of artists. He is a recipient of the Walter Hopps Award for Curatorial Achievement from the Menil Foundation.
"Our panelists are current thinkers and makers who will bring their fresh perspectives to the role of art as a social and cultural shaper," said Campos-Pons "And having an artist, administrator and critic engage face-to-face on our topic could provide some interesting dynamics. I'm also excited for the expertise of our visiting speakers to add to the expanding reach and rigor of the curriculum of Vanderbilt's Art Department.
Campos-Pons, who joined the faculty in 2017, said she is pleased to have the Frist Art Museum and Fisk University as partners, as her department wants to develop more synergy with community organizations and institutions on art-related issues of broad public and academic interest.
This event is also made possible with collaboration and generous support from Vanderbilt's Department of Art, Office of the Chancellor, and Dean's Office of the College of Arts and Science.
For more information, email Maria Magdalena Campos-Pons (maria.m.campos-pons@vanderbilt.edu).