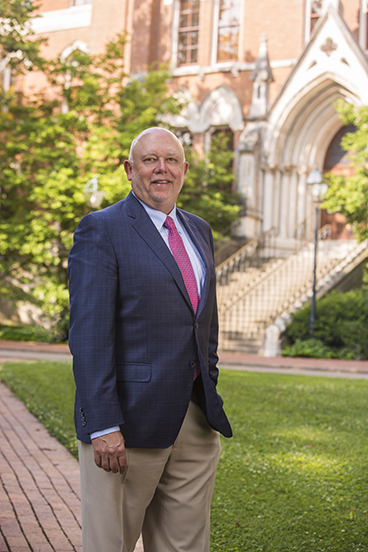 John G. Geer, a distinguished political scientist and a seasoned academic leader, has been named the next dean of the Vanderbilt University College of Arts and Science. He will begin a five-year term as dean July 1, pending approval of the Vanderbilt University Board of Trust.
"John Geer has been essential to the forward momentum of Vanderbilt for more than 20 years—from helping to lead the development and implementation of our Academic Strategic Plan to being one of our most prolific and visible researchers," Chancellor Nicholas S. Zeppos said. "His experience and vision make him the ideal person to lead the College of Arts and Science at a time when it is poised to build on its broad and deep strengths as Vanderbilt's largest and most diverse school."
Geer, who is the Gertrude Conaway Vanderbilt Professor of Political Science, has served as vice provost for academic and strategic affairs since September 2014. He also served as interim dean of the Graduate School in 2015 and was chair of the Department of Political Science from 2010 to 2014.
Geer was recommended for the dean's role following an extensive national search by a committee comprising faculty, students and alumni from a broad array of disciplines chaired by Camilla Benbow, Patricia and Rodes Hart Dean of Education and Human Development. The provost issued an open call for nominations to the entire college. Leading executive search firm Russell Reynolds Associates conducted the national search, led by College of Arts and Science alumnus Jett Pihakis. The firm and committee sought input from campus stakeholders in information-gathering meetings and through informal networks. The candidate pool included more than 40 academic leaders from across the nation, 10 of whom were selected for short in-person interviews in Nashville. A final slate of candidates was then brought to campus for more in-depth interviews.
"I am deeply grateful to the entire search committee for their dedication to this process and for this highly successful outcome. John emerged as the leading candidate from a highly competitive pool based on the depth of his experience, his proven commitment to scholarship, and his passion for advancing all areas of Arts and Science," Provost and Vice Chancellor Susan R. Wente said. "Not only has John been the leading driver behind some of our most impactful initiatives, but he has brought focus and attention to faculty recruitment and retention to ensure that we are promoting a welcoming, supportive and inclusive academic environment. I am thrilled that he has agreed to serve as dean and look forward to working with him and our faculty to continue to advance the College of Arts and Science."
As vice provost, Geer spearheaded the design and implementation of several of the essential components of the Academic Strategic Plan, after co-chairing its planning process with Wente from 2013 to 2014. He serves as co-chair of the Trans-Institutional Programs Council, which is charged with identifying TIPs applications that will expand and strengthen Vanderbilt's research and teaching portfolio through its $50 million trans-institutional initiative. He also led a three-year process involving faculty from across campus to design and implement Immersion Vanderbilt, a new undergraduate degree requirement launching this fall that encourages experiences in four pathways: creative expression, research, international, and civic and professional.
"I am truly honored by this opportunity to become dean of the college that has been my intellectual home for more than 20 years," Geer said. "The opportunity to work with amazing faculty, stellar students and gifted staff is one that I cherish. I very much look forward to collaborating with colleagues in A&S and across the entire campus as we further advance the trans-institutional mission of the college and the university."
Geer has led multiple initiatives to recruit, support and retain faculty, including the launch of the Faculty Development and Diversity website, the Faculty Insights professional development series, and as chair of the Deans Working Group to support implementation of the recommendations of the COACHE Faculty Satisfaction Survey. He also has led and co-chaired numerous other initiatives, faculty councils and committees through the university's shared governance process. Examples of this work include launching a strategic review process for the Vanderbilt Press; leading the successful search for the Evans Family Executive Director of the Career Center, Kate Brooks; and co-chairing the search for the first vice provost for inclusive excellence, Melissa Thomas-Hunt.
"I have worked closely with John on the TIPs Council for the last four years and have come to deeply respect his passion—and his problem solving—for faculty success, as well as his strong commitment to inclusive excellence," search committee member Dana Nelson, Gertrude Conaway Professor of English and chair of the English department, said. "John recognizes the existing strength of the college and is committed to involving and enhancing faculty self-governance as we move forward. I very much look forward to working with him as dean."
Geer was a founder of the Center for the Study of Democratic Institutions and now co-directs the influential Vanderbilt Poll, which launched in January 2011. In 2015 the Vanderbilt Poll became a charter member of the American Association for Public Opinion Research's Transparency Initiative. The Vanderbilt Poll conducts surveys of the entire state and of Nashville, offering the chance to assess the public's thinking on a range of issues that is of interest to citizens, policymakers and elected officials.
He has published five books and more than 20 articles about presidential politics and elections, and previously served as editor of The Journal of Politics. In 2019 a new edition of Gateways to Democracy will appear in print. An earlier book, In Defense of Negativity: Attacks Ads in Presidential Campaigns, won the Goldsmith Book Prize from Harvard University. Geer has provided extensive political commentary in the news media, including live national interviews for FOX, CNN, NBC, CBS, MSNBC, ABC, PBS and NPR. He also has written op-ed pieces for Politico, The Washington Post, Los Angeles Times, USA Today and Chicago Tribune.
Geer's teaching has earned him several awards at Vanderbilt, including the 2014 Vanderbilt Alumni Education Award, the 2009 Ellen Gregg Ingalls Award for teaching excellence, the 2005 Jeffrey Nordhaus Award, and the 2004 Birkby Prize.
"John is well-versed in the issues that the College of Arts and Science is facing. He has had excellent communication with the higher administration as vice provost. He is ready to hit the ground running," search committee member Benigno Trigo, professor and chair of the Department of Spanish and Portuguese, said."His long experience in many capacities at Vanderbilt makes him uniquely qualified to make a seamless transition to the position of dean of the College of Arts and Science. I believe he will bring continuity to the priorities of the larger university."
Geer joined the Vanderbilt faculty as associate professor of political science in 1995. He earned his Ph.D. from Princeton University in 1986 and his bachelor's degree from Franklin and Marshall College in 1980. Before coming to Vanderbilt, he was on the faculty at Arizona State University.
Geer will succeed Kamal Saggi, who has served as interim dean of the College of Arts and Science since January 2018. Saggi holds the Frances and John Downing Family Chair and continued to serve as dean of social sciences in Arts and Science while interim dean of the college.
"Kamal was an outstanding leader for Arts and Science during this time of transition. I thank him for his dedication to the success of our students, faculty and staff and for his continued service to Vanderbilt," Wente said.
Geer will work with Saggi to ensure a smooth transition for the college and will work with Wente to develop a transition plan for his current responsibilities as vice provost.