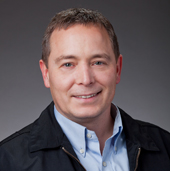 Craig W. Lindsley, co-director of the Vanderbilt Center for Neuroscience Drug Discovery, has been elected a fellow of the National Academy of Inventors. Lindsley was one of 148 inventors named a 2018 fellow by the NAI, which recognizes and encourages inventors with patents issued from the U.S. Patent and Trademark Office. The organization's mission is to enhance the visibility of academic technology and innovation and translate the inventions of its members to benefit society.
Lindsley is William K. Warren Jr. Professor of Medicine, professor of pharmacology and biochemistry in Vanderbilt University School of Medicine, and professor of chemistry in the College of Arts and Science.
"Craig is an extraordinarily talented and productive scientist. His ability to discover and develop drug candidates is unmatched in academia," said Larry Marnett, dean of basic sciences of the School of Medicine and Mary Geddes Stahlman Professor of Cancer Research. "This is a richly deserved honor, and we are very proud of him."
Election to NAI fellow status is the highest professional distinction accorded to academic inventors who have demonstrated a prolific spirit of innovation in creating or facilitating outstanding inventions that have made a tangible impact on quality of life, economic development and the welfare of society. Those elected to the rank of NAI fellow undergo a rigorous nomination and selection process. The 2018 class has made a notable impact in a variety of fields, including biomedical engineering, laser photonics and computer sciences.
The 2018 fellows represent 125 research universities and governmental and nonprofit research institutes worldwide and are named inventors on nearly 4,000 issued U.S. patents. To date, there are more than 1,000 NAI fellows who have generated over 11,000 licensed technologies and companies, created more than 1.4 million jobs, and generated over $190 billion in revenue.
Vanderbilt faculty previously elected fellows of the NAI are James E. Crowe Jr., Ann Scott Carell Chair, professor of pediatrics and professor of pathology, microbiology and immunology; Philippe M. Fauchet, Bruce and Bridgitt Evans Dean's Chair in Engineering; Harold L. Moses, professor of cancer biology, emeritus; and John C. Gore, Hertha Ramsey Cress Chair in Medicine and University Professor of Radiology and Radiological Sciences.
The 2018 NAI fellows will be inducted on April 11, 2019, as part of the Eighth NAI Annual Meeting in Houston, Texas.