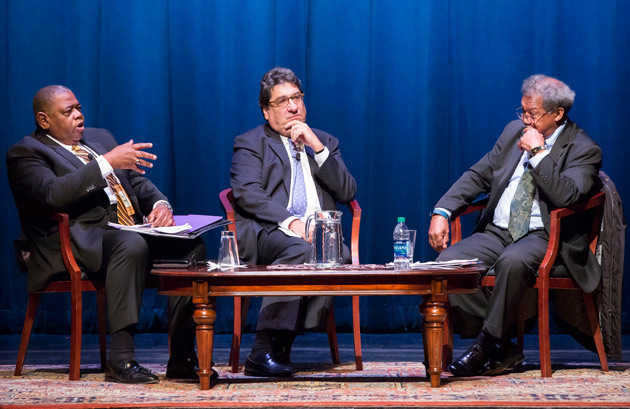 Vanderbilt's symposium on race, reconciliation and reunion brought together 20 experts for a two-day event to discuss the difficult issues that have faced America since its inception.
The conference, titled "Wrestling With Our Past," arose from the renaming of Memorial Hall in 2016. When Chancellor Nicholas S. Zeppos announced that the university was removing "Confederate" from the name of Memorial Hall, he pledged to continue the difficult conversations around race and reconciliation.
"Whether it is in the library or the laboratory, our community must have conversations to interpret and reinterpret the segregation and racism of the past and present. As a university, we are mirrors for society," Zeppos said.
Dennis C. Dickerson, the James L. Lawson Jr. Professor of History, organized the conference, held March 22–23. He assembled academic experts, students and other professionals from across the country for discussions steeped in the occasions and practices that have defined the country's racial history.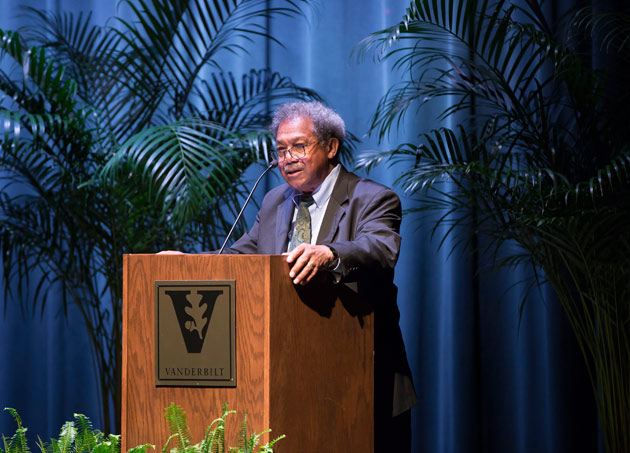 The event kicked off with a keynote presentation on March 22 by Thomas C. Holt, the James Westfall Thompson Professor of American and African American History at the University of Chicago. His speech, titled "Legacies of Evil: A Comparison of the Confederacy, Germany and France," provided a comparative analysis of each nation's reckoning with genocide.
In his remarks, Holt shared how past evils still influence today's experiences. His hometown of Danville, Virginia, was also the Confederacy's last capital. He described how the house that Confederate President Jefferson Davis called home in April 1865 for the last eight days of the Civil War evolved into a segregated public library that he was barred from visiting during his childhood.
"When I would say I am going home, it was Danville. And yet, home was a place of alienation, a place where somehow I didn't belong," Holt said.
Following Holt's presentation, he was joined onstage by Zeppos and Dickerson for a question-and-answer session that focused on the role of the academy in approaching these complex issues.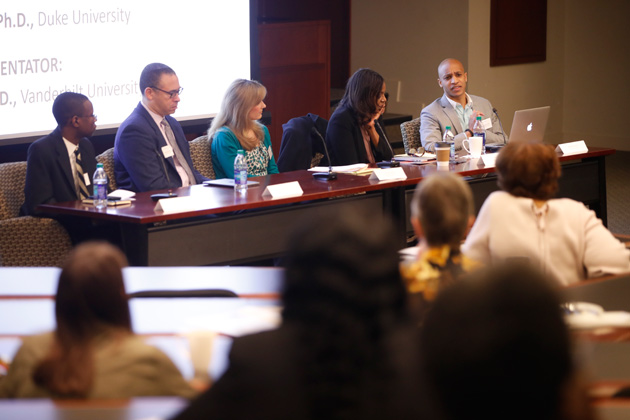 Friday's panels continued the discussions on these complicated issues, with renaming controversies a frequent topic. Jonathan S. Holloway, now provost at Northwestern University, was the first African American dean of Yale College and a former master of one of Yale's residential colleges, which was named for John C. Calhoun. Calhoun, a South Carolina native who graduated from Yale, was the seventh vice president of the United States and promoted slavery as "a positive good."
Holloway became a pivotal figure in the 2015 movement to rename Calhoun College. Though he initially resisted the name change, as the protests continued he says he saw his actions as "precious, to the point of being delusional." Yale's Calhoun College was renamed in 2017 in honor of alumna and computer scientist Grace Murray Hopper.
"The name change was grounded in the important discussion about race," he said. "Whose histories matter? What are our obligations to the past?"
Georgetown faced similar controversy over two buildings—Mulledy Hall and McSherry Hall—named for campus presidents who oversaw the 1838 sale of 272 university-owned slaves to pay off the campus debt.
"These issues may start with a building's name, but they never end with a building's name," said David Collins, a Jesuit priest and history professor at Georgetown who chaired the university's Working Group on Slavery, Memory and Reconciliation. "Ultimately, these are projects that work toward atonement and reconciliation."
In 2015, the Georgetown buildings were temporarily renamed Freedom Hall and Remembrance Hall. In 2017, they were formally renamed Isaac Hawkins Hall, after one of the sold slaves, and Anne Marie Becraft Hall, for a founder of one of the city's first schools for black girls who later became America's first black nun.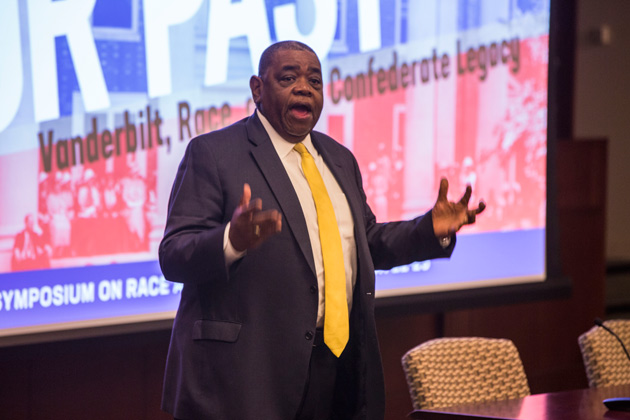 Several historians discussed the role of the United Daughters of the Confederacy after the Civil War. It was the Tennessee chapter of the UDC that made the 1933 gift to Vanderbilt for the construction costs and naming rights of Memorial Hall. In the decades after the Civil War, UDC chapters across the country donated books to schools and universities, created scholarships and founded endowed chairs. They also raised funds for statues and monuments to vindicate the Confederate soldiers who lost the war.
"The UDC was the most vocal presence in Confederate history after the Civil War," said Caroline E. Janney, a professor of history at Purdue. "All of these efforts in education were for white students only, not to help black students. … They wanted to vindicate the Confederate cause and show that secession was right and constitutional."
Duke history professor Thavolia Glymph said that the UDC members used articles, books and political lobbying with the goal of restoring the Old South. "The war had changed their lives, and they were bitter," she said. "They wanted to restore the old South, where they had been on a pedestal. Rich white women learned to worry about the politics of poverty."
Open discussion and continuing education are essential to keep moving forward on issues of race and reconciliation, presenters said.
The constant need to educate young people about the past cannot be ignored, said Bernard E. Powers Jr., professor of history at the College of Charleston. "High schools still want to have 'slave auctions.' Students still want to put on antebellum balls," he said. "It's still a question of educating people. Renaming a building or taking down a monument is just the first step. We still have miles to go to get at the root of the problem."
Associate Professor of Public Policy and Higher Education Christopher Loss noted that universities are the place to have these discussions. "We promote the freedom to think and discover. We know that self-knowledge is a collective undertaking," said Loss, also an associate professor of history who was named a Chancellor's Faculty Fellow in 2016. "Memorial Hall is a building, nothing more. What's important is the story that we will tell about it. That shows the values of the institution today."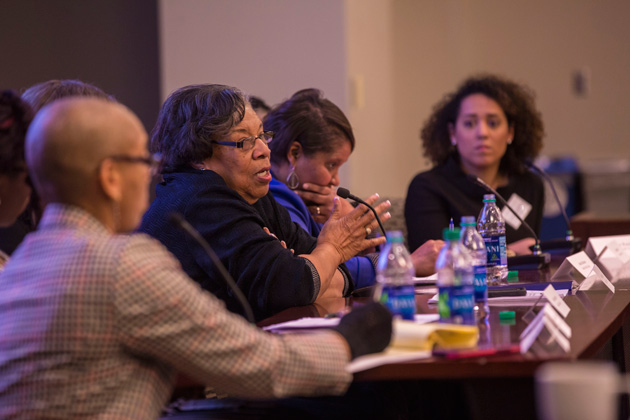 The final panel focused on Vanderbilt and black history in Nashville. Peabody Professor Emerita Vera Stevens Chatman discussed the complex history of relationships between Meharry Medical College and Vanderbilt School of Medicine from 1890 to 2010. She pointed to the Meharry-Vanderbilt Alliance, founded in 1999 to develop and support collaborative initiatives in research and training as a positive step in providing access while supporting the community.
Wonder Puryear Drake, a professor of medicine at Vanderbilt School of Medicine and a Chancellor's Higher Education Fellow, pointed to the dramatic gains in affordability and diversity that Vanderbilt has made over the last decade.
"We've launched Opportunity Vanderbilt, which has helped 9,800 students so far," she said. "We've had 3,200 donors make $293 million in commitments for scholarships — scholarships for children who aren't theirs. As a result, our current freshman class is our most talented and most diverse in the university's history."
Poet and author Caroline Randall Williams spoke about her experiences as an African American Nashvillian who has crossed educational lines between her elite private-school education and then joined Teach For America, working in a struggling school in rural Mississippi. She now splits her time as a writer-in-residence at Fisk University and an English teacher at a private boys' prep school in Nashville, which she believes gives her a unique perspective on history and Southern pride.
She talked about the conversation that her grandfather, civil rights lawyer Avon N. Williams Jr., had with Robert Penn Warren in 1964 for his "Who Speaks for the Negro" project. "Love does not mean … being blind to faults. It does not mean being afraid to tell [the white man] when he is wrong," she quoted the elder Williams saying. "So I say that love involves chastisement, and I think that the white American needs a whole lot of chastisement."
Williams said that her current teaching role allows her to be on the inside and challenge young minds to a different way of thinking. "To be an educator is an act of love," she said. "And love involves chastisement."
Two Vanderbilt alumni, State Rep. Harold M. Love Jr., MTS'98, and Skyler Gordon, BA'16, closed the conference. "We have to address the hard issues or we will repeat them," Love said. "We've got to have truthful conversations and really be honest with ourselves about how we got here. We need to keep fighting legislatively, or history will keep on repeating itself. We need to chastise."
Additional reporting by Nicholas Moore