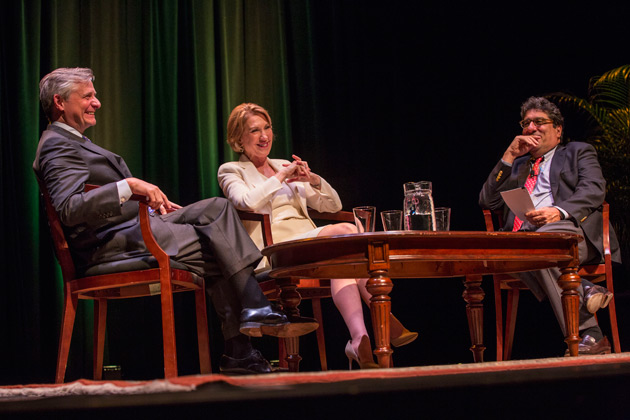 Former GOP presidential candidate Carly Fiorina discussed her views on leadership, partisan politics, Russian interference and sexual harassment Feb. 20 in the latest installment of the Chancellor's Lecture Series at Vanderbilt's Langford Auditorium.
The former Hewlett-Packard chairman and CEO took part in a discussion with Chancellor Nicholas S. Zeppos, moderated by Vanderbilt Distinguished Visiting Professor and Pulitzer Prize-winning author Jon Meacham.
The discussion began with a look at the partisanship that exists in Washington today.
"Politics has become all about winning, not problem-solving. Politics have become about my team against your team, and that's not civil discourse," Fiorina said. "Times like these are defined by character. Character counts and values matter. We need to be less impressed by what team someone is on and more impressed by their character and values."
When asked about the unlikely rise of Donald Trump to the presidency, she says his success reflects U.S. citizens' frustration with the bureaucracy of Washington. She cited a poll that stated 70 percent of Americans believe that politicians are "corrupt and all about themselves."
"Look, I don't think it's a secret that I did not want Donald Trump to get the nomination. But people voted for someone they thought was different. It came out of frustration with a political system that isn't working," she said. "What concerned me from the beginning is I don't know what his principles are. When I look at Trump and (Hillary) Clinton, I see two people willing to do anything to get elected. I think it's two sides of the same coin."
Meacham asked if she believed the Republican party needed to reconstitute itself. She countered that both parties are suffering from an identity crisis and in need of self-reflection.
"Both parties are a little mixed-up. We need to decentralize," she said. "Elected officials should have term limits, and there should be campaign finance reform. But more importantly, America needs more citizens paying attention and running for office."
When Zeppos addressed the national sexual harassment epidemic, she contended that "groping is a nonpartisan problem."
"I'm not going to defend Donald Trump, but let's not be partisan about this. Look at (Bill) Clinton," she said. "For every Republican you can name, I can name a Democrat and vice versa. Women are standing up but it's not going to stop until men stand up and stop excusing that behavior. It's an abuse of power and it's intolerable."
When asked about Russia's alleged meddling in the 2016 election, she said, "It is indisputable that Russia interfered with the election, and it's a shame. My guess is that Trump believes this undercuts the legitimacy of his election. He won't listen to me, but it would be helpful for our president to understand it's not about you. It's about the people you serve. "
In regard to the recent Florida school shooting, she understands the inclination to point the finger at the FBI, but believes the failing is much closer to home. "The local school, the local police, the mental health officials, warning after warning," she said. "How did an entire community miss him?"
Fiorina works with nonprofits to address community problems on a grassroots level. She says through this work she is seeing issues resolved when compassionate leaders rise up and make change from the ground up, "from the inside out." Leadership isn't defined by a person's title or position, she believes.
"True leadership is defined by character, the ability to see possibility in the people around you," she said. "Leadership is impossible without humility and empathy because without them you can't collaborate with other people who are different from you. If you can't collaborate, you can't solve problems."
A question-and-answer period followed the discussion.
Fiorina was named CEO of the Hewlett-Packard Co. in 1999, becoming the first woman to lead a Fortune 50 business. In 2010 she was a candidate for the U.S. Senate from California, and in 2016 she sought the Republican presidential nomination, the only woman in a field of 17.
The Vanderbilt Chancellor's Lecture Series strives to connect the university and the Nashville community with intellectuals who are shaping our world. For more information about the series, visit the Chancellor's Lecture Series website, email cls@vanderbilt.edu, or follow @Nick_Zeppos on Twitter.
Carly Fiorina will be a guest on an upcoming episode of The Zeppos Report.
Listen to past Zeppos Report podcasts.  >>>