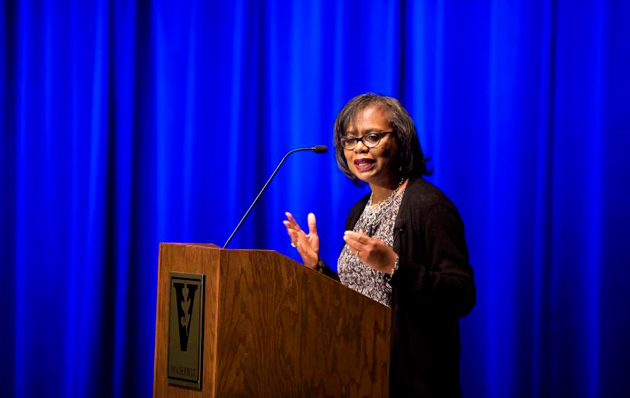 Anita Hill's keynote address at Vanderbilt University on Sunday was half history lesson, half call to action, and the well-known author and law professor drew multiple standing ovations from a Langford Auditorium capacity crowd.
Titled "No Longer Silent: Underrepresented Narratives in Sexual Violence," her keynote was the last event in a daylong conference of the same name, organized by Vanderbilt Student Government's Sexual Assault Awareness and Prevention Committee.
Protections against sexual harassment in the workplace came with the civil rights laws of the 1960s and '70s, Hill said, but by the 1980s, very little was being done to enforce them. African American women took the lead in taking offenders to court, including in the case of Mechelle Vinson vs. Meritor Savings Bank. In 1986, the U.S. Supreme Court ruled unanimously that Vinson's supervisor, whom she alleged both fondled her in front of colleagues and raped her, created a hostile work environment in violation of the Civil Rights Act of 1964.
"Let us not forget these women came forward at a cost, and they came forward in a way that has enabled all women to step into these spaces today and to make their claims. Yet their stories are not often told," Hill said.
Hill, who is also senior adviser to the provost at Brandeis University, is most famous for her 1991 testimony before the Senate Judiciary Committee regarding Supreme Court Justice Clarence Thomas. She drew parallels between that event and Christine Blasey Ford's recent testimony regarding Justice Brett Kavanaugh and suggested little had changed in 27 years.
"Are we going to give complete investigations? Are we going to hear the voices of the underrepresented? Will we develop our policies in ways that are inclusive of everyone's experiences?" Hill asked the crowd.
She called for intersectionality in addressing sexual harassment, including the involvement of more men. "Either justice is whole, or it doesn't exist. There is no such thing as a just world where people are left out," Hill said.
In introducing Hill, Farah Arif, the VSG committee's co-chair, acknowledged the timing of Hill's appearance with recent events and lauded conference participants for their hard work earlier in the day. "People of all identities are coming out to speak their truth," she said.
Co-chair Télyse Masaoay and Sara Starr, immediate past chair, shared in the introduction. Hill took several questions from students after her address.