Former Vice President Joe Biden's message to a packed Langford Auditorium on Tuesday revolved around two themes: a call for bipartisanship and a plea for Americans to remember who they are.
His onstage conversation with Chancellor Nicholas S. Zeppos was part of the ongoing 2017-18 Chancellor's Lecture Series and its most popular of the season, with overflow crowds watching on closed-circuit television in two additional venues.
Vanderbilt students comprised the majority of the crowd at Langford. During the program, Biden exhorted the students to engage in public service.
"The system is wide open. You could drive a Mack truck through it. You're smarter than we were, better educated than we were, and you understand about the gigantic changes coming as a result of Moore's Law and digital disruption. You can change things," he said.
Zeppos opened the discussion with a citation from a popular New York Times opinion piece that Biden authored in September.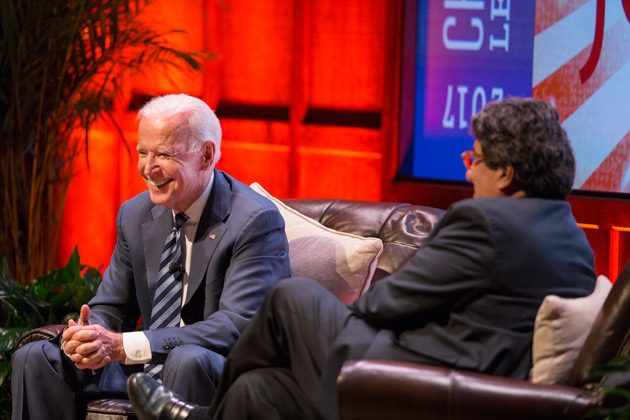 "You said 'You cannot define Americans by what they look like, where they come from, whom they love or how they worship. Only our democratic values define us.' The country seems more and more divided particularly on the extremes. Is there a path back to American values of cooperation?" Zeppos asked.
"We've led the world since the end of World War II, and it isn't because of our physical power, it's the power of our example," Biden said, pointing repeatedly to a need for Americans to talk to one another and rebuild relationships across party lines. "You can't define America based on tribe, religion or creed."
Because Trump didn't expect to win and had no transition team in place, Biden said he refrained from commenting on the new administration for months. That changed after the August riots in Charlottesville, Virginia, sparked by clashes between white supremacists and progressives. He outlined his concerns in the New York Times piece.
"I couldn't remain silent any longer when Charlottesville occurred," Biden said. "The idea of people coming out of a field with lighted torches, chanting anti-Semitic bile, wearing swastikas, confronted by those who opposed them. … 'There are good people in both camps?' What the hell message are we sending?"
Zeppos asked the former vice president for analysis of what happened to Democrats in the 2016 election, and Biden blamed a failure to address the issues, instead adopting a strategy of trying to make candidate Hillary Clinton more likable than now-President Donald Trump.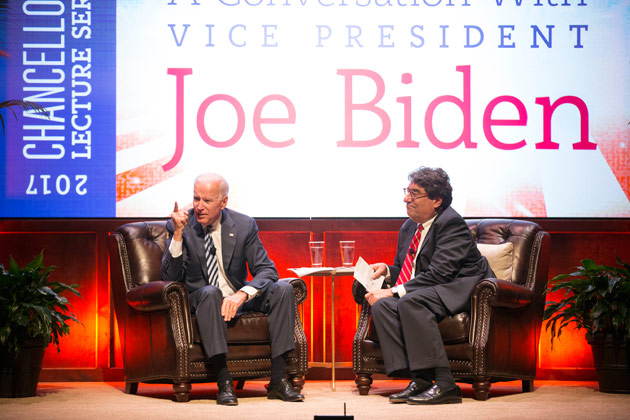 During the conversation Biden also discussed his ability to find common ground with Republicans, and even his longtime friendships with some, including Sen. John McCain. The failure to forge common bonds is keeping Congress in gridlock, he said, and both sides must stop seeing the other as enemies.
In addition, early on, the chancellor asked the question many in the audience wanted to know: Will Biden run for president in 2020? The short answer: If he had to decide tonight, no. His family is still too affected by the loss of son Beau to cancer.
"I know that by January, I'll have to make that decision," Biden said. "If God Almighty himself came down today and said, 'The nomination is yours,' I'd say no. Where I'll be in eight months, I don't know. In the meantime, I'll do everything I can to be sure we elect a Democratic Congress this fall."
Biden ended the evening with a love letter to America and American universities, rising to his feet and moving to the front of the stage.
"We have more great research universities in America than all the rest of the world combined," he said. "Can you think of one major advance that hasn't come out of a university? Every single, solitary thing. No one can compete with us. Nobody in the world.
"It's time for us to get up, lift our heads up, remember who the hell we are and lose this idea that our best days are behind us. We are better positioned at this moment than any country in the world to own the 21st century."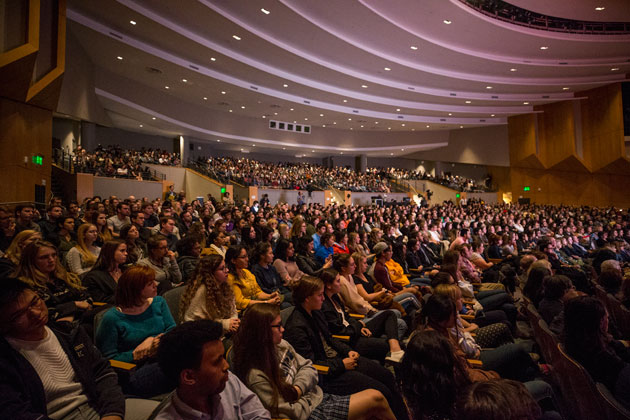 Biden represented Delaware in the U.S. Senate from 1973 to 2009. As chairman or ranking member of the Senate Judiciary Committee for 17 years, he was widely recognized for his work on criminal justice issues, including the landmark 1994 Violence Against Women Act. As chairman or ranking member of the Senate Foreign Relations Committee for 12 years, Biden played a pivotal role in shaping U.S. foreign policy.
Biden served as the 47th vice president of the United States from 2009 to 2017, representing the United States abroad, traveling more than 1.2 million miles to more than 50 countries. As vice president, Biden convened sessions of President Barack Obama's cabinet, led interagency efforts, and worked with Congress to raise the living standards of middle class Americans, reduce gun violence, address violence against women, and end cancer as we know it. On Jan. 12, 2017, Obama awarded Biden the Presidential Medal of Freedom with distinction—marking the only time Obama awarded the Medal of Freedom with the additional honor of distinction.
After leaving the White House, Biden created the Biden Foundation and the Biden Cancer Initiative with his wife, Dr. Jill Biden, and they continue their late son Beau's work protecting children from abuse with the Beau Biden Foundation for the Protection of Children. In 2017 he published Promise Me, Dad: A Year of Hope, Hardship, and Purpose, which became a New York Times bestseller.