Don't tell Temple Grandin it's OK that your child with autism spends hours a day playing video games or that he simply can't decide what he wants to do for a living. Don't let her hear you ordering dinner for him or see you picking out his clothes.
Setting low expectations is as disastrous for that child as for any others, and she's not having it.
Grandin—inventor, speaker, author and perhaps the autism community's best-known advocate—encouraged her audience at Vanderbilt University on Thursday to embrace the diagnosis for what it can do: add diverse thinkers to a workforce that not only can accommodate them, but desperately needs them.
Grandin was the final guest for this semester's Chancellor's Lecture Series and, after a talk that brought the Student Life Center crowd to applause and laughter by turns, sat down with Chancellor Nicholas S. Zeppos for an insightful conversation on a widely misunderstood disorder. His first question was perhaps the most challenging because of the complicated dichotomy it evoked.
"Researchers on this campus are seeking treatments for autism, even cures," he said. With her work on harnessing the innate advantages to autism, how does that make her feel?
Grandin said research around sensory perception is the most necessary, because problems with it can keep people from fulfilling their potential. "First, you have to determine what's going to be called abnormal," she said. "Sound sensitivity can be a real problem for people with autism."
Zeppos also asked questions about her education and early career years and her advice to parents of children with autism who are navigating K-12 and higher education systems.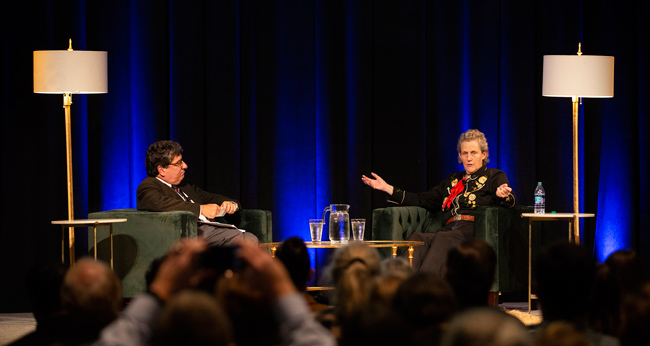 "In the '70s, being a woman was 10 times harder than dealing with the autism," Grandin said, prompting loud applause. She advised parents and teachers to start looking for the child's talents around the third grade and then shape their course selections around that.
"Moving away from home for college will be tough for some kids, but they should find people who share their interests," she said. "It could be the robotics club or theater. It may help to take a lighter course load and maybe take five years to earn a degree."
Grandin emphasized that she would not change having autism despite the challenges she faced and questioned the usefulness of labels when people with the diagnosis range from Silicon Valley entrepreneurs to adults who can't function on their own. She ended her talk with a multipage list of about 50 jobs people with autism excel at performing.
Earlier in the day, Grandin attended Vanderbilt's Envisioning the Future of Human Technology Partnerships Conference and delivered its luncheon keynote and visited with researchers affiliated with the Frist Center for Autism and Innovation and their students. She signed books both before and after her appearance with the chancellor.
Born at a time when a person with autism was often institutionalized, Grandin earned multiple degrees in psychology and animal science while becoming a highly regarded proponent for the humane treatment of livestock and creating systems to facilitate it. She is today a much-sought-after speaker on autism, a professor of animal science at Colorado State University and a consultant on livestock equipment design. HBO made an Emmy Award-winning movie about her life, which she cited several times in her Vanderbilt appearance.
Other Chancellor's Lecture Series guests this semester were former CIA director Gen. Michael Hayden and oncology researcher Dr. Siddhartha Mukherjee.