Amal Clooney's career as an international human rights attorney places her in the same circles as the most successful people in the world, and she's asked them to share their secrets.
It's not their advanced education – although that helps, she told Vanderbilt University's 2018 graduates. It's not their families, age or ambitions. It's their character, she said, and particularly their courage.
In a Senior Day speech Thursday that brought a packed Memorial Gymnasium to its feet, Clooney took the crowd through historic examples of courage, including Vanderbilt Distinguished Alumnus and civil rights-era icon Rev. James Lawson. She shared the stories of her own clients today, who include a journalist jailed for reporting corruption by Azerbaijan's president and an advocate for sexual violence survivors who herself was enslaved by the Islamic State.
"We need young people with the courage to say, 'This is our world now, and there are going to be some changes,'" Clooney said. "My generation is counting on you."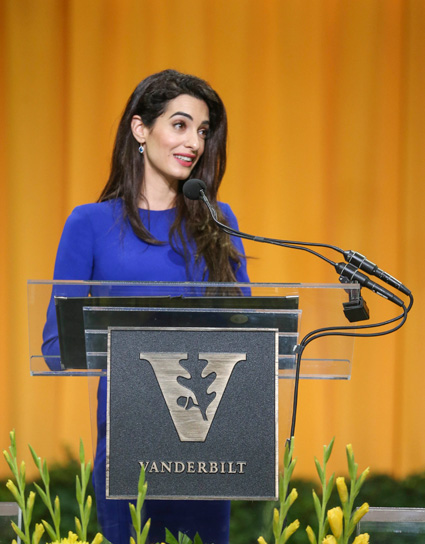 Chancellor Nicholas S. Zeppos awarded Clooney the 2018 Nichols-Chancellor's Medal, created and endowed by Vanderbilt Law School graduate Ed Nichols and his wife, Janice, and given to those who exemplify the best qualities of the human spirit.
"(Clooney) is, by any measure, one of the world's foremost international human rights lawyers," Zeppos said. "She's taken on the most challenging cases, combining her brilliance with painstaking attention to detail and a deep and abiding belief that the law can accomplish good things."
A welcome began with Interfaith Council President Shawn Kerry and featured Olivia Solow-Niederman, Hersheyth Aggarwal, Hamza Patel and Alexis Cook, representing Judaism, Hinduism, Islam and Christianity. Zeppos thanked Claire Fogarty, overall chair of the Senior Class Fund, lauding her accomplishment of leading a record-breaking 85 percent participation rate in the fund, and Perry Brandt, president of the Vanderbilt Alumni Association.
Jami Cox, student body president, also spoke, sharing that after years of hard work, "now is the time to celebrate."
Clooney continued the feeling of celebration, encouraging graduates to take a moment to enjoy their accomplishments and then demonstrate what they care about through their careers and the choices they make each day.
"Be courageous. Challenge orthodoxy. Stand up for what you believe in," she said. "When you are in your rocking chair talking to your grandchildren many years from now, be sure you have a good story to tell."
The Oxford and New York University graduate said she began her working life as a corporate lawyer earning $200,000 a year. Her yearning to make a difference led her to give that up for a $20,000 a year job as a judicial clerk at The Hague, which launched her current career.
"My advice isn't that you have to be Gandhi or Mandela or Martin Luther King or that you should be a human rights activist or get jobs where the salary decreases at every turn," she said, then quoted poet Robert Frost. "There will be moments in your life where two roads diverge in the wood, and when that happens, be courageous."