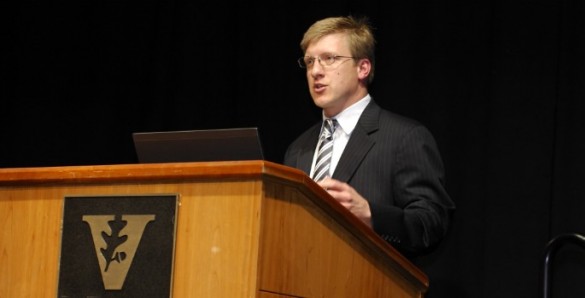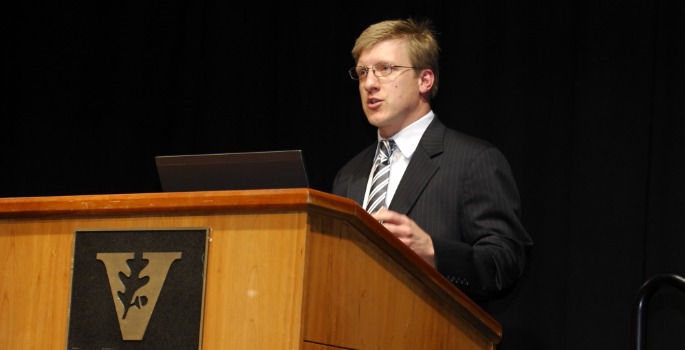 The latest research on the nation's key education issues, from incentive pay to school choice, will be presented by Vanderbilt University Peabody College researchers April 8-12 at the American Educational Research Foundation annual conference in New Orleans.
A sampling of the research is presented below. To view the full conference program, visit: www.aera.net. All listings are Central Standard Time. To schedule an interview with these or any Peabody researcher, contact Jennifer.wetzel@vanderbilt.edu at (615) 322-4747.
Educator Incentive Pay: A Comparative Analysis of Three Large-Scale Reforms
Vanderbilt researcher Matt Springer, director of the federally-funded National Center on Performance Incentives, will participate in a roundtable discussion on the comparative examination of the design and implementation of three large-scale educator incentive programs. Educator incentive reforms have gained center-stage status among strategies aimed at improving human capital in schools. While much research has addressed theoretical bases of incentive programs and the design, implementation and impact of individual programs, little research has attempted to provide a comparative analysis of the nature and impact of multiple programs.
Sun., April 10, 10:35 a.m. – 12:05 p.m., Sheraton New Orleans Hotel / Grand Ballroom A
School Choice and Innovation: What's Different About Charter Schools?
Vanderbilt researchers Marisa Cannata, Mimi Engel, Courtney Preston and Ellen Goldring will present findings that compare the organizational, human capital and instructional practices of charter schools with traditional public schools.
Tues., April 12, 8:15 a.m. – 9:45 a.m., Sheraton New Orleans Hotel / Grand Ballroom A
Measuring Teacher Effectiveness: New Advances and Major Challenges in the State Assessment Consortia Initiatives
Measuring teacher effectiveness is one of the most difficult measurement challenges facing public education policy and practice. Vanderbilt researcher Matt Springer will present the approaches being taken by two state-led consortia, The Partnership for Assessment of Readiness for College and Careers and The SMARTER Balanced Assessment Consortium, and will analyze new advances and major challenges in this reform initiative.
Sat., April 9, 4:05 p.m. – 6:05 p.m., Sheraton New Orleans Hotel / Rhythms Ballroom I
Charters, Choice and Policy: The Next Generation of Questions
Vanderbilt researchers Claire Smrekar and Madeline Clark Mavrogordato will examine the policy context of charter school adoption and implementation in Indianapolis, the only city with independent mayoral control over charter school authorization and accountability. Findings suggest the charter school law created new policy "streams" in response to the mayor's charter school authority.
Fri., April 8, 12 p.m. – 2 p.m., Sheraton New Orleans Hotel / Grand Chenier
Innovative Assessments in New Media (Virtual + Games + Mixed Reality)
Vanderbilt researchers Douglas Clark and Mario Manuel Martinez-Garza will discuss their findings on data from games to assess students and will discuss whether computer games can be productively used as assessment tools.
Mon., April 11, 2:15 p.m. – 3:45 p.m., Sheraton New Orleans Hotel / Oak Alley
Students We Share: Mexican-Origin Children and Youth in the 21st Century
In January 2009, some 200 graduate students, faculty and researchers from Mexico and the United States convened in Mexico City to discuss convergent research findings and common Pre-K-12 educational dilemmas for children and youth of Mexican origins. Vanderbilt researcher Stella Flores will discuss the significance of this work, sharing data on school access, attainment, performance and quality for Mexican children and youth on both sides of the border.
Sat., April 9, 12:25 p.m. – 1:55 p.m., Sheraton New Orleans Hotel / Salon 820
Using Teacher Social Networking Data to Study Teacher Learning through Interactions
This symposium focuses on teacher interactions as opportunities for teacher learning. Vanderbilt researchers Anne Louisa Garrison, Thomas Smith, Paul Cobb and Sarah Elizabeth Green will present their research on Investigating School and District-Level Factors That Influence Teachers' Learning Opportunities through Interactions. Garrison and Cobb will also join Vanderbilt researcher Lynsey Gibbons to present Teacher Networks and the Role of the Mathematics Coach: How Institutional Factors Influence Coach Centrality.
Fri., April 8, 4:05 p.m. – 5:35 p.m., New Orleans Marriott / Preservation Hall Studio 1
Teacher Motivation: Why Does It Matter?
Although much research in educational psychology has focused on student motivation and its critical implications for student wellbeing and academic success, teacher motivation and its implications for teachers and students have remained an overlooked area of research until recently. This symposium features four examples of current research on teacher motivation that both expand upon previous work and present new research directions. Vanderbilt researcher Matthew Springer examines whether interest in teaching is related to student learning and achievement.
Fri., April 8, 4:05 p.m. – 5:35 p.m., New Orleans Marriott / Preservation Hall Studio 8
Supply and Demand in Special Education: Findings from the Special Education Faculty Needs Assessment Project
Vanderbilt researcher Naomi Tyler will provide a current picture of supply and demand in special education preparation including a snapshot of the current state of special education teacher training programs.
Tues., April 12, 2:15 p.m. – 3:45 p.m., Sheraton New Orleans Hotel / Napoleon Ballroom D
Enhancing Motivation, Executive Function, Social Skills and Achievement: The Impact of Peer Mentoring and Peer Tutoring
Data from the National Assessment of Educational Progress indicates that only 25 percent of students can be classified as competent writers. Vanderbilt researchers  researchers Karen Harris and Steve Graham will discuss their findings regarding the role of peer support in developing awareness and writing strategies and how new assessments can shape the future of writing instruction in schools.
Tues., April 12, 2:15 – 3:45 p.m., New Orleans Marriott / La Galerie 5
Reading Instruction and Development in Linguistically Diverse Classrooms
Vanderbilt researchers Christopher Keyes, Robert Jimenez, Victoria Risko, Mikel Walker Cole, Kelly Puzio and Brian Rose seek to understand both the cognitive effects and impact on reading comprehension by having young bilingual adolescents translate specific sections of text into their native language. Their research provides evidence that leveraging a student's native language may benefit their reading comprehension in English.
Tues., April 12, 10:35 a.m. – 12:05 p.m., Sheraton New Orleans Hotel / Napoleon Ballroom B2