By Jane Sevier
The early childhood years are critical as children are rapidly developing the social, emotional, cognitive and language skills necessary for social-emotional competence. Vanderbilt Peabody College Professor Mary Louise Hemmeter has received an $11.9 million grant from the U.S. Department of Education's Office of Elementary and Secondary Education (OESE) to expand the Pyramid Model for Promoting Social Emotional Competence in pre-kindergarten (PreK) and kindergarten (K) classrooms in diverse districts across the country.
The Pyramid Model is a tiered framework of practices that teachers use to address the social-emotional and behavioral needs of all children, including those with the most significant needs. This is one of the first studies to examine the wide-scale use of a tiered model of social-emotional supports across PreK and K classrooms. It builds on an implementation and scaling-up project previously conducted in collaboration with Metro Nashville Public Schools and Maury County (Tenn.) Schools.
The prevalence and impact of social-emotional delays and challenging behavior in young children is a growing concern for families, educators, policymakers and researchers. Studies indicate that at least 30 percent of preschool children have challenging behavior that can interfere with their learning and development. Concerns about students' social-emotional development have increased as a result of COVID-19.
The OESE study, "Expanding and Scaling the Pyramid Model in Pre-Kindergarten and Kindergarten Classrooms to Districts Across the U.S.," will serve 5,000 high-need children across eight districts in four states, including children with disabilities, children living in poverty, children at risk for delays or disabilities, and children at risk for being suspended or expelled from school. Aligning the model across PreK and K will provide young children with a more successful transition into formal schooling. The research also aims to reduce the widespread use of exclusionary discipline practices that impede students' development and learning. National studies show that preschool-age children are expelled for behavior problems at three times the rate of school-age children.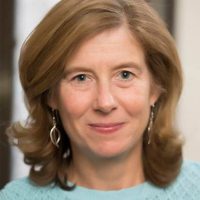 Hemmeter, Nicholas Hobbs Chair of Special Education and Human Development, is one of the founding researchers of the Pyramid Model, a multi-tiered approach used by early childhood educators and families around the world. Although research has established a positive relationship between young children's social-emotional abilities and success in school, many children begin their school experiences without the emotional, social and behavioral skills needed for academic success. Social-emotional and behavior challenges that are not resolved during the early childhood years may lead to problems with socialization, school adjustment and educational success in later grades.
"What is most exciting about this project is that we will be working in both PreK and kindergarten settings to provide these supports and ensure children have a successful start to school," Hemmeter says.
Early childhood teachers identify addressing challenging behavior as a primary training need and as a factor that interferes with the quality of the classroom environment and student engagement and learning. Hemmeter and her team have previously conducted a series of studies on using coaching to support teachers to use Pyramid Model practices. The new OESE project will provide professional development for teachers that includes training in those practices and coaching for their use in the classroom. As teachers gain skills in preventing challenging behavior, they spend more time engaging in interactions that promote better social-emotional and academic outcomes.
In this project, partner districts will be those focusing on social emotional learning, challenging behavior, exclusionary discipline or inequitable discipline practices. The research team will guide them in examining how using the Pyramid Model affects their progress toward goals they have set. For example, partner districts seeking to reduce the use of exclusionary discipline practices will be guided on how to collect data on suspension and expulsion rates and how to compare schools that implement the Pyramid Model with those that do not.
Findings from this large-scale evaluation of the Pyramid Model across PreK and kindergarten classrooms in districts around the country will demonstrate the capacity of schools to support teachers to deliver effective interventions, nurture all students' social-emotional competence and reduce challenging behaviors. The project will measure the sustainability of teachers' practices after they receive coaching and help districts develop a plan for continued implementation of the approach.
The project team includes researchers from Peabody College, the University of South Florida and SRI International.
"Professor Hemmeter is an acknowledged leader in the fields of early childhood and early childhood special education," says Camilla Benbow, Patricia and Rodes Hart Dean of Education and Human Development at Peabody. "Her innovative research into supporting young children's social-emotional development is changing the way we approach classroom teaching for all children."
Hemmeter also received a separate five-year, $3.8 million grant from the National Center for Educational Research, "Examining the Efficacy of Program-Wide Supports for Pyramid Model Implementation." The project will assess the efficacy of the Pyramid Model in low-resourced child care centers with a focus on addressing the high rates of preschool expulsions.
"Children are most likely to be suspended or expelled from child care programs that have limited resources and often don't have the capacity to support a child with significant, intensive or persistent challenging behavior," Hemmeter says. "This grant is about how we can build that crucial capacity within programs serving our most vulnerable children."
The team for the NCER grant includes Erin Barton, associate professor of special education at Peabody, as well as Lise Fox, University of South Florida, and Gary Henry, University of Delaware.
Together, the two new grants total more than $15 million.