engineering Archives
Nov. 27, 2017—Ten first-year engineering students who represent the first cohort of A. James Clark Scholars at Vanderbilt were recognized at a Nov. 1 dinner that marked the first time Courtney Clark Pastrick, daughter of the program's namesake, was able to hear in person what the scholarship program means to the students.
---
---
Oct. 11, 2017—A historian pairing with a computer scientist to teach a course on virtual reality? A new University Course, Virtual Reality for Interdisciplinary Applications, offers just that, with the overarching goal that everyone can, and should, be technically confident. Faculty-designed, cross-disciplinary curriculum is at the heart of the University Courses initiative, tapping into the natural synergies across Vanderbilt's schools and colleges. Read more about the University Courses and other internal faculty funding programs—including TIPs, Discovery Grants, Research Scholar Grants and University Courses—at the VUBreakThru blog.
---
---
Sep. 19, 2017—A collaboration between Vanderbilt School of Engineering and North Carolina State University to identify the best way to analyze learning data is among the first recipients of NSF grants to address societal challenges through cross-disciplinary research.
Engineering and Technology External Story myVU myVU News Research
---
Sep. 13, 2017—Smarter zoning, better hazard maps and more stormwater management are among the key recommendations Vanderbilt environmental engineer Mark Abkowitz has for coping with extreme weather.
---
Sep. 13, 2017—A number of Vanderbilt professors can provide interviews about rethinking how and why we rebuild after disasters, designing policies to keep Americans safe and predicting extreme weather impacts.
---
---
Sep. 3, 2017—The university community marked the Aug. 21 total solar eclipse with campus viewing parties, conducted research and prepared for the big day with months of educational and creative programming.
---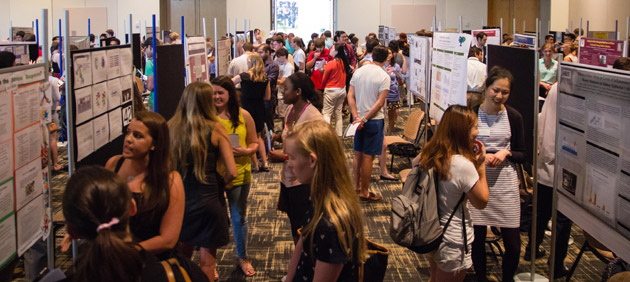 ---
Aug. 24, 2017—Vanderbilt University researchers joined a national NASA weather balloon project giving scientists and people around the world a view of the total solar eclipse from the edge of space.
---
Aug. 24, 2017—A high-altitude weather balloon rose yesterday from a Vanderbilt garage rooftop to the edge of space to live-stream the eclipse from above Nashville and record the temporary atmospheric changes it caused.
---