By Jenna Somers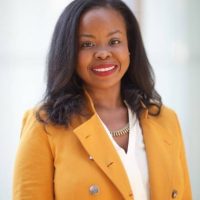 For more than 40 years, the Supreme Court of the United States has upheld the rights of higher education institutions to consider race as one of many factors in admissions decisions, and scholarly research on affirmative action has played a pivotal role in informing the Court's decisions.
On Oct. 31, SCOTUS will again review the constitutionality of affirmative action when it hears the cases of Students for Fair Admissions, Inc. v. Presidents and Fellows of Harvard College and Students for Fair Admissions, Inc. v. University of North Carolina. Just as it has in the past, the Court will consider scholarly research in its decisions, as more than 1,200 social science researchers and scholars signed amicus briefs in the Harvard and UNC cases that review the body of research on affirmative action. Kelly Slay, assistant professor of higher education and public policy at Vanderbilt Peabody College of education and human development, is one of those scholars, and on the day of the hearings, she will join many of her colleagues in Washington, D.C., to engage in rallies related to these cases.
"Part of why the Court upheld affirmative action in Grutter v. Bollinger was because of the great work of researchers on the educational benefits of diversity," Slay said. "We began to really examine what it means to be a student and to have access to and benefit from different forms of diversity—in particular, racial diversity. The research is very compelling. There are a lot of educational benefits and outcomes associated with the presence of diversity on campus and in the classroom that span the entire student body, the institution and our society. Those benefits have been the primary reasons why we have seen the Court uphold affirmative action time and time again. Diversity is a compelling interest."
In 2003, SCOTUS ruled in Grutter v. Bollinger that colleges and universities could consider applicants' race and ethnicity as one of many factors in admissions decisions, upholding SCOTUS' ruling in the 1978 case Regents of the University of California v. Bakke. At the time, Slay was an undergraduate student at the University of Michigan who traveled to Washington, D.C., with several student organizations to participate in rallies.
Three years later, Slay was still an undergraduate engaged on the issue of affirmative action when Michigan voters decided through a referendum—Proposal 2 Affirmative Action Initiative—to ban the use of affirmative action in that state's public institutions. The U.S. Sixth Circuit Court of Appeals ruled Proposal 2 unconstitutional in 2011 when Slay was once again a student at the University of Michigan—this time pursuing her Ph.D. in higher education with a concentration in public policy. In 2014, SCOTUS reversed the decision of the lower court, upholding the constitutionality of Proposal 2.
These court cases not only shaped Slay's understanding of affirmative action and her engagement on the issue as an undergraduate and doctoral student, but they also have informed the predominating concerns of her research as a professor, including how post-affirmative action contexts shape the experiences of racially marginalized students. For instance, Slay investigates how prospective Black students perceive campus racial environments and how those perceptions shape their decisions about where to apply and enroll in college.
"In the enrollment management space, a lot of research on race-conscious affirmative action has investigated changes in admissions policy and their impact on whom institutions decide to admit," Slay said. "I'm interested in knowing how environments without affirmative action might affect the decisions of admitted students not to enroll because they might feel the campus is not a diverse place—it's not a place that makes them feel welcomed. I want to know how minoritized students—at the graduate and undergraduate level—experience these environments and what it means for their choices and other outcomes."
Slay also investigates recruitment and admissions policies and practices of higher education institutions in post-affirmative action contexts, and how and if these practices enhance diversity, equity and inclusion on college campuses. According to Slay, her research and the body of research literature on race-neutral recruitment and admissions policies—such as those that focus on socioeconomic and geographic diversity—demonstrate they are not as effective at creating racially diverse campuses, as exemplified most recently in California and Michigan. Moreover, they also may affect equitable access to university resources and reduce feelings of inclusivity among racially minoritized students. The research literature also demonstrates that race-conscious admissions practices are the most effective means of creating racially diverse campuses, Slay said.