By Jenna Somers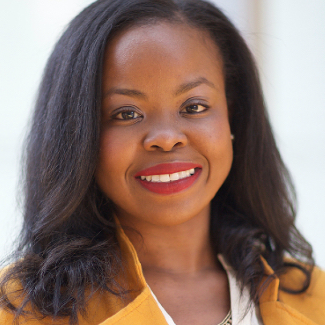 Kelly Slay, assistant professor of higher education and public policy, is one of 25 education scholars to receive the National Academy of Education (NAEd)/Spencer Postdoctoral Fellowship. The $70,000 non-residential fellowship supports one year of leave from teaching for early-career researchers contributing to critical areas of education research. Fellows will also attend three professional development retreats in Washington, D.C., in 2023 and 2024.
Slay's NAEd/Spencer Postdoctoral Fellowship will allow her to advance her research on test-optional admissions in higher education. She will examine admissions review processes at three institutions that experienced increases in their enrollment of undergraduate students from racially/ethnically and/or socioeconomically underrepresented backgrounds after dropping requirements for tests like the SAT or ACT during, or in response to, the COVID-19 pandemic.
"I am excited about this project because it comes during a time when test-optional admissions policies have expanded rapidly throughout higher education, in large part because of the COVID-19 pandemic, and represent a promising tool for enhancing access and diversity," Slay said. "However, much of the prior research on these policies have come from quantitative analyses of application and enrollment diversity at private institutions and liberal arts colleges, early adopters of test-optional admissions.  A growing chorus of scholars and policymakers have called for research that explores how and why test-optional policies can be useful in increasing access for students who are minoritized in higher education. My study answers that call by taking a strength-based, qualitative case study approach, examining the decision-making processes and cognitive mechanisms that may help explain the observed impacts on enrollment of students from historically underrepresented backgrounds."
Slay's study comes at a pivotal moment for higher education, as the Supreme Court of the United States is scheduled to rule on two cases that will determine the future of race-conscious affirmative action. Last year, she was one of more than 1,200 social science researchers and scholars to sign amicus briefs in these cases and took part in events in D.C. related to the hearings. She also is speaking today about the future of college admissions at a virtual event hosted by the Brookings Institute.
"I hope that this study will be instructive for efforts to continue to reimagine college admissions–how to evaluate and admit students in a manner that centers equity and leads to diversity–especially in light of concerns about the future of race-conscious affirmative action," Slay said.
Slay's body of research is highly relevant to concerns about race, diversity, and equity in higher education, as she says, she examines "factors that shape college choice, completion, and career trajectories among Black students and other students minoritized in higher education; the use and equity implications of enrollment management policies, particularly in post-affirmative action contexts; and how bans on race-conscious affirmative action shape the experiences of marginalized students."
Slay is a co-principal investigator on a $1.7 million grant from the Institute of Education Sciences for a study examining teaching pathways for teacher candidates of color in Tennessee. Jason Grissom, Patricia and Rodes Hart Professor of Public Policy and Education, is the study's principal investigator. The Spencer Foundation also has previously supported Slay's research, which has been published in leading academic journals, including the Review of Higher Education, Teachers College Record, and Educational Policy, as well as the book, Rethinking College Admissions: Research-Based Practice and Policy.
Prior to joining Vanderbilt, Slay was a President's Postdoctoral Fellow at the University of Maryland – College Park and the Center for Diversity and Inclusion in Higher Education. She earned her doctorate in higher education and bachelor of arts in psychology at the University of Michigan and her master of science in public service management from DePaul University.