By Jenna Somers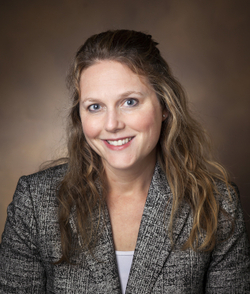 Autumn Kujawa, assistant professor of psychology and human development at Vanderbilt Peabody College of education and human development, recently received a two-year, Brain and Behavior Research Foundation Young Investigator Grant of $70,000 for a novel study to identify biomarkers associated with suicidal behavior in adolescents. This study is the first to examine the use of neural markers as possible predictors of future suicidal behavior, which could help to detect adolescents at greatest risk for suicide, as well as lead to new targets for treating suicidal behavior.
According to the Centers for Disease Control, suicide is the third leading cause of death for adolescents. Kujawa says that suicidal behavior—which includes aborted, interrupted or actual suicide attempts—has steadily increased in prevalence among this population over the past decade, but scant research exists on the neural processes associated with adolescent suicidal behavior. To address this research gap, Kujawa and her colleagues plan to use electroencephalogram to identify neural markers of suicidal behaviors in adolescents and improve the ability to predict future occurrences. Kujawa is collaborating with Alexandra Bettis, assistant professor of psychiatry and behavioral sciences at Vanderbilt University Medical Center, and mentors Bruce Compas, Patricia and Rodes Hart Professor of Psychology and Human Development, and Richard Liu, an associate professor at Harvard Medical School.
"We know that clinical assessments and relying on self-reporting are not enough to fully understand what leads to suicidal behavior and to reduce suicide risk among adolescents," Kujawa said. "By leveraging cutting-edge technology, we will develop a more robust and objective understanding of patterns of brain function related to adolescent suicidal behavior, which we believe will improve our ability to detect youth at risk and lead to more effective intervention and prevention efforts."
The researchers will use EEG to measure reward valuation (i.e. preference for smaller immediate rather than larger delayed awards) and threat processing (i.e. reduced responses to threats of bodily harm), both of which are believed to be associated with adolescent suicidal behavior. They will recruit 90 adolescents receiving acute psychiatric treatment at Vanderbilt Psychiatric Hospital for recent suicidal ideation and/or suicidal behavior who are at high risk for suicidal behavior following discharge. Participants will first complete clinical assessments, then EEG tasks to assess neural responses to immediate relative to delayed rewards and to images depicting threats of bodily harm relative to neutral images. Participants will be reassessed after discharge for new suicidal behavior.
The researchers will test several hypotheses:
That adolescents with suicidal behavior will show an enhanced reward positivity component (as measured by activation of reward-related brain circuits) for smaller, immediate rewards relative to delayed rewards compared to youth with no history of suicidal behavior.
That adolescents with suicidal behavior will show a reduced late positive potential component (indicated by reduced attention and emotional reaction) to threatening images relative to neutral ones compared to youth with no history of suicidal behavior.
That heightened responses to immediate rewards and reduced responses to threatening stimuli will be associated with increased likelihood of engaging in suicidal behavior after discharge from psychiatric treatment.
In future studies, the researchers plan to incorporate larger samples with longer follow-ups and to use the results to improve methods of detecting suicidal behavior risk and developing targeted therapies, with the hope of preventing adolescent deaths by suicide.