Media Inquiries
Latest Stories
Dr. Ethan Lee, professor of cell and developmental biology and pharmacology, has been named a 2022 Innovation Fund investigator by The Pew Charitable Trusts.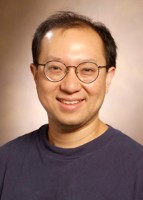 As a vote of confidence in the power of collaborative, interdisciplinary research, Pew created the Innovation Fund in 2017 to encourage partnerships among alumni of Pew's biomedical programs. Combining their unique areas of expertise, six pairs of researchers each year are selected as Innovation Fund investigators. Over two years, each pair receives $200,000 to tackle complex questions in human biology and disease. 
Lee will partner with Dr. Rajat Rohatgi from Stanford University to investigate the regulation of the gene known as APC in colorectal cancer. Over 80 percent of colorectal cancers harbor a mutation in the APC gene, which normally helps to prevent cells from growing and dividing uncontrollably. Mutations in APC lead to the constant activation of a signaling pathway called WNT, which can lead to unrestrained cell growth. Cancer therapies have been designed to target and inhibit WNT signaling, but these treatments are as yet unable to differentiate between tumor cells with an APC mutation and healthy cells, leading to unintended toxicity and side effects.   
"Pew's biomedical community is thrilled to welcome Dr. Lee as one of this year's Innovation Fund investigators," said Kara Coleman, project director of Pew's biomedical programs. "His expertise in WNT signaling will help pave the way for innovative colorectal cancer research and potential new therapies." 
"Dr. Lee's body of work is at the forefront of cancer research, and support from The Pew Charitable Trusts underscores the promise of developing less-toxic therapeutics," said Lawrence Marnett, dean of the School of Medicine Basic Sciences and Mary Geddes Stahlman Professor of Cancer Research. "We are thrilled that Dr. Lee has been recognized for his scholarship and collaborative approach, and we look forward to seeing the outcomes of his work with Dr. Rohatgi." 
The pair will employ genetic-based approaches in studying mutant APC and its interacting proteins to better understand how to target the mutant gene. Results from this work could inform the development of therapies that better target cancer cells while leaving healthy cells intact.    
Lee is a recipient of the Helen Hay Whitney Foundation postdoctoral fellowship, an HHMI postdoctoral fellowship, a Leukemia & Lymphoma Society Special Fellowship and a Pew Biomedical Scholar award. 
For 37 years, The Pew Charitable Trusts has supported more than 1,000 early-career scientists whose work has spanned a wide range of biomedical research areas. In 2017, Pew launched the Innovation Fund to champion scientific collaboration among alumni of its biomedical programs in the United States and Latin America. This year's six pairs of researchers—with expertise ranging from molecular biology and neuroscience to genetics and biochemistry—will explore key questions driving innovation in human health.