Carrie Grimes, EdD'20, has joined Vanderbilt Peabody College of education and human development as program director of its innovative blended master's degree program in independent school leadership (ISL).  
Grimes, who earned her education doctorate in Peabody's online program in leadership and learning in organizations (LLO), is assistant professor of the practice of leadership, policy and organizations. She brings to the position a history of high-level experiences in independent schools. Before joining Peabody, she was director of alumni relations and advancement officer for Severn School in Severna Park, Maryland. In higher education, she has taught courses in school leadership as an adjunct faculty member at Johns Hopkins University's School of Education and the University of Maryland's College of Education.  
Grimes said she looks forward to building curricular experiences for ISL students that reflect what she calls an exciting moment for independent schools.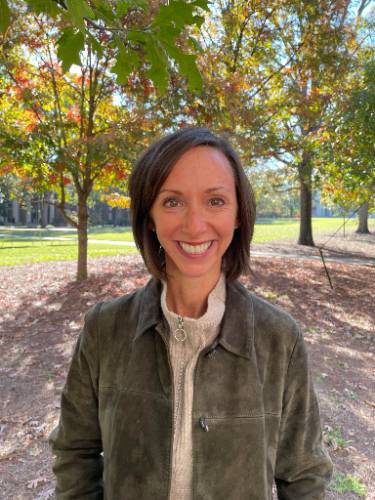 "Societal changes are challenging these schools in ways they have not experienced before; Peabody's ISL program can equip leaders with the skills they need to thrive in a rapidly transforming landscape," Grimes said. 
Improvements to the ISL program design will integrate online and in-person experiences, while retaining the benefits that students receive by enrolling as a cohort. 
"Our goal is to ensure that ISL continues to prepare its graduates through academic and professional experiences that address the complex and relevant questions that all independent school leaders are grappling with," Grimes said. 
Carolyn Heinrich, Patricia and Rodes Hart Professor of Public Policy and Education and chair of the Department of Leadership, Policy and Organizations, said the ISL program meets a growing need for transformational, collaborative learning at the graduate level. "Independent school leaders are grappling with unique challenges in a dynamic sector, and these often go unaddressed in traditional PreK-12 school leadership programs. ISL is designed to focus on problems of practice specific to this sector," she said. 
One asset Grimes is counting on is ISL's existing network of graduates, who have formed a strong community that actively supports one another as they encounter problems of practice in their own schools. "ISL has an established culture of close relationships, and we want to build on that foundation to grow affinity spaces and continued opportunities for mentoring," she said. 
She also hopes to capitalize on her experiences as a graduate of Peabody's fully online education doctorate. "LLO opened a world of possibilities to me as an adult learner. I'm thrilled that we will be offering remote learning opportunities to widen access for professionals who otherwise wouldn't be able to consider attending in person," Grimes said.  
Applications are still being accepted for the 2022 ISL cohort, with enrollment beginning this summer. Learn more about the ISL program here.