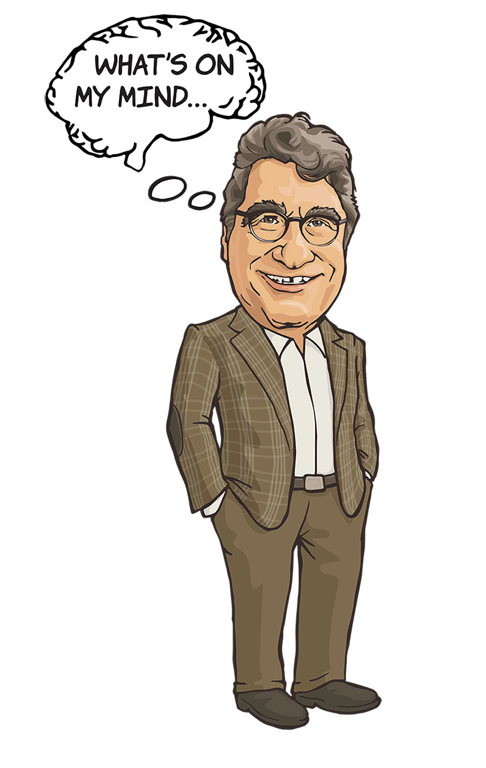 This regular column is aimed at opening another channel of conversation with you about the opportunities and challenges we face, together as the faculty, students, staff and leaders of our great university.
Last week we wrapped up our Chancellor's Lecture Series for the academic year with a thoughtful discussion with former Defense Secretary Robert Gates. Looking back, I'm humbled by the leaders and visionaries who came to campus this year for insightful conversations about issues facing our society. Each conversation held its own meaning and produced unique impact, but I've also been reflecting on the whole notion of Vanderbilt's role as a convener of these kinds of conversations.
Hosting civil discussions on difficult topics is baked into the DNA of institutions like Vanderbilt. And that's because we are an institution that is always seeking. We seek to understand the nature of things and the role of humanity in shaping the world. We seek answers, but we also seek the next questions that must be answered. It is this unquenchable thirst for discovery and progress that defines Vanderbilt's place in society and what value we can bring to it.
Throughout our history, we've hosted visionaries of all sorts and we've modeled a conversation ethic that still drives us today. Over the decades, Vanderbilt has presented speakers who challenged and engaged us—from President John F. Kennedy, Martin Luther King Jr., and then-Alabama Gov. George Wallace to retired Gen. Wesley Clark, five U.S. attorneys general, seven U.S. Supreme Court justices, author Brene Brown and entrepreneur/actor Reese Witherspoon.
The lineup for the Chancellor's Lecture Series over the last two years reads like a syllabus for a graduate seminar on American society, past, present and future: CNN political analyst Ana Navarro, New York Times columnist David Brooks, Pulitzer Prize–winning columnist Charles Krauthammer, former Attorney General Sally Yates, Columbia University professor and New Yorker staff writer Jelani Cobb, 2016 presidential candidate Carly Fiorina, former U.S. Vice President Joe Biden, and Secretary Gates.
For Senior Day, we've hosted then-National Security Adviser Condoleezza Rice, then-First Lady Laura Bush, Nobel Peace Prize winners Wangari Maathai, Muhammad Yunus and Shirin Abadi, and musician/social activist Bob Geldof. Next week, we'll hear from international human rights lawyer Amal Clooney.
These conversations are a living example of the worth of civil discourse in society. Vanderbilt is one of the nation's finest universities, to be sure, but in the university's role as a global citizen, I believe we have an obligation to model civil conversation as we provide a forum for informed, thoughtful debate.
There is no end date in our commitment to this effort. The iconic 20-story tower planned for the new residential college under construction at 25th and West End, which will be both a physical and educational landmark for Vanderbilt, expands on this work. Apartments in the tower will allow visiting global scholars and other leaders to be in residence, providing ample opportunity for the university community to engage and learn during lectures as well as over meals and impromptu conversations.
Many people are exhausted by the partisan gridlock in our nation's capital. I understand the frustration, but turning away isn't the answer. To keep our society moving forward, all of us have a responsibility to get informed and join in conversations with those who have views different from ours. Getting involved and staying engaged are the answers. These conversations are not always easy, and, frankly, they should make us uncomfortable. At its roots, democracy is about respect and finding compromise.
We need to get to a place where we can disagree with someone deeply on policy and principle without vilifying them. During their appearances, both Vice President Biden and Supreme Court Justice Sonia Sotomayor talked about the mutual respect and collegiality they shared with people "on the other side of the aisle"—Biden with Sen. John McCain and Sotomayor with fellow Justice Clarence Thomas. "I can stand here and say I just love the man as a person," Sotomayor said of Thomas. "He has the same value towards human beings as I have, despite our differences." We should all strive to build relationships like these.
Seeing the engagement and enthusiasm of our full community in these conversations gives me great joy and hope. Tickets for the event with Vice President Biden sold out in minutes, and the overflow tickets went in the blink of an eye.
During his visit, former U.S. Rep. Patrick Kennedy met with faculty and graduate student researchers to discuss their work on the mental health of children and adults, including those with intellectual and developmental disabilities. He also met with 25 undergraduate students at the Center for Student Wellbeing for an intimate discussion on mental health in America and on college campuses.
Secretary Gates held a Q&A with students from Army and Naval ROTC programs and from Assistant Professor Katherine Blue Carroll's political science courses. He also met with a dozen Owen Graduate School of Management students who are military veterans.
These opportunities to be enlightened or even challenged have immense value in our mission of teaching and research. Contrary to some narratives that paint universities as places that are closed off to views from one side or the other of the political spectrum, we have flung open our doors. It is an integral part of the magic elixir here at Vanderbilt to educate the whole person. To find common ground with uncommon allies. To live and learn and simply be together, with individual and collective goals to advance understanding and the human condition. I can't wait for the next series of conversations and what new questions and answers may lie in wait for our shared discovery.
"What's On My Mind" is a regular column from Vanderbilt University Chancellor Nicholas S. Zeppos on the life, people and mission of Vanderbilt University and issues affecting higher education today. Share your thoughts at chancellor@vanderbilt.edu.