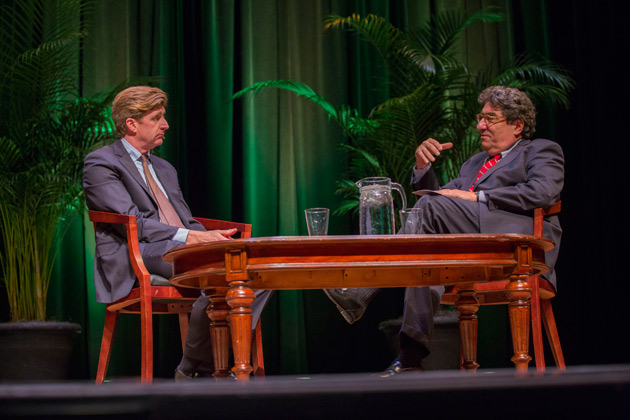 The first time Patrick J. Kennedy talked to his father about addiction, they were poring over a piece of legislation designed to make insurance companies cover treatment for it.
The youngest child of the late Sen. Ted Kennedy, Patrick Kennedy was a U.S. congressman from Rhode Island who came clean in 2006 about his bipolar disorder and addiction to painkillers. Two years after that life-changing admission, the father-son team helped pass the Mental Health Parity and Addiction Equity Act of 2008.
Silence and denial fuel the nation's opioid crisis, Kennedy told Chancellor Nicholas S. Zeppos and an audience at Langford Auditorium March 13. His conversation with Zeppos, part of the Chancellor's Lecture Series, was by turns funny and painfully candid, with a passionate Kennedy pleading for change.
"We, as a nation, have a huge public health crisis on our hands, and we're not addressing it because of the size," Kennedy said. "We can't even address it in our own families."
After leaving Congress in 2011, Kennedy devoted himself full time to mental health and addiction advocacy. He founded The Kennedy Forum, whose mission is to lead a national dialogue on transforming mental health and addiction care and to encourage full implementation of the federal parity law. He also co-founded One Mind, aimed at accelerating methods to diagnose, treat and cure mental illness.
Zeppos discussed Vanderbilt's work on the same goals.
"I'm very excited about the work being done in personalized medicine," Zeppos said. "What we're finding in our genetics work are the base causes. You're trying to get to what it is about Nick and Patrick that there's this pathway that's inflammatory in some way. We're not going to do it alone. There are a lot of people on this."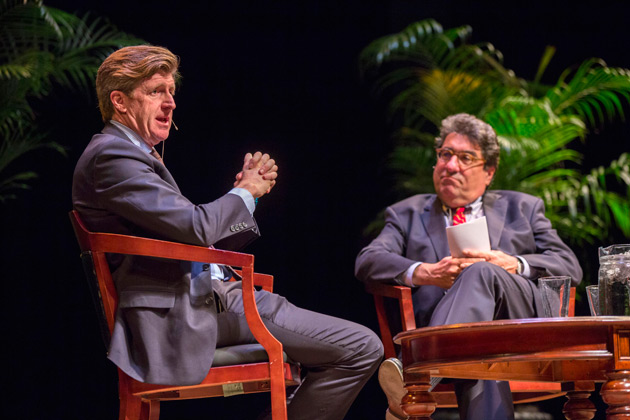 In 2015, Kennedy co-authored the New York Times bestseller A Common Struggle: A Personal Journey Through the Past and Future of Mental Illness and Addiction. He told Zeppos the book prompted his brother to call and say they'd never speak again.
Tuesday's conversation also covered, in the wake of mass shootings, the issue of mental health as an element of America's gun-control debate. Kennedy doesn't think it should be.
"We have the same percentage of people with mental illness anywhere and about the same percentage of providers," he said. "So what makes our country different? Access to high-powered assault rifles. This is not a mental health issue. They're not having this problem in Australia anymore, or Japan or England."
Before he took the stage, Kennedy toured the Vanderbilt Kennedy Center, created through legislation signed by his uncle, President John F. Kennedy, in 1963 to establish a national network of research centers addressing developmental disabilities. He also visited Recovery Housing, a sober living and learning community for undergraduates.