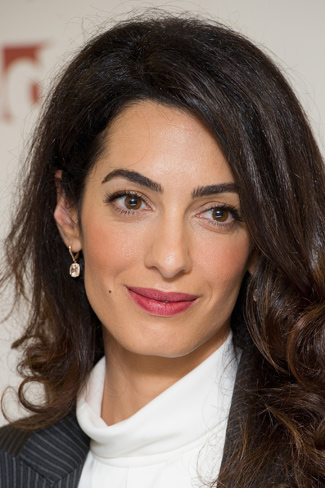 British human rights lawyer Amal Clooney, who specializes in public international law, international criminal law and human rights at London's Doughty Street Chambers, will receive Vanderbilt University's prestigious Nichols-Chancellor's Medal in May 2018, when she will address graduating seniors and their families during Senior Day.
Senior Day on Thursday, May 10, precedes Vanderbilt's annual Commencement ceremony for graduating seniors scheduled for Friday, May 11, and is a highlight of three days of activities honoring graduates, their families and friends. For more information about Senior Day and other events, visit Vanderbilt's updated Commencement website.
The Nichols-Chancellor's Medal is one of the university's highest honors, given to individuals who define the 21st century and exemplify the best qualities of the human spirit. It was created and endowed by Vanderbilt Law School graduate Ed Nichols and his wife, Janice, in honor of Edward Carmack and Lucile Hamby Nichols.
Clooney, an Oxford-educated lawyer, has represented clients ranging from political prisoners and ousted heads of state to WikiLeaks founder Julian Assange and the Republic of Armenia. She has appeared before the International Court of Justice, the International Criminal Court, the European Court of Human Rights and various courts in the United Kingdom and the United States. She is also a visiting professor at Columbia Law School.
She is a frequent adviser to governments on international law and has held a number of posts within the United Nations, including senior adviser to Kofi Annan when he served as the UN Envoy on Syria. While in The Hague, she worked on the genocide trial of former Yugoslav President Slobodan Milosevic. Since then she has challenged the detention of former Ukrainian Prime Minister Yulia Tymonshenko at the European Court of Human Rights. She has advised the Greek government on the return of the Parthenon Marbles, represented the Chagossians in their legal fight to return to their islands, and acted as counsel to the Armenian government in a case on the Armenian genocide.
In the last year, she successfully represented three political prisoners: Canadian journalist Mohamed Fahmy, who was convicted in the "Al Jazeera trial" in Egypt; former President of the Maldives Mohamed Nasheed, who was imprisoned on false terrorism charges; and award-winning Azerbaijani journalist "Khadija," who was arrested in Baku after reporting on corruption by the Azerbaijani president. All have now been released from detention.
She is currently counsel to Nadia Murad and other Yazidi women who have been sexually enslaved by ISIS in Iraq and Syria, working to secure accountability for the genocide committed by ISIS in national and international courts.
Clooney is on the UK government's list of experts on international law and on the government's panel to prevent sexual violence in conflict. She also has been named a "Young Global Leader" by the World Economic Forum, and she serves on the Forum's Global Council on Human Rights.