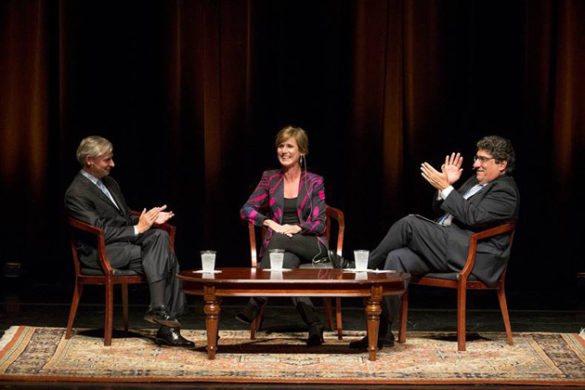 People told Sally Yates her tenure as acting U.S. attorney general would be uneventful—a welcome few weeks of relative relaxation until the Trump administration picked a replacement. She thought she'd return to her spot as deputy attorney general and continue her 27-year career with the Department of Justice.
Instead, Yates' refusal to enforce the newly inaugurated president's travel ban ended her time in that role after only 10 days. She was fired Jan. 30, 2017.
Yates shared that account and others Tuesday evening in an hourlong discussion with Chancellor Nicholas S. Zeppos and Pulitzer Prize-winning author and Vanderbilt Distinguished Visiting Professor Jon Meacham. The sold-out crowd in Langford Auditorium delivered two standing ovations for Yates, who recently accepted a position as a distinguished lecturer at Georgetown Law.
Titled "The Presidency and the Rule of Law," the event kicked off the Vanderbilt Chancellor's Lecture Series for 2017-18.
Zeppos asked Yates what she thought about the administration's actions on Deferred Action for Childhood Arrivals, which protects undocumented immigrants brought to the United States as children. Attorney General Jeff Sessions announced earlier this month that the program, enacted by executive order under the Obama administration, was ending. President Donald Trump took to Twitter hours later, expressing support for these immigrants, often referred to as Dreamers.
"[rquote]I can't imagine what it must be like if you're a Dreamer and you have absolutely no idea what your life will look like in six months," Yates said.[/rquote]
She expressed disappointment for Trump's public criticism about the ongoing investigation of his administration's dealings with Russia, saying there must be a wall between the presidency and the Justice Department, and concern about the presidential pardon granted former Maricopa County (Arizona) Sheriff Joe Arpaio.
"You have someone in charge of delivering justice, and he gets a contempt of court conviction for racially profiling Latinos," Yates said. "Then keeps doing it.
"What message does a pardon send as to respecting the rule of law?"
She said she never expected to be this well-known just for doing her job—refusing to defend an order she found legally indefensible—but now that she is, she will speak out against things she finds dangerous, "not tweeting every thought that comes into my head," she said.
Zeppos said presenting these types of conversations on university campuses is critical.
"With our country widely debating the role of the president and the rule of law, this is exactly the type of discussion we need to be having on campuses across the nation," he said.
Yates began her public service career in September 1989 as an assistant U.S. attorney in Atlanta. In 2010, she was appointed by President Barack Obama to lead the Atlanta office as its first female U.S. attorney. She was promoted to deputy attorney general in 2015.