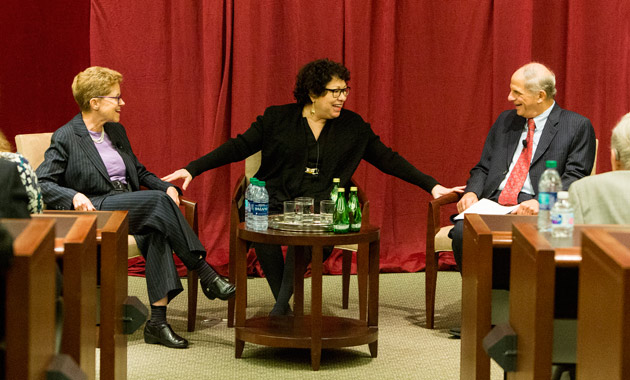 The Supreme Court is the most powerful and influential court in the nation. But Justice Sonia Sotomayor turned a lecture at Vanderbilt Law School April 3 into an intimate and inspirational chat.
Sotomayor continuously walked around the classroom, putting her hands on the shoulders of students, emphatically tasking them to live "with integrity" and leave the world "a slightly better place than you found it."
Sotomayor admitted to struggling to fit in with many of her professional roles because of her ethnicity, gender or other circumstances and advised students to "allow yourself to learn from your environment, even if it's uncomfortable."
Sotomayor said she learned the art of persuasion from her time as a New York district attorney, but she has found her greatest happiness being a judge. "I think this fish found her pond," said Sotomayor as she reminisced about her first time on the bench. "I have lived my dreams further than I've ever imagined."
Sotomayor said she and her Supreme Court colleagues deeply respect the sober impact their decisions make.
"All nine of us are equally passionate about the Constitution and the law," she said. "With every case in which we rule, there's a winner and a loser. I bear that in mind with every decision. … There's never a question of doing the least harm. It's almost inevitable we will cause harm to someone."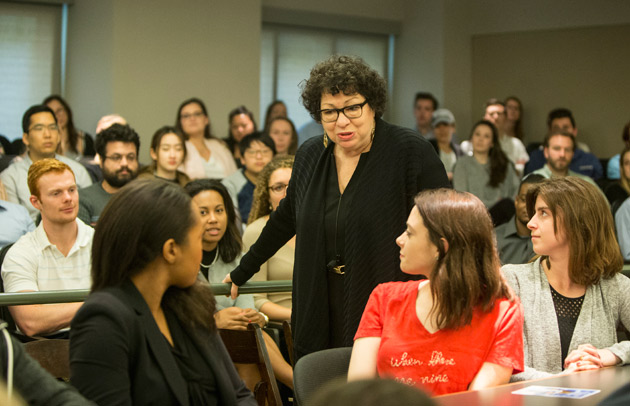 She credits mutual respect for sustaining the collegiality of the nation's highest court despite some strong differences. She cited fellow Justice Clarence Thomas as the judge with whom she disagrees the most, but said the way he treats people outside the courtroom is endearing.
"He knows the name of every single employee in the building," Sotomayor said. "I can stand here and say I just love the man as a person. He has the same value towards human beings as I have, despite our differences."
When asked which of her achievements makes her the most proud, Sotomayor beamed about her role with a free gaming website called iCivics.org that offers games to help middle and high school students learn and embrace the rights and duties of citizenship and the role of government. Retired Justice Sandra Day O'Connor founded iCivics in 2009 to reimagine civics education. The website also offers lesson plans for teachers to help them make civics relevant.
"I have made it my No. 1 passion," Sotomayor said. "Being a bystander in life is unacceptable, and that's what happens when you're not involved in civics."
Sotomayor did not list issues she believes the court will tackle in the future, saying with a laugh, "I hope they will take up every issue I dissented on and change their 'evil ways.'"
Sotomayor, 63, was born in the Bronx, New York. She earned degrees from Princeton University and Yale Law School, then served as an assistant district attorney in the New York County District Attorney's Office from 1979 to 1984. After that, she was a litigator for a firm in New York City.
Sotomayor started her judicial career in 1991 after being nominated to the U.S. District Court for the Southern District of New York by President George H. W. Bush. In 1997, she was nominated by President Bill Clinton to the U.S. Court of Appeals for the Second Circuit. On the Second Circuit, Sotomayor heard appeals in more than 3,000 cases and wrote about 380 opinions. In 2009, President Barack Obama nominated Sotomayor to the Supreme Court following the retirement of Justice David Souter.
Sims Lecture
Sotomayor came to Vanderbilt as part of the Cecil Sims Lecture Series. The Sims Lecture was established in 1972 to bring to Vanderbilt Law School distinguished men and women with extensive legal experience to associate informally with faculty and students.
Recent lecturers have included prominent jurists such as U.S. Supreme Court Justice Clarence Thomas and U.S. Attorney General Eric H. Holder Jr.
The Cecil Sims Lecture Series honors Cecil Sims, a 1914 first-honor graduate of Vanderbilt Law School and a founding member of Nashville law firm Bass Berry & Sims. He served on the Vanderbilt Board of Trust for 26 years and served the law school as a lecturer, president of the alumni association, and close friend of faculty members and students. Sims was a dominant figure in the reopening of Vanderbilt Law School after World War II and in the acquisition of the present law building. The lecture series is dedicated to him in recognition of his contributions to Vanderbilt and the legal profession and made possible through the generosity of the Sims family.