Stories by Graham Hays

At Vanderbilt, student-athletes showcase collaboration, leadership and integrity in the innovative and rigorous work they do in the classroom and on the field of play.
Their vision for making positive change is as unique and inspiring as any among the Class of 2023, and their Vandy United spirit compels these student-athletes to continually make an impact and succeed.
Meet some of the inspiring student-athletes in the Class of 2023.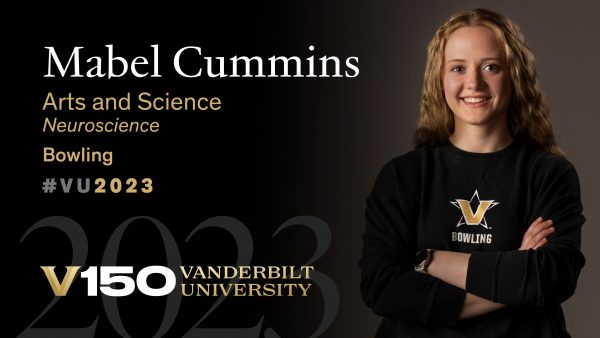 It's not quite accurate to say that there is nothing to do outdoors during the depths of an Alaskan winter. Childhood snapshots of Mabel Cummins show the future Commodore bundled up against winter's chill, a family sled dog watching over her. Weekend evenings were spent at the local bowling center.
Cummins' intellect and bowling skills led her to Vanderbilt as a neuroscience major in the College of Arts and Science. She seized the opportunity to realize her full potential on the lanes, most recently leading Vanderbilt bowling to the program's third national championship and earning recognition as the 2023 National Player of the Year.
"It started with the bowling team," Cummins said, "and it has just become so much more with academics, with research, with all of the different opportunities that have been afforded to me because I chose Vanderbilt. It's just been an incredible four years."
Read more of Mabel's story here >> Class of 2023: Bowler Mabel Cummins turns childhood dreams into championship excellence and future opportunities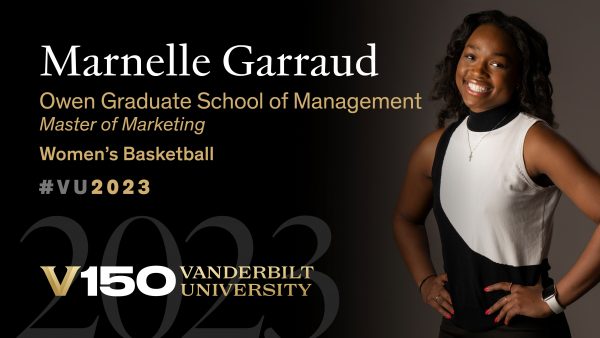 Having already earned all-conference defensive basketball accolades and a degree from Boston College, all-ACC academic honoree Marnelle Garraud wanted a graduate program that could further her entrepreneurial and legal ambitions. At Vanderbilt, the acclaimed Owen Graduate School of Management and its one-year master of marketing stood ready, offering tools and connections to last a lifetime.
"Being here challenges me to learn new things in the classroom. And then, every single day, playing in the SEC is a challenge because we're playing against some of the best teams in the country," Garraud said. "But I like that challenge. I like being pushed. I like challenging myself and demanding excellence for myself. I love that environment."
Read more of Marnelle's story here >> Class of 2023: Women's basketball student-athlete Marnelle Garraud turned transfer opportunity into a lifelong connection with Vanderbilt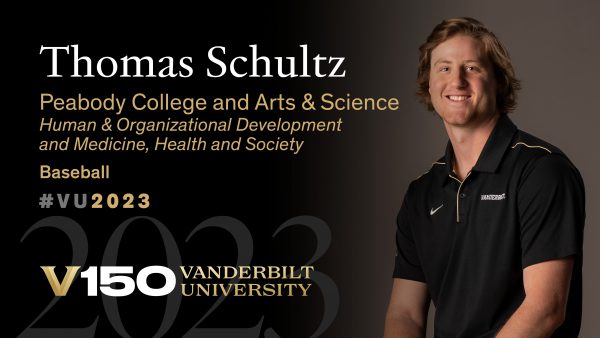 Arriving from his small Pennsylvania hometown as a freshman pitcher, Thomas Schultz wasn't intimidated to be joining the mighty VandyBoys. Earning innings on one of college baseball's most successful programs wouldn't be easy, but Schultz knew how he stacked up against his pitching peers. He worried more about living up to a world-renowned university's standard of excellence off the field.
"If we're being honest, I think school was the part I was most nervous about—such a prestigious school, so much history involved with it," Schultz said.
Schultz proved to be adept at the academic side of the student-athlete experience. He pursued a double major in human and organizational development at Peabody College of education and human development and in medicine, health and society in the College of Arts and Science.
"Working my way through my four years here and realizing that I can do this and I can sit next to some of the smartest kids in the country and in the world—it's given me that confidence to be able to succeed even more," Schultz said.
Read more of Thomas' story here >> Class of 2023: VandyBoys blueprint helps bullpen ace Thomas Schultz excel in a double major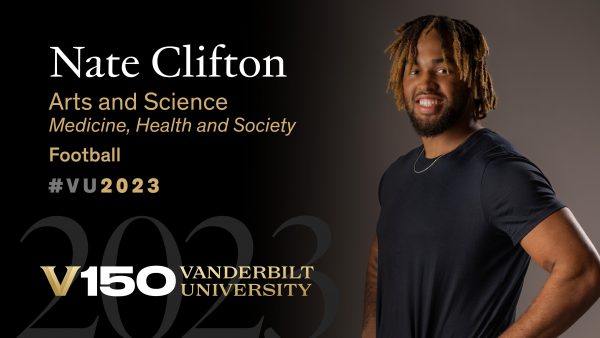 Nate Clifton has lots of dreams when it comes to his future.  As a medicine, health and society graduate of the College of Arts and Science, this member of the Class of 2023 will continue his studies, returning in the fall for a one-year master's program in learning, diversity and urban studies at Peabody College of education and human development. He will also be the cornerstone of the 'Dores defense, with a plan of continuing a gridiron journey that he hopes will lead to the National Football League.
But as a one-time SEC Academic Honor Roll honoree, Clifton keeps at least one eye on what comes after his final quarterback sack. He is fascinated by how the world around us shapes our growth, and he thinks often about the hypothetical starting point of an infant entering the world and how, as he puts it, "every single thing you give to that child" influences their available paths.
At Vanderbilt, while he learned to be curious about what makes each of us who we are, he also learned how best to be himself.
"Coming to Vanderbilt University is one of the best decisions of my entire life," Clifton said. "I'm very proud to say that, because it was a very rough journey to get to where I'm at. But those strides made me who I am today."
Read more of Nate's story here >> Class of 2023: Vanderbilt helps student-athlete Nate Clifton launch lifelong journey of self-discovery