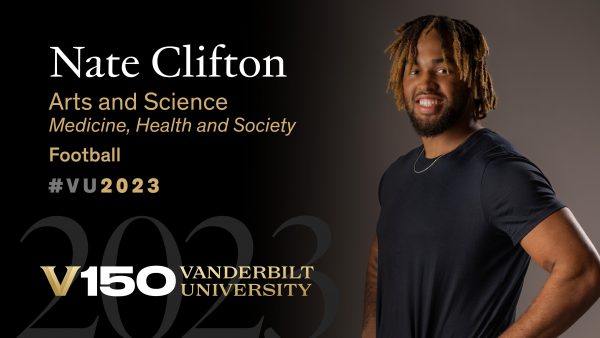 By Graham Hays
Nate Clifton has lots of dreams when it comes to his future.  As a medicine, health and society graduate of the College of Arts and Science, this member of the Class of 2023 will continue his studies, returning in the fall for a one-year master's program in learning, diversity and urban studies at the Peabody College of Education and Human Development. He will also be the cornerstone of the Dores' defensive line, with a plan of continuing a gridiron journey that he hopes will lead to the National Football League.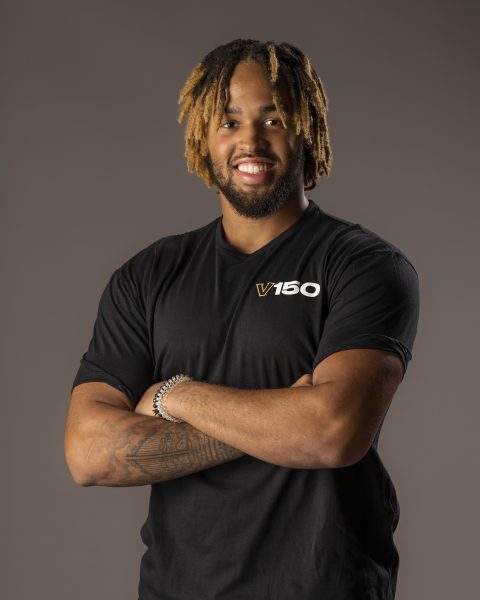 But as a one-time SEC Academic Honor Roll honoree, Clifton keeps at least one eye on what comes after his final quarterback sack. He is fascinated by how the world around us shapes our growth, and he thinks often about the hypothetical starting point of an infant entering the world and how, as he puts it, "every single thing you give to that child" influences their available paths.  
At Vanderbilt, while he learned to be curious about what makes each of us who we are, he also learned how best to be himself.   
"Coming to Vanderbilt University is one of the best decisions of my entire life," Clifton said. "It's safe to say that I've evolved over time. Back on the Commons [as a first-year student], I was known for being a homebody. I was in my room 24-7—hardly ever left except for class and workouts. But now I'm more involved in the community, more involved with teammates and things like that. 
"I'm very proud to say that, because it was a very rough journey to get to where I'm at. But those strides made me who I am today." 
FAMILY BONDS
His mother, Natasha, helped him forge that path long before he knew where it led. She's the one who convinced him to play football.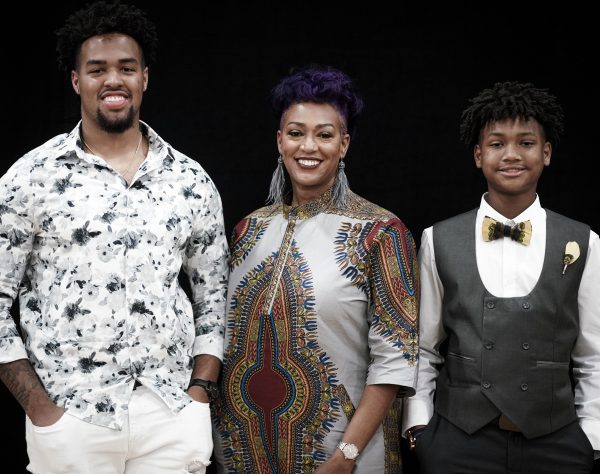 He loved basketball, but even after he hit 6-foot-4 in a seven-inch high school growth spurt, he had a frame better suited to the football field. And as he progressed through Nashville's Brentwood Academy, winning four state championships in football, it was also Natasha who impressed upon him that academic excellence was no less important than athletic success. As a single mother raising Nate and his brother, Nehemiah, she couldn't promise to pay his way through life. So, she invested much more than money in starting him on a path to self-discovery.   
"I'm very happy that I'm here today," said Clifton, turning to look at his mother. "It was all because of decisions that, even though I wasn't fond of them at the time, it was something that I needed to do. You set forth my dreams into action." 
At Vanderbilt, it was up to him to go all in to follow those dreams. He learned to deal with offensive linemen in the SEC. He learned how best to manage his time—creating small daily goals to maintain forward momentum in his studies.
LEARNING TO GROW
But more than any specific lesson, even those gleaned from one of his favorite sociology classes with Professor Laurie Woods, he learned how to grow. When he arrived on campus, he was so focused on the specific tasks in front of him that he rarely stepped beyond the Commons—or beyond his comfort zone. He wound up seeking help to manage what he describes as "low distress tolerance."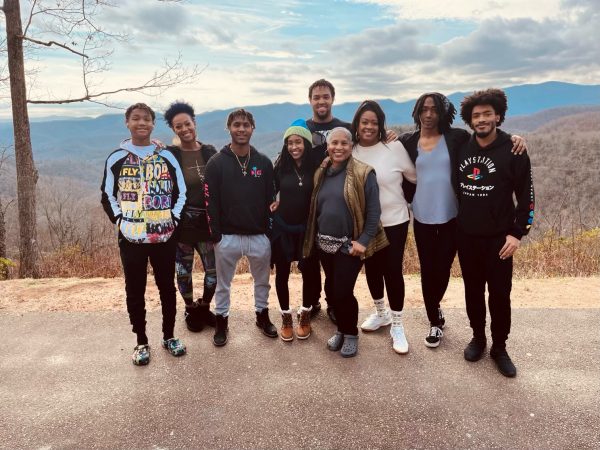 "When something is bothering me that causes me anxiety, anything like that, I get consumed by it," Clifton said. "It's all I could think about, and it's very hard for me to sit with it. But going to therapy and counseling and talking to people that can help me with this fear, I've learned that I need to work on sitting with stress from football, from practices, from the classroom and everything else that is involved with being a college athlete. I learned that I'm going to be stressed almost every single day, but I shouldn't let that inhibit my thoughts, my actions, my feelings, emotions and everything along those lines." 
He found the support and strength to embrace vulnerability, and that gave him the tools and confidence to not just follow the path set out for him, but to explore where it might lead.  
What path will he follow? There may be more than one. There is plenty of time to figure that out. But he'll embark on that journey with the tools to always keep his bearings.  
"Vanderbilt is a place where you're going to grow," Clifton said. 
 THREE QUESTIONS…
WHAT SEND-OFF MESSAGE DO YOU HAVE FOR THE VANDERBILT COMMUNITY?
"To the Vanderbilt community and the people who have made me the man I am today, I just want to say thank you. I'm very appreciative for the journey that I've been across, even the ups and downs, the emotional turmoil that that has occurred throughout my time here. It was all worth it. … Especially this last season, I'm very thankful to the Vanderbilt football staff, especially, for pushing us every single day during practice, even though we weren't getting the results that we wanted. Those victories against Kentucky and Florida were my first wins in the SEC since my freshman year. We had a losing season after that, but I believe that those things had to happen. It enhanced the moment when we finally got those victories." 

WHAT HELPED YOU STAY ON TOP OF ACADEMICS AS A STUDENT-ATHLETE?
"It is a goal of mine to at least do something every single day pertaining to school. It could just be some part of reading or a part of homework. But it's about taking those steps every single day. I struggled with that at first, especially freshman year, waiting to the last moment to complete econ homework. But especially right now, I don't really struggle, per se, with school. And without that excess stress, I've come to enjoy what I'm learning inside the classroom."

WHAT DOES COLLABORATION MEAN TO YOU?
"Collaboration means a group of people all working toward the same goals. If one person is not really involved with the group, then the group is not going be able to reach the highest level. So that's essential when it comes to the football team, because really you're the representation of your weakest link. If that person isn't bought in, then you're limited as to where you can go. And the same goes for a classroom, especially group products and things like that. If everyone is not involved in the assignment, there's only so much the rest of the team members can do."