By Jenna Somers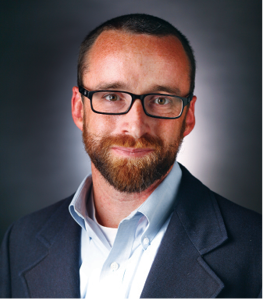 In April, Will Doyle, professor of leadership, policy, and organizations, participated in a panel presentation attended by congressional staff in Washington, D.C., to discuss the possibility of federal-state partnerships to fund higher education at low or no cost to students. The Institute of College Access and Success convened the meeting between policymakers and leading higher education scholars who wrote the ICAS report, "Paving the Path to Debt-Free College." The report presents a series of papers written by Doyle and other scholars on options for creating federal-state funding partnerships, the partnerships' benefits and tradeoffs, and how they might affect rural, minority-serving, and research institutions, among other considerations.
"Federal policy can make a real difference in college affordability if it aligns with state efforts. Our work shows how federal policy can work with the states to ensure that students and families can better afford the price of higher education," Doyle said, a professor at Vanderbilt University's Peabody College of education and human development.
The report argues that the lack of an official direct relationship between federal and state governments "impedes federal-state coordination to lower college cost, reduce reliance on debt, and improve institutional quality." Furthermore, states have continued to reduce higher education funding, as the cost of a college education is increasingly viewed as an individual responsibility. But with the cost of higher education outpacing inflation, a college degree is becoming harder for many American families to afford, leaving students saddled with unprecedented debt.
The report argues that a federal-state partnership would allow the federal government to send funding to the states to invest sustainably and equitably in their public institutions. It also recognizes that since states have dynamic higher education ecosystems, states should maintain responsibility for the provision of higher education.
That said, stark inequities exist in college access across the states. Particularly for low-income students, "the odds of college attendance are shaped by the state where they live," writes Doyle and Jennifer Delaney, associate professor of higher education at the University of Illinois at Urbana-Champaign. They co-authored the first paper featured in the report, "State and Federal Partnerships for College Affordability: Assessing the Options," which discusses the benefits and drawbacks of four potential federal-state partnership plans:
Replace students with the federal government as a revenue source, with a mandate for free tuition (e.g. the Bernie Sanders proposal): The federal government would pay student tuition, but since tuition varies significantly across states, federal dollars would be distributed inequitably.
Offer a flat subsidy to replace student revenues at the state level, with a mandate for free or low tuition (e.g. America's College Promise—the Biden proposal): The federal government would give all states an equal subsidy, but that means states with low tuition rates may be able to fully fund students, and states with high tuition rates may not see much of a difference in the cost for students.
Incentivize state financial aid funding (e.g. the Partnerships for Affordability and Student Success Act proposed by Senators Jack Reed and Susan Collins): The federal government would match state-funded need-based aid. This would directly benefit students but not necessarily institutions, depending on their levels of enrollment.
Incentivize state appropriations (e.g. a model offered by the Bipartisan Policy Center): The federal government would match new state spending that supports institutions 4:1. This plan would benefit institutions, but the degree to which it makes college more affordable for students depends on institutional "pass-through" rates.
Underlying the ICAS report is a paradigm shift from the view that college education is an individual benefit, for which the individual is primarily responsible for paying, to a view of higher education participation as a societal benefit, for which federal and state governments should be responsible for paying. Current funding models indicate that the individual-benefit philosophy predominates, but, as the report argues, college-educated citizens strengthen democracy through increased rates of civic engagement and voting. They also bolster national and state economies through employment in high-skilled, in-demand professions that advance civil society and earn them higher wages over their lifetimes, which increase federal and state tax revenues.