By Jenna Somers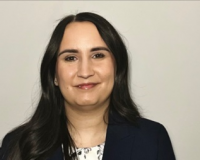 For four years Timea Taylor served in the Army, primarily as a cable system installer and maintainer stationed at Fort Gordon, Georgia, and then as company logistics manager in Afghanistan. After her service, she attended Wesleyan University as a Posse Scholar in recognition of the leadership skills she developed in the Army.
But as a first-generation college student, she was confronted by a steep learning curve and imposter syndrome. That was until a professor introduced her to the student accessibility services office, which guided her through key aspects of the college experience. She also received critical support from deans and advisers.
Taylor's mentorship through college allowed her to earn her bachelor's degree in art history and the college of letters and made her realize her desire to pay it forward by building a career supporting college students like herself. Now she is on track to do just that as a member of the Class of 2024 at Peabody College of education and human development pursuing a master's degree in higher education administration in the Department of Leadership, Policy and Organizations.
Taylor plans to become a dean or adviser, inspired by those who guided her at Wesleyan. She chose to attend Peabody in pursuit of this goal because of the comprehensive curriculum of the higher education administration program. "Peabody exposes you to a range of everything related to this field," Taylor said. "I get to engage with data, research and policy and to look at things like enrollment management and learn about the history of higher education. I know that I'll be well-prepared for leadership in higher education after I graduate."
Taylor's interest in a career in higher education administration stems from both her experiences as a student and as a soldier. Mentoring other soldiers was the aspect of the Army that Taylor enjoyed the most. Like the deans, advisers and other higher education professionals who mentored her through college, she guided new soldiers through every step of joining the Army.
As a Peabody student, Taylor appreciates opportunities to bridge knowledge gaps between traditional students and those coming from the military. "Other students at Peabody are so accepting of me as a veteran, and we all share a deep passion for learning from each other," Taylor said. "I think Peabody is great for veterans interested in being education leaders because it's a welcoming place that strengthens leadership skills acquired in the military, and the Bass Scholars program allows us to pursue our educational and professional goals in programs across Vanderbilt while continuing what we loved about the military—mentoring and serving others."
This story is one of a three-part series on Bass Military Scholars at Vanderbilt Peabody College of education and human development. Please continue by reading Joseph Behrendt's and Benjamin Parnell's stories.