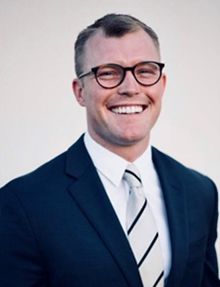 By Jenna Somers
The Latin phrase non nobis solum—"not for ourselves alone"—hung above the entrance to Joseph Behrendt's childhood home, an expression of his family's highest value, service to others. That and their regard for education spurred Behrendt to join the military and attend the United States Military Academy at West Point, where he graduated as an infantry officer in 2014 with a bachelor's degree in comparative politics.
Behrendt is the first Bass Military Scholar at Peabody College of education and human development. A member of the Class of 2023, he is pursuing a master of education in higher education administration in the Department of Leadership, Policy and Organizations.
Before coming to Peabody, Behrendt served for more than seven years in the U.S. Army, with deployments to Afghanistan and the Horn of Africa. When he wasn't stationed overseas, he was at Fort Campbell, Kentucky. The proximity to Vanderbilt gave him an understanding of how the university's values—education and service—intersected with his own. As he prepared to transition out of the Army, these shared values led him to Peabody.
"I really fell back on my passion for higher education and the ability to shape the young minds of 18- to 22-year-olds, expand their worldview and impact how they can give back," Behrendt said. "I think the world would be a better place if we thought of our neighbors and communities a little bit more, so that's why I wanted to get into higher education and that's why I came to Peabody."
One week after completing his military service, Behrendt started classes at Peabody. He went from commanding 140 soldiers one day to being responsible only for himself the next. Feeling like he lost the sense of camaraderie that comes with being a soldier, he turned to the Bass Military Scholars program, which has given him a sense of purpose and belonging after leaving the military. Behrendt has shared the wisdom he's gained through his military service about overcoming adversity with student-athletes on the football team as well as undergraduates who attended the Thrive Dinner Series hosted by Jill Stratton, assistant provost for experiential learning and adjunct assistant professor of human and organizational development.
These experiences complement Behrendt's educational goals at Peabody as he develops a deeper understanding of the challenges facing colleges and their students, and how to remedy those challenges. After graduation, Behrendt plans to join Huron Consulting Group as a higher education consulting associate. In the long term, he hopes to complete a Ph.D. program and return to higher education as an administrative leader.
"I chose Peabody for several reasons, but the opportunity to learn and grow from world-class faculty remains at the top of my list. They and my talented peer cohort have challenged my long-held beliefs, introduced me to new perspectives and forced me out of my comfort zone," Behrendt said. "As the first Bass Scholar at Peabody, I hope to set a positive precedent of what veterans can contribute to the classroom and the community. When Bass Scholars join Peabody, we are given the opportunity to educate future educators, administrators and policymakers on military values, culture and the overarching good that veterans bring to the classroom and the community."
This story is one of a three-part series on Bass Military Scholars at  Vanderbilt Peabody College of education and human development. Please continue by reading Benjamin Parnell's and Timea Taylor's stories.