What does it take to run a growing health brand with a positively focused social media presence while excelling at academics and maintaining a social life? For Los Angeles native Sloane Chmara, it's all about wellness.
"To me, wellness means being my happiest, best self in that present moment—physically, mentally and spiritually," she says, "and knowing that my definition of wellness is fluid and can change day to day, week to week, year to year."
Chmara is a medicine, health and society major, with minors in French and corporate strategy. She says this interdisciplinary academic track has provided her with the tools to help translate her zeal for healthy cooking and communication into a career.
"I've had a passion for cooking since I was really little," says Chmara, who ran a baking business in high school. "Baking was just so fun for me because it kind of felt like arts and crafts."
In college Chmara found that eating more wholesome foods made her feel better mentally and physically. She started combining dining hall options with other fresh ingredients and created recipes she could make in her residence hall room. Then she took that interest into the classroom.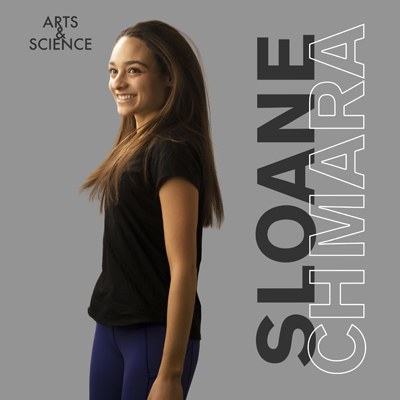 "I've always been a math and science girl, so that's why the field of nutrition is so interesting to me," she says. "I started studying the science behind nutrition, especially with the help of [Assistant Professor of Nursing] Jamie Pope, and brought it into my cooking."
The summer after her first year, she began sharing photos of her healthy new creations and their recipes on Instagram under the handle @KaleandKravings. As the number of followers grew, her business instincts kicked in, and a healthy cooking hobby became a truly immersive experience.
Soon she launched the Kale and Kravings website and expanded her social media platform. She also broadened the range of business classes she was taking and started a cooking show on Vanderbilt's student TV network. Along the way she helped launch the student organization Vanderbilt Women in Business with her sorority sister Sasha Pines, BS'17.
"Being in that professional mentoring environment, especially with Sasha's leadership, was super instrumental in showing me what it looks like to network and to use all the resources we have here at Vanderbilt," Chmara says.
In April 2018, Chmara appeared on the Food Network's online program ChoppedU and won her episode—what she calls one of the best experiences of her life. Another milestone followed when she wrote and launched an online cookbook and lifestyle guide called Kollege Kravings during her senior year.
"I prioritize sleep, my sanity and my health. I've never pulled an all-nighter in my life, and I don't really intend to."
It may seem like a lot to juggle, but Chmara has found a way to stay grounded and focused.
"My friends and my family are my No. 1 support system," she says. "I would have crashed and burned a long time ago if I didn't have them. And I prioritize my education and the amazing resources I have at Vanderbilt so much. There are so many people here who want to help."
Her other big secret? Chmara always gets at least eight hours of sleep each night.
"I prioritize sleep, my sanity and my health," she says. "I've never pulled an all-nighter in my life, and I don't really intend to."
More News from Vanderbilt