Sasha Pines, a senior majoring in economics, believes combining solid business strategy with a sense of empathy can change lives.
"I love entrepreneurship and the opportunity to make positive change by taking an idea and putting it into action," she said.
The San Diego native tested this philosophy at age 15 by launching a camp for children with special needs called Camp Let Loose. The camp was run mostly by high school students.
"I was young, but I wanted to do big things," said Pines, noting that people would often dismiss her as "just a high schooler," which she would shrug off.
That experience showed me how much I loved taking an idea and putting it into action.
"It was really that experience that showed me how much I loved taking an idea and putting it into action," she said.
Women in Business
Pines tapped into that same drive to found Vanderbilt's first Women in Business organization for students who, like herself, plan to go into business after graduation. The group launched in 2015 and has quickly become one of the most popular student organizations on campus, with more than 600 members.
"We have a mentorship program, which is really the heart of WIB, where we pair students with women within the Vanderbilt Owen Graduate School of Management, alumni and female leaders throughout Nashville," Pines said.
Through these mentorship programs, a speaker series, recruiting events and a "women to watch" educational series, female undergrads are able to learn real-life business lessons.
"We bring in these powerful women, and instead of asking, 'how do you balance work, life and motherhood?' we ask, 'how do you become a better business leader?' We change the narrative on what it means to be a professional woman. We focus on self-improvement, not strictly on our role as a female," she said.
Pines said having a business school on Vanderbilt's campus has created a treasure trove of ideal mentors.
"The Owen women are definitely a huge step ahead of us, but not too many steps ahead that they can't relate to what we're struggling with," Pines said. "They help us answer questions like, 'What career should I pursue? How do I interview? How does my résumé look?' They're sort of going through that too, just at a later stage—so they give us really relevant advice in that regard."
Career accelerator
Pines said the Owen School's Accelerator Summer Business Institute changed everything for her. Accelerator is a four-week program in which students from across the country consult for multiple companies. They complete MBA-level courses and work in diverse teams to solve real-life business challenges for clients.
"After I finished Accelerator the end of my freshman year, I was like, 'I can do anything!'" she said. "They really teach you where your line is. … I'm a nerd and I love school, but grades are not enough for me. Accelerator was a perfect challenge."
Beyond graduation
Some of the same Owen School professors Pines encountered through Accelerator are teaching in Vanderbilt's new undergraduate business minor program.
"Working with such phenomenal professors and having small classes makes all the difference, because you can really have a great relationship with a world-renowned professor. How rare is that?" she said.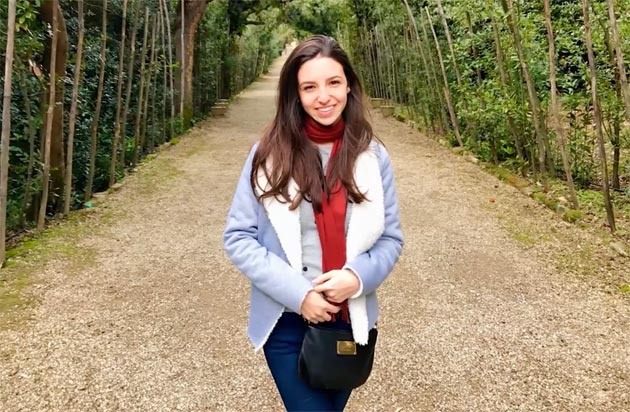 Vanderbilt combines having a very smart, diverse, exciting, ambitious student population with a supportive community. That is so rare to find in a top university.
Pines said the business minor is giving her a new level of practical education. In addition, she believes her managerial studies minor has created a "dual advantage" for her as she embarks on a business career after graduation.
"Vanderbilt provides a wonderful liberal arts education, and then managerial studies gives the necessary marketing, accounting and finance skills that you need to get a job," she said.
Right fit
Pines thinks Vanderbilt is the perfect home for her entrepreneurial spirit.
"We're making really exciting moves in the entrepreneurial innovation space with the Wond'ry," she said, "and it's just a lot of fun to interact in such a community-oriented and diverse environment.
"Vanderbilt combines having a very smart, diverse, exciting, ambitious student population with a supportive community. That is so rare to find in a top university," she said. "It's also really fun here. I wouldn't want to be anywhere else."