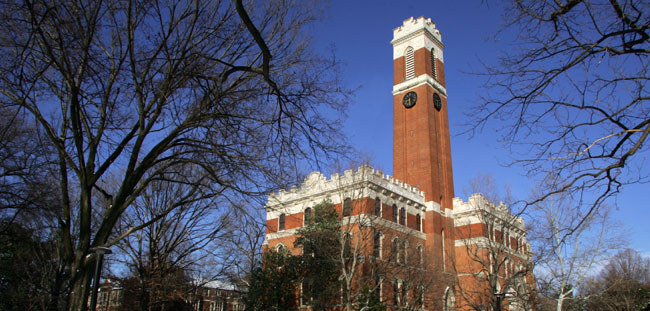 Chancellor Nicholas S. Zeppos has named a committee including a Board of Trust member, two top administrators and a number of faculty members who will search for the next Vanderbilt University provost.
Richard McCarty, provost and vice chancellor for academic affairs, announced in December that he will step down June 30.
In addition to Zeppos, who will be chairman, the committee will include Board of Trust member Eugene B. Shanks Jr., corporate director, former president, Bankers Trust Company; Audrey Anderson, vice chancellor, general counsel; and Brett Sweet, vice chancellor for finance and chief financial officer.
Faculty members on the search committee are:
Kenneth Catania, Stevenson Professor of Biological Sciences;
Benoit Dawant, Cornelius Vanderbilt Chair in Engineering, professor of electrical engineering, professor of radiology and radiological sciences and professor of biomedical engineering;
Lynn Enterline, Nancy Perot Mulford Professor of English;
Tracey George, Charles B. Cox III and Lucy D. Cox Family Chair in Law and Liberty; professor of law, professor of political science and director of the Cecil D. Branstetter Litigation and Dispute Resolution Program;
Christopher Loss, assistant professor of public policy and higher education;
Bunmi Olatunji, associate professor of psychology and associate professor of psychiatry;
Sohee Park, Gertrude Conaway Vanderbilt Chair in Psychology, professor of medicine, health and society and professor of psychiatry;
Sandra Rosenthal, Jack and Pamela Egan Professor of Chemistry, professor of pharmacology, professor of chemical and biomolecular engineering and director of the Vanderbilt Institute of Nanoscale Science and Engineering; and
Eric Skaar, Ernest W. Goodpasture Chair in Pathology, associate professor of pathology, microbiology and immunology and director of the Microbial Path Program.