Charleson Bell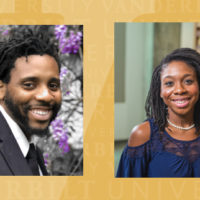 Sep. 9, 2020—Alumni Charleson and Charreau Bell are siblings, business partners, innovators and entrepreneurs, as well as emblematic of the culture of innovation at Vanderbilt's Wond'ry and Data Science Institute.
---

Jun. 8, 2018—To help ensure that Vanderbilt's mission stays on track and is poised for future success, Chancellor Nicholas S. Zeppos has convened a broadly diverse group of alumni leaders called the 'Dores of Distinction.
---

Aug. 30, 2013—Vanderbilt graduate student Charleson Bell, who is the president of the high tech startup BioNanovations, is participating in a 12-week accelerator program in Silicon Valley specifically designed to encourage underrepresented tech entrepeneurs.
---