On June 29, the Supreme Court of the United States ruled in favor of Students for Fair Admissions in cases against the University of North Carolina and Harvard College for violating the Constitution's equal protection clause in their admissions practices. The decisions overturned more than 40 years of precedent set by previous Supreme Courts and have catalyzed a host of discussions among policymakers, scholars, advocates, university administrators, and other stakeholders on the implications for admissions and recruitment at higher education institutions across the country.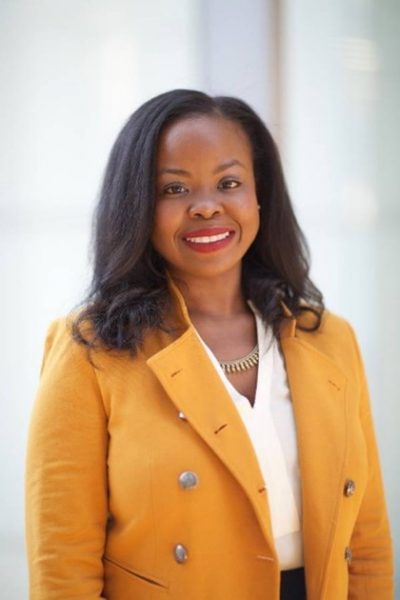 Kelly Slay has been an important voice in these discussions. An assistant professor of higher education and public policy at Vanderbilt's Peabody College of education and human development, Slay studies enrollment management policies aimed at improving campus diversity, particularly in post-affirmative action contexts. Her research examines issues of race, diversity, and equity in higher education and is primarily focused in three areas: (1) factors that shape college choice, completion, and career trajectories among Black students and other students minoritized in higher education (2) the use and equity implications of enrollment management policies, particularly in post-affirmative action contexts; and (3) how bans on race-conscious affirmative action shape the experiences of marginalized students.
In the days prior to the Supreme Court's initial hearing of the SFFA cases, Slay participated in related events in Washington, D.C. and signed amicus briefs in the cases. This past summer, she returned to D.C. as one of many scholars invited by the Biden administration and the Urban Institute to discuss with other scholars, policymakers, and legal experts the future of higher education research, policy, and admissions practices. In October, she also participated in robust conversations at a two-day convening hosted by the Spencer Foundation.
Q: Can you share key points from your meetings with the Biden administration, the Urban Institute, the Spencer Foundation, and your involvement in them?
KS: Following the Supreme Court's rulings, the Biden administration held a national summit on how the country can continue to pursue diversity and equity in higher education. We held panel discussions on college admissions, graduate admissions, student recruitment, and sense of belonging in higher education. I led a discussion on sense of belonging with the chancellor of the Connecticut State Universities System, Natasha Warikoo, a professor of sociology at Tufts University, and Robert Rodriguez, assistant secretary for planning, evaluation, and policy at the U.S. Department of Education.  On these panels, we discussed topics such as best practices for moving forward and what we can learn from current research. Members from the Biden administration took notes to inform their post-affirmative action guidance and strategies for higher education institutions. Since the summit, the Department of Education has issued a report, which cites an article I co-authored on institutional efforts to support diversity in STEM graduate programs.
I also took part in a convening at the Urban Institute focused on the actions we need to take to understand and inform about the post-affirmative action higher education landscape. This meeting included scholars in the higher education field who study aspects of college access as well as legal experts and representatives from foundations, college access organizations, and college admissions organizations. We brainstormed about the types of questions we need to ask in future research, the kinds of data we need to collect and analyze, and we discussed relevant findings from our research. As we navigate the new post-SFFA environment, we need research to understand the scope and magnitude of the ruling as well as any promising practices and findings that emerge.
In many ways, the convening at the Spencer Foundation allowed us to extend these conversations. Over two days, a diverse cross-section of about 40 thought leaders – from seasoned, distinguished professors such as psychologist Claude Steele, economist Susan Dynarski, and sociologist Marta Tienda to emerging scholars like myself – gathered in Chicago. Foundation presidents, education policy leaders, and chief enrollment management leaders were also a part of the conversation. I was asked to share insights from my research in a breakout session on admissions and enrollment management. I think the most exciting part of the convening was working for hours in small groups to develop ambitious and innovative plans for reimagining and supporting equity in higher education. We are all aware of the significant legal and policy challenges ahead and yet by the end of the convening there was also a great deal of hope and optimism about what is possible.
Q: In the absence of race-conscious admissions, what tools or methods can institutions use to diversify their campuses?
KS: When we think about the Supreme Court ruling, it's important to remember that it is narrowly focused on the consideration of race as one of many factors in the admissions process. That allows us to think about all the other ways that we can still build a diverse class of students. Some institutions have implemented test-optional or test-free policies. They have implemented percentage plans, where students in the state who graduate within a certain percent of the class–maybe the top 10 or 5 percent—are guaranteed admissions to the state's flagship university. We have seen some preliminary and very positive evidence on direct admissions, which basically means students don't have to apply because their information is gathered, and they can be admitted on predetermined criteria. That removes the barriers that some students perceive and experience in the admissions process. Direct admissions practices are in the early stages of being piloted in some states, with positive results.
Importantly, the Court's ruling does not impact recruitment. In fact, the guidance encourages colleges and universities to think about outreach and recruitment for building their pipelines. They might look at first-generation status or high schools where they may not have recruited from in the past. How can they collaborate with community-based organizations and religious organizations to spread the word about their institution and to engage in practices that align with their mission, commitments, and values?
Some colleges are considering test-optional admissions or test-alternative admissions. One of the things I'm working on, along with other researchers, is to provide more research and evidence on how test-optional policies work. Under what conditions do they work? Most of the research that we have on test-free and test-optional policies, particularly at the undergraduate level, has come from examining the policies of liberal arts colleges and private institutions. With the pandemic, those policies expanded to a wide range of colleges and universities, so we still need to collect data and build more evidence. We have lots of questions that we should be exploring as it relates to these tools. But what we have seen is some evidence from institutional data that test-optional policies can work to increase diversity, in part, because they remove barriers that minoritized students often experience in the college admissions processes.
Q: What are the effects on society when higher education institutions prioritize diversity?
KS: Previous Supreme Court rulings on affirmative action cases have upheld the importance of diversity as a compelling interest. Legally speaking, that means that diversity is of the highest order of importance to us and our society. It is essential. As a result of, particularly, the 2003 Supreme Court cases involving the University of Michigan, there was a massive amount of research conducted that provided evidence that race-conscious admissions were an important tool for creating a racially diverse class, and that diversity would have implications not only for students, not only for our society or the local area, but for our entire world. Some of that research has focused on everything from education to business to health and medicine.
Research has offered resounding evidence of the importance and benefits of diversity, including educational benefits that students experience when they are in classrooms and campus environments where they are learning from others who have different backgrounds, different identities, and world views. Those kinds of interactions and more robust conversations in classrooms occur because of the diversity of perspectives. Students develop higher levels of cultural awareness and acceptance, increased racial understanding, increased participation in community service—things that make us better citizens and better human beings.
When we look beyond education, we see evidence that diverse organizations are more profitable. They're more innovative. They're able to leverage their creativity to solve pressing issues. People educated in diverse classrooms are more competitive in a global society. They become better doctors, lawyers, and educators. There are many reasons why diversity is important and compelling, and colleges and universities should still pursue diversity as it aligns with their values and commitments.
Q: What are some ways that a more diverse set of institutions can support racially minoritized students and be supported through policies and practices to meet the needs of those students?  
KS: The broader discourse around race-conscious admissions has focused on the most selective colleges and universities, but they are a tiny sliver of the higher education landscape. We need to expand our idea of higher education to encourage students to apply to other great institutions, including regional universities and community colleges, and we need to invest in them so that they have the capacity to support students well and handle potential increases in their enrollment. For example, community colleges are often under resourced despite the vital role they play in postsecondary education. We also expect that some HBCUs will see increases in applications and enrollments because Black high school students may be more inclined to apply to or enroll in institutions that they perceive as being more racially diverse. We have evidence of this sort of reshuffling of students of color to different types of institutions in the wake of affirmative action bans in other states including, Michigan, Texas, and California.
Another part of supporting minoritized students in this current post-SFFA environment is ensuring that higher education institutions remain committed to cultivating campus environments where minoritized students feel that they belong. Diverse and inclusive campus environments are critical for promoting students' psychological and social wellbeing as well as contributing to better academic outcomes, but research shows that affirmative action bans can have a chilling effect on the campus climate. So, the potential implications of the decision go beyond admissions and the college-going process for prospective students. There's a lot we need to do, and our efforts require creativity, courage, and collaboration.
I am hopeful that we can come up with innovative solutions. Dedicated professionals who work in enrollment management and many smart, committed experts around the country are coming together to think about what we can do differently to make college access more equitable. The Supreme Court decision is a devastating blow to higher education, but we also need to think of this as a moment of opportunity. That's why I am hopeful about what the future holds for higher education and for the ideals of access, diversity, and equity in our institutions.