Two Vanderbilt researchers are part of a team that earned a $1 million grant to develop AI-based training that will help neurodiverse people learn to drive—addressing a huge obstacle for that population.
"The ability to drive will open up new opportunities for employment and a life of independence for many neurodiverse individuals," said Nilanjan Sarkar, David K. Wilson Professor of Engineering and chair of the Department of Mechanical Engineering.
Sarkar and team members Keivan Stassun, Stevenson Professor of Physics and Astronomy, professor of computer science and director of the Frist Center for Autism and Innovation, and Mary Baker-Ericzen, a research professor in the College of Education at San Diego State University, collaborated on the project that earned the distinguished Civic Innovation Challenge (CIVIC) Stage 2 Award of $1 million from the National Science Foundation.
Last year, CIVIC—a partnership of the National Science Foundation, the U.S. Department of Energy, the Department of Homeland Security and the U.S. Department of Agriculture—awarded Stage 1 Planning Grants to 56 teams of civic and academic partners to "support the strengthening of their partnerships and plans for ready-to-implement, research-based pilot projects" and to "accelerate the transition to practice of foundational research and emerging technologies into communities through civic-engaged research." Vanderbilt researchers received two of those awards.
CIVIC recently announced that Sarkar's team was one of 19 that advanced to the second stage. The researchers are exploring an integrated AI and behavioral science–based driving training (AIDT) system designed for neurodiverse individuals to improve transportation independence.
There's a strong need for independent transportation in the neurodiverse community. According to estimates, 85 percent of autistic adults are under- or unemployed, resulting in a roughly $400 billion negative economic impact annually. Autistic adults rate employment as their top concern for improved quality of life. And transportation independence is a factor in bridging this gap, Sarkar said, as only 30 percent of autistic adults hold a driver's license.
Other stakeholders in the project include vocational training centers, schools, clinics and insurance providers.
"I am pleased to receive this CIVIC award, which allows us to test our driving simulator in real-world settings with real people whose lives can be positively impacted by learning how to drive," Sarkar said.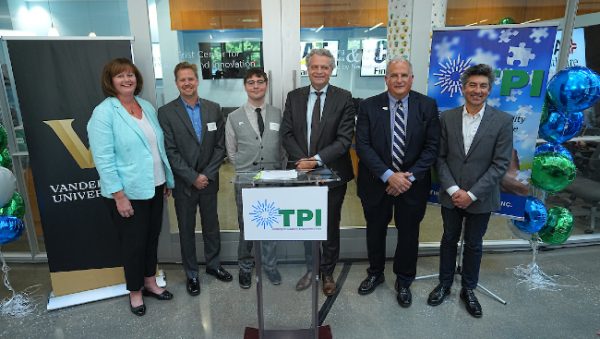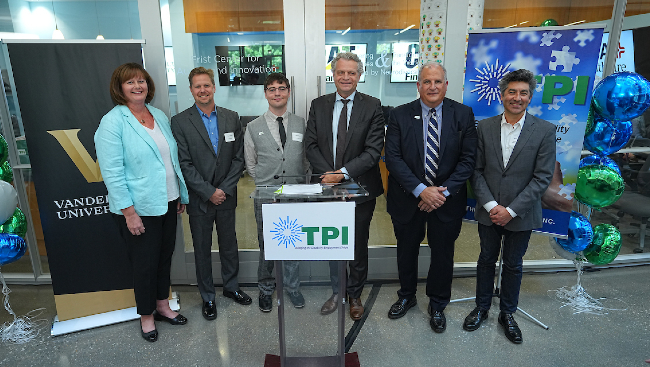 Earlier this week, the Frist Center for Autism and Innovation announced a collaboration with The Precisionists Inc., a Wilmington, Delaware–based company that assesses, trains and employs neurodiverse adults to carry out project-based consulting work. Along with partners including Cat Financial and HCA Healthcare, the company announced the expansion of its neurodiversity employment program in Nashville at an event hosted at the Wond'ry, Vanderbilt's Innovation Center.
"The Frist Center for Autism and Innovation at Vanderbilt is a first-of-its-kind academic research center focused on developing the technologies and business approaches that will lead to successful pipelines to employment for people with autism and other neurodiversities," Stassun said. "We choose the organizations we work with carefully, based both on a willingness to use evidence-based practices and a demonstrated track record of success. TPI has become one of our single most important collaborators, and we are thrilled that [TPI CEO] Ernie Dianastasis and his team have chosen to make Nashville a second home for their innovative model."