Media Inquiries
Latest Stories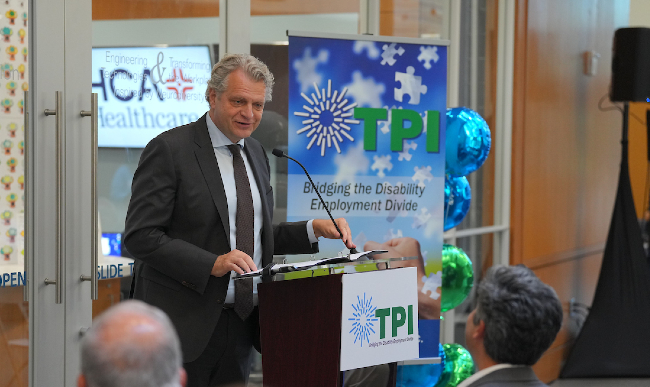 Vanderbilt University and the Frist Center for Autism and Innovation at Vanderbilt are collaborating with The Precisionists, Inc., a Wilmington, Delaware-based company that assesses, trains and employs neurodiverse adults to carry out project-based consulting work. The company announced the expansion of its neurodiversity employment program in Nashville at an event hosted by Vanderbilt's Frist Center on Sept. 19.
TPI entered the Nashville market in 2018, and Vanderbilt University and the Frist Center for Autism and Innovation were among its first local clients. TPI delivers IT and business support services to participating organizations, including software development and testing, database analytics, cybersecurity, back-office accounting, data entry and auditing reports.
The Precisionists' workforce performs these tasks on site at clients' locations as well as at TPI's Innovation and Technology Center located in Nashville's Metro Center area. To date, eight neurodiverse consultants have been assigned to perform projects at Vanderbilt to assist the university in its ongoing operations. In addition to initial Nashville collaborators Vanderbilt and UBS, TPI has added Cat Financial, HCA Healthcare and Dollar General to its list of clients over the past year.
TPI's innovative employment model has a 94 percent retention rate after one year of employment for its neurodiverse workforce, many of whom are building meaningful careers after experiencing rejection and failed starts.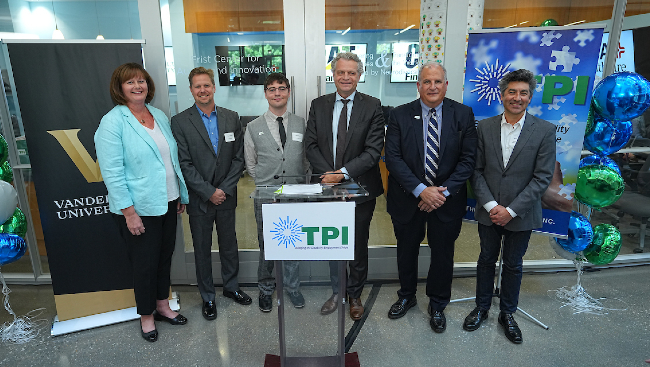 "Vanderbilt is delighted to continue our relationship with The Precisionists," Chancellor Daniel Diermeier said. "The research and solutions coming out of our Frist Center, plus our overarching commitment to belonging, inclusion and being an innovative workplace, make collaborating with The Precisionists a natural fit."
"The Frist Center for Autism and Innovation at Vanderbilt is a first-of-its-kind academic research center focused on developing the technologies and business approaches that will lead to successful pipelines to employment for people with autism and other neurodiversities," said Keivan Stassun, director of the Frist Center and Stevenson Professor of Physics and Astronomy. "We choose the organizations we work with carefully, based both on a willingness to use evidence-based practices and a demonstrated track record of success. TPI has become one of our single most important collaborators, and we are thrilled that [TPI CEO] Ernie Dianastasis and his team have chosen to make Nashville a second home for their innovative model."
The Precisionists anticipates steady growth in the Nashville market and plans to create more than 500 local jobs for adults with autism and neurodiversities within the next three to five years.
"Tennessee is leading the nation in job creation, and we thank The Precisionists for their commitment to creating over 500 positions for neurodiverse job seekers in Nashville," Tennessee Gov. Bill Lee said. "Partnerships with UBS and Vanderbilt have led to more opportunities with top-notch corporations like HCA Healthcare, Cat Financial and Dollar General and will ensure an innovative, thriving workforce for years to come."
"With wonderful partners like Vanderbilt University, Cat Financial, HCA Healthcare and Dollar General already in place, we have a great running start on creating hundreds of careers for this very talented—and virtually untapped—labor pool," Dianastasis said.
Individuals interested in applying for a position with TPI should visit theprecisionists.com/careers, or email careers@theprecisionists.com with questions.