Media Inquiries
Latest Stories
By Jenna Somers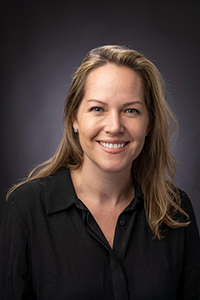 Kathryn Humphreys, associate professor of psychology and human development at Vanderbilt Peabody College, has won a 2023 Early Career Impact Award from the Federation of Associations in Behavioral & Brain Sciences. According to the federation, the award "recognizes scientists from FABBS member societies who have made major contributions to the sciences of mind, brain, and behavior."
Humphreys studies how early life experiences, especially with caregivers, function in contexts of risk and resilience across development, emphasizing brain development and testing potential treatments intended to improve caregiving environments.
"Kate Humphreys is an exceptional early career scholar whose groundbreaking research in the field of mind, brain, and behavior has made a significant impact on the well-being of young children," said Camilla P. Benbow, Patricia and Rodes Hart Dean of Education and Human Development.
"This award is a testament to the hard work and dedication of my team, and I am humbled to be recognized by FABBS as an early career scientist working to make a significant impact in the field of mind, brain, and behavior research," Humphreys said.
Humphreys uses innovative technologies, such as the Language Environment Analysis (LENA) audio recording device (i.e. "talk pedometer") and wearable "TotTag" devices that measure caregiver–child proximity, to investigate infants and toddlers in their everyday environments. Her research team discovered that infants whose caregivers initiated more conversation exhibited more advanced receptive and expressive language in toddlerhood. Humphreys has been collaborating with a team of computer scientists and engineers to develop the TotTag. Like the LENA, it is a wearable, Bluetooth device intended to help researchers understand changes in caregiving across development as well as cultural, parental, and family factors in children's experiences. Both devices should help researchers predict later social, emotional, and cognitive functioning. Last year Humphreys received a National Institutes of Mental Health Biobehavioral Research Award for Innovative New Scientists to employ the devices in a study assessing caregiving among 150 families from a child's birth to age 18 months.
Additionally, Humphreys received the prestigious National Science Foundation CAREER award and other grants that have allowed her lab at Vanderbilt to conduct more than 100 MRI scans on newborns, resulting in one of the largest datasets with multimodal infant imaging. These scans support prior work on prenatal influences on brain development. Humphreys also studies how pregnancy may affect the brain, both during peripartum and postpartum periods. Neurobiological changes across these periods may be relevant to mood and anxiety difficulties during the transition to parenthood.
As an expert in adversity and child psychopathology, Humphreys explores the role of home placement disruptions on psychiatric symptoms and disorders in adolescents. She is a co-investigator on the Bucharest Early Intervention Project, the only randomized controlled trial of high-quality foster care as an alternative to institutional care, which has provided groundbreaking evidence that indicates high-quality caregiving improves children's functioning. She recently documented the long-lasting impact of the BEIP on cognitive functioning in a paper published in Proceedings of the National Academy of Sciences, which showed a 9-point increase in IQ in young adulthood caused by the intervention.
Dedicated to preventing maltreatment, Humphreys serves as co-investigator of the iLookOut for Child Abuse team, which offers free courses to early childhood professionals and satisfies mandated reporter training requirements. iLookOut has also been shown to have a greater impact on knowledge and attitudes about abuse identification and reporting than the standard training.
In addition to receiving the Early Career Impact Award from FABBS, Humphreys has received the Boyd McCandless Award from the American Psychological Association, the Janet Taylor Spence Award for Transformative Early Career Contributions from the Association for Psychological Science, and the Infant and Early Childhood Mental Health Emerging Leadership Award in Research from ZERO TO THREE, among many others. She has written 150 peer-reviewed articles and secured $5 million in grant funding as a PI, with an additional $15 million awarded for collaborative projects.