Joel S. Pizzuti (B.S.'94), president and chief executive officer of The Pizzuti Companies in Columbus, Ohio, will be honored by Vanderbilt's Peabody College of education and human development with the 2023 Distinguished Alumnus Award during Commencement ceremonies on May 12.
Headquartered in Columbus with offices in Chicago and Nashville, Pizzuti has developed more than 60 million square feet of projects, including The Joseph, a luxury hotel located in Nashville, Tennessee. Under his leadership, the Pizzuti Companies is one of the country's top real estate development, marketing and management firms.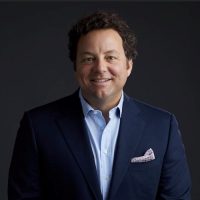 "I am honored to be recognized as a distinguished alumnus of Vanderbilt's Peabody College," Pizzuti said. "My experience at Peabody was incredibly rewarding and continues to have a significant impact on my life every day."
Giving back to the community is an integral part of the developer's life. He serves as an executive committee member of The Center for Real Estate at The Ohio State University, leads an annual campaign for The United Way, and generously supports the Columbus Public Library system.  He served for nearly a decade as the president of The Short North Arts District Alliance, showing his commitment to the Columbus neighborhood and to the arts. Pizzuti is also a member of The Columbus Partnership and serves on the boards of both Experience Columbus and The Greater Columbus Sports Commission.  His community involvement has extended to Nashville, where he is an avid supporter of the Nashville Symphony.
"Joel Pizzuti has demonstrated his commitment to strengthening communities and the arts they support," said Camilla P. Benbow, Patricia and Rodes Hart Dean of Education and Human Development at Peabody. "We are proud to honor him as Distinguished Alumnus."
When he is not at work or with his wife, Jessie, and his four daughters, Pizzuti can often be found on the pickleball court.