Vanderbilt University and Bruker Daltonics, a manufacturer of scientific instruments for molecular and materials research, are collaborating to establish a Mass Spectrometry Center of Excellence housed in the Mass Spectrometry Research Center at Vanderbilt University School of Medicine Basic Sciences. The MSRC is a university-wide facility serving the university and Vanderbilt University Medical Center. It is directed by Richard Caprioli, Stanford Moore Chair in Biochemistry. This is the first center of its kind to be established by Bruker.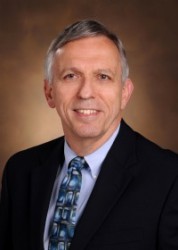 The center of excellence will acquire four new state-of-the-art Bruker mass spectrometers. Bruker will assist the center with service and software and collaborate on joint development of instrument protocols and modifications. This collaboration represents a multimillion-dollar endeavor made possible by Caprioli, Dean John Kuriyan and Dean Emeritus Larry Marnett, Provost C. Cybele Raver and overwhelming faculty support across the university and medical center that leverages years of research collaboration with Bruker.
"Vanderbilt's symbiotic relationship with Bruker will directly increase our capabilities in biomedical scholarship and discovery—technology development that will create avenues for international research collaborations, attracting external funding and exposing graduate students and postdoctoral trainees to state-of-the-art technologies," said Kuriyan, dean of the School of Medicine Basic Sciences. "We are very pleased to broaden our relationship with Bruker for these reasons and beyond."
The MSRC at Vanderbilt is one of the world's largest academic mass spectrometry centers and is a leader in research, technology development and core capabilities. These capabilities are key to continued pathbreaking discoveries in the "-omics era," where technologies like mass spectrometry are used to study large data sets such as DNA (genomics), RNA (transcriptomics), proteins (proteomics), lipids (lipidomics) and endogenous metabolites (metabolomics).
A mass spectrometer measures the mass-to-charge ratio of an ionized molecule, allowing its exact molecular weight to be calculated. Mass spectrometers are used to identify unknown compounds, to quantify known molecular compounds and to determine the structure and chemical properties of molecules. Over the years, mass spectrometry has been used to help diagnose genetic diseases in newborns, detect the use of steroids in athletes, monitor patients' breathing during surgery, locate oil deposits by measuring petroleum content in rocks and more. Now more than ever, the molecular specificity and sensitivity of this technology is leading to amazing discoveries, advancing the understanding of human health and disease, and developing strategies for disease diagnosis and treatment.
"This fast-moving technology brings phenomenal capabilities to support groundbreaking scientific exploration. It is critical in this -omics era that Vanderbilt leads and has state-of-the-art equipment in its cores to support the numerous research activities in the university and medical center," Caprioli said.
"We are thrilled to expand our collaboration with Vanderbilt University in support of the MSRC Center of Excellence. The feedback and exchange we will receive will be incredibly valuable," said Rohan Thakur, president of life science mass spectrometry at Bruker. "In turn, this engagement with Vanderbilt will help ensure that the MSRC Center of Excellence remains at the leading edge of MS technology. It's truly a win-win scenario for advancing Vanderbilt's world-class biomedical research programs."
The MSRC facilitates pioneering discovery across the university and medical center. Jeffrey Spraggins, assistant professor of cell and developmental biology and director of the Biomolecular Multimodal Imaging Center, develops advanced IMS and multimodal molecular imaging technologies. He and Caprioli have received $13.6 million in grants to develop molecular "atlases" of the brain, kidney, eye and other tissues. Kevin Schey, professor of biochemistry, ophthalmology and visual sciences and director of MSRC core facilities, has engaged mass spectrometry to reveal how proteins in the human eye's lens change over time, often leading to formation of cataracts—a condition affecting more than 65 million people worldwide.
Caprioli developed imaging mass spectrometry with his experiments dating back to 1998. "Biological processes that occur in organs and how drugs interact with them can be difficult to fully understand because they happen in different cells scattered throughout the organ and at different times," Caprioli said. "Multiple techniques can give smaller pieces of this puzzle, but imaging mass spectrometry provides scientists with maps of thousands of molecules in a tissue. It is a technology that has burst open new capabilities for research. It is truly a next-generation molecular microscope."