by Amy Wolf
A dynamic group of Vanderbilt scholars—all women—with expertise in engineering, earth sciences, sociology and storytelling took to a global stage by participating in one of the world's most influential climate conferences. They came out with inspiration, information and connections to advance their work in mending and protecting the Earth.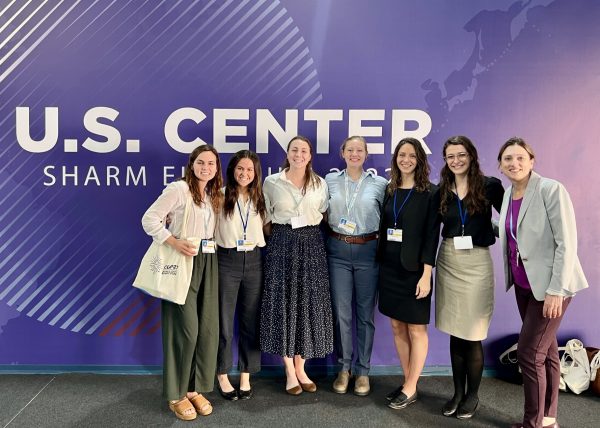 Leah Dundon, assistant professor of civil and environmental engineering and director of the Vanderbilt Climate Change Initiative, led a group of students at the 27th annual United Nations Framework Convention on Climate Change, better known as COP27, in Sharm el-Sheikh, Egypt, in late November 2022. 
"COP27 was truly like being 'in the room where it happens,'" said Madeline Allen, BA'19, who continued at Vanderbilt to work toward a graduate degree in civil and environmental engineering. Her focus is hydroclimate extremes. "The negotiations, conversations, knowledge exchange and connections made at COP play a critical role in how climate is addressed at a global level. To get the chance to witness that and participate in those conversations is an incredible opportunity."
Dundon's group was mostly graduate students with diverse backgrounds and majors in science and the humanities.
"I really wanted each of them to find programming there that not only spoke to their area of expertise, but that also expanded the view found in their disciplines," Dundon said. "My thinking behind that is really about the cross-pollination of ideas that happens when you're exposed to things that are totally outside your field."
"I'm coming from a humanities background," said Jennifer Gutman, who is in the College of Arts and Science and working on her Ph.D. dissertation on contemporary climate fiction. "I'm really interested in storytelling and examining the cultural imaginaries that are tied to these historical and scientific changes to earth systems."
"Imaginaries" are the sets of values, institutions, laws and symbols through which people imagine their social whole, Gutman explained.
"Immediately I started to recognize how important language, communication, narrative and dialog were to these negotiations," she added.
VANDERBILT SPOTLIGHT
Vanderbilt had its largest-ever presence at the COP27 conference since earning official U.N. "Observer" status several years ago. The designation allows students to attend the annual climate change negotiations and conference.
Dundon spoke on four panels with science, research and climate leaders from a number of U.S. government agencies, including the National Science Foundation, Smithsonian, Department of Transportation, members of the European Parliament, port commissioners and more. One of her key presentations was on her research on marine shipping decarbonization.
"It was wonderful this year to get Vanderbilt's research accomplishments and goals truly on the world stage and directly in front of all these leaders," she said. "And when it comes to decarbonizing the marine shipping industry, having discussions with people that have the power to make changes is the reason I do this work."
UNIVERSITIES WORKING TOGETHER

Dundon also co-led a panel of universities in the NSF-supported Youth Environmental Alliance in Higher Education, a network of schools working to bridge the gap among disciplines, cultures and perspectives around climate change studies. Dundon spoke alongside students and Smithsonian and National Science Foundation representatives on the need for new and different approaches to climate change education.
She is pursuing these goals at the university level with a recently awarded $2.5 million NSF grant to establish a Climate Leaders Academy at Vanderbilt.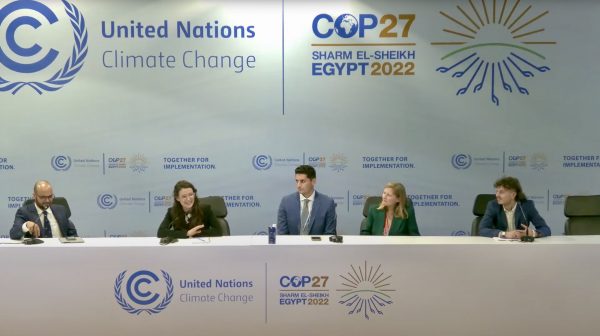 Madeline Allen spoke in a session that focused on climate change's impact across generations, emphasizing the need for climate issues to be taught in middle and high schools. The panel also touched on initiatives happening at schools, such as FutureVU sustainability projects and Vanderbilt's new climate studies major within the College of Arts and Science.
"One of my favorite things about going to COP is the atmosphere of the conference," Allen said. "Sure, there's an undercurrent of frustration because … we need to be doing more, but beyond that, there is an air of inspiration and optimism that allows me to return to my research with a renewed sense of excitement and urgency."
ART MOTIVATING SCIENCE
Two former Vanderbilt students won a competition to have their climate-inspired artwork chosen for display at the conference.
Vanderbilt, in concert with the Youth Environmental Alliance in Higher Education, submitted a proposal to have a student art exhibit at the U.S. Center, which is the official presence of the U.S. government at COP where all U.S. programming occurs.
"Our proposal was to have a display of environmental- and sustainability-focused art, prepared by students from the U.S. and around the world, highlighting the role of art in fostering climate solutions," Dundon said.
The proposal was accepted, and the group then ran a competition for student art submissions. Two alumna who created work while at Vanderbilt earned spots in the exhibit—Megan Jordan, MA'19, PhD'22, and Chelsea Janda, BS'22. Some of the work was also used for a presentation on the power of art to inspire change.
"No matter what field you're planning to have a career in—health care, policy, business, finance, law, science, engineering, humanities—an awareness of climate change is critical, and Vanderbilt is preparing students to become leaders in these fields," Allen said.