Vanderbilt hosted the Vanderbilt University–Oak Ridge National Laboratory Workshop on Climate Change and Environmental Justice on Oct. 9, welcoming ORNL researchers for a dynamic discussion on the climate change research the organizations are undertaking and to explore potential collaborations.  
The workshop, sponsored by the Office of the Vice Provost for Research and Innovation, was the second time in a year that Vanderbilt has hosted ORNL on campus.  
ORNL leadership visited Vanderbilt in fall 2022 for a two-day immersion into Vanderbilt research initiatives related to energy, climate and global security. October's workshop was designed to allow a larger group of ORNL scientists and Vanderbilt faculty to dive deeper into potential areas of collaboration. 
ORNL Deputy for Science and Technology Susan Hubbard gave the opening remarks.  
"As one of ORNL's core universities, Vanderbilt is a valuable partner in our efforts to deliver scientific and technical solutions to the nation's toughest problems," Hubbard said. "Climate change mitigation and adaptation are grand challenges that require extraordinarily diverse expertise. We are thrilled to explore how we can accelerate our collective impact by strategically aligning our relevant institutional strengths."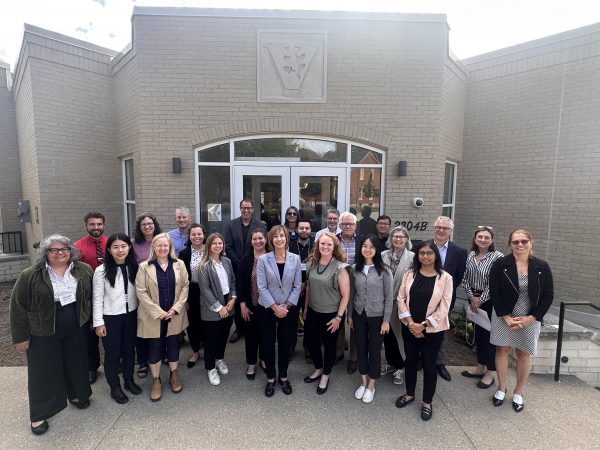 Vice Provost for Research and Innovation Padma Raghavan also welcomed workshop attendees.  
"Collaboration with institutions like Oak Ridge National Laboratory is not just beneficial—it's essential," Raghavan said. "Vanderbilt's faculty excel in cross-disciplinary research with distinctive expertise, like environmental justice and infrastructure resilience to climate change. Combined with ORNL's strengths in earth and environmental sciences and supercomputing facilities, we can address complex issues broadly and effectively."  
Three Vanderbilt faculty were deeply involved in organizing the workshop with OVPRI: Jason Valentine, who serves as Vanderbilt's ORNL faculty liaison, Janey Camp, a research professor of civil and environmental engineering, and Jonathan Gilligan, professor of earth and environmental sciences and civil and environmental engineering. 
The event featured a series of "Lightning Talks" that delved into various facets of climate change—from its scientific foundations to its direct effects on the environment. Structured breakout sessions followed each lightning talk round so attendees could share perspectives and brainstorm on further collaboration and solutions. 
Discussions also highlighted the human consequences of climate change, emphasizing environmental justice and the importance of policies to address community inequities.  
The talks concluded with a focus on "Adaptation and Resilience," where speakers shared strategies for not just coping with, but flourishing amid, climate challenges. 
The day concluded with remarks and an outline of next steps, reaffirming the commitment of both institutions to work together and address the multifaceted challenges posed by climate change.  
OVPRI offers limited travel support for interested members of the Vanderbilt research community to visit ORNL and work toward developing research collaborations. To request travel funds, complete this form. For questions about the travel support program, email VU-ORNL-Collaborations@vanderbilt.edu. 
About ORNL
UT-Battelle manages ORNL for the Department of Energy's Office of Science, the single largest supporter of basic research in the physical sciences in the United States. The Office of Science is working to address some of the most pressing challenges of our time. For more information, please visit energy.gov/science.