Media Inquiries
Latest Stories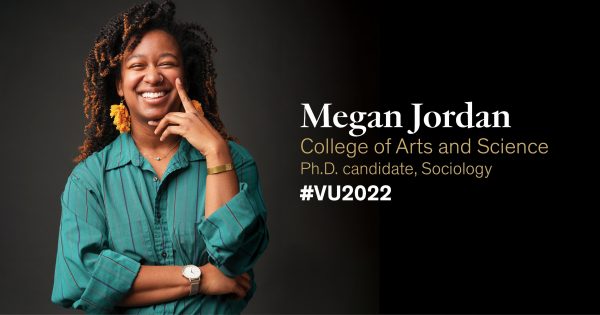 By Amy Wolf
Art, research, social justice and community are the cornerstones that support the life and work of sociology Ph.D. candidate Megan Jordan, MA'19.
Jordan came to Nashville from Huntsville, Alabama, to examine social movements—how they form, how they're sustained and how they're seen by those within and outside of the movement.
But she doesn't look with the eye of a traditional qualitative researcher.
"I'm also an artist, so I think about the way that messages are shared with people and how social issues are translated to folks," Jordan said. "And sometimes the best way is through storytelling and through visual images and accounts that get people outside of the issues to see and connect with them in a real way."
SOCIAL JUSTICE AND STORYTELLING
Jordan believes translating and understanding the stories behind social issues can lead to positive change.
"Hopefully people will connect with the stories and feel something about these social issues so that we can all imagine solutions to them," she said.
Jordan's research touches on tough social issues with topics such as artist activists' strategies of social cohesion and solidarity during contentious periods and the internal strains to social movement coalitions.
In her most recent work, Jordan examined the issue of social justice workers' experiences with burnout.
"My dissertation examines the emotional labor of activism and how burnout is experienced among activists during this interesting and traumatic time that we've been facing," she said.
Jordan found that activists need more strategies for coping, communication and reflection to be mentally healthy.
FINDING BELONGING AND INSPIRATION
Jordan has lived in Nashville for almost five years and has worked through challenges to build community on campus and beyond. The Bishop Joseph Johnson Black Cultural Center was where she first found belonging at Vanderbilt.
"It was when Professor Rosevelt Noble opened a student art gallery. It was my first show on actual walls, which I was so excited about," she said.
"Being first-gen and a Black woman here, I feel like I've had to learn ways to be a bridge builder—connecting with audiences who have not shared my experience and communicating to them how we can enable everyone to flourish," she added.
NEXT STEPS
Jordan plans to continue working at the intersection of social change and art with a postdoctoral fellowship at The Ohio State University in the Arts Administration, Education and Policy Department.
She intends to take the inspiration she received from Vanderbilt faculty and students with her.
"There are so many creative scholars here that have big visions for change," she said. "And on the other side, our undergrads are amazing. I've gotten to teach some brilliant students, and I'm excited to know that they're the generation coming up to change things."