by Amy Wolf

A group of Vanderbilt students with diverse majors joined their creative forces for an immersive writing challenge: Take sophisticated science, technology, engineering and math topics and make them compelling for fourth graders.
How did they do it? Through storytelling.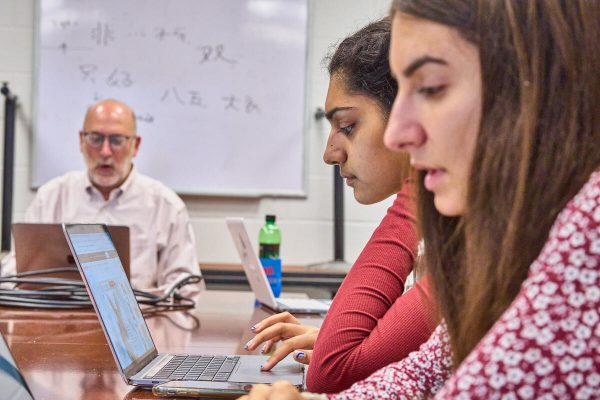 "Behind every type of science and research is a real person with a great story to tell," said Rachael Perrotta, who is triple majoring in political science, cognitive studies and communication of science and technology.
The students leaned in to the inspiring origin stories and professional lives of Vanderbilt STEM professors to help write and edit biographies for the Who me? I'm a … Now! book series.
The series, targeted to fourth and fifth graders, features Vanderbilt professors doing research in quantum dot chemistry, astronomy, bioarcheology, biomedical informatics, radiation oncology and more.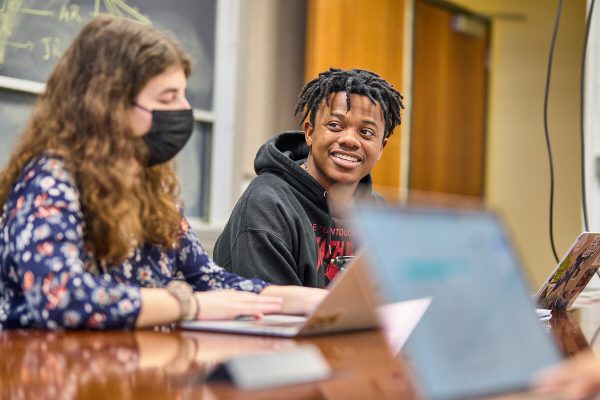 "I love science. Science is my breakfast, lunch and dinner, and this book project let me dig into new research and use the creative side of my brain," said Bryce Emanuel, a double major in communication of science and technology and French. "And if I can make a child feel like they can do something cool when they grow up, I feel like I've accomplished my job."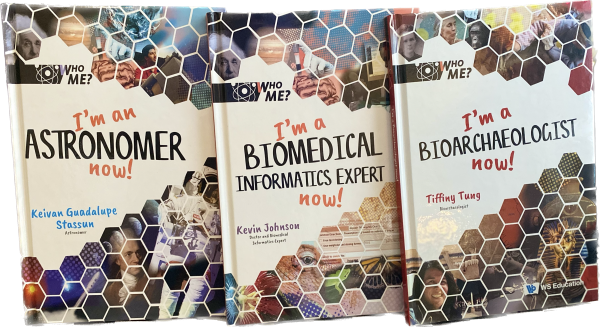 Some students also expanded the work into Immersion Vanderbilt projects.
"The students had done their homework and read things from my career that I forgot that I had written," said Sandy Rosenthal, Jack and Pamela Egan Professor and professor of chemistry. "I've taught general chemistry 22 times, with high teaching evaluations for being a good explainer, so I was on board with this book idea," she added.
The series is the brainchild of David Weintraub, professor of astronomy, history and the communication of science. He started writing and editing with fellow faculty, then turned it into a class. The group began working on several books this year and have ideas for more.
"I did a lot of research, and what I learned is that a lot of children's science books are pretty boring," Weintraub said. "I thought maybe I could do something with Vanderbilt faculty and students that focused more on people. So, if kids get interested in the stories around people and they learn some science along the way, we win."
THINKING LIKE A KID
Vanderbilt students are used to working and writing at an advanced academic level. This project involved sophisticated work—with a twist.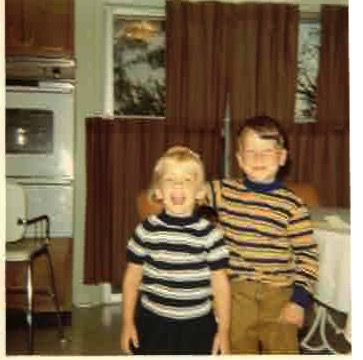 "We had to go back and think like 10-year-olds, which was hard, but fun," Perrotta said.
That meant including stories about the professors' childhoods with lots of photos, images and opportunities for young readers to do experiments and activities at home.
The class used special readability software that evaluated their writing to make sure it was age-level appropriate.
"We really had to workshop how we worded things so that kids understand what's going on to an adequate extent," Perrotta said. "We read out loud to each other a lot, which isn't something many of us have done since elementary school."
SHARING REAL-LIFE ISSUES
Students spent time discussing how to explain sensitive topics in the professors' research and lives.
"In the book we're working on with paleobiologist Larisa DeSantis, I was fascinated to learn about her journey growing up with epilepsy. And she originally wanted to be a politician after following the debate and passage of the Americans with Disabilities Act," Perrotta said.
Rosenthal, well known for her breakthrough work in nanocrystals and quantum dot chemistry, shared her continuing trial with bipolar disorder and how it influences her research and teaching.
"I was able to talk to the students about how wonderful it was to spend my childhood summers in Northern Wisconsin and about playing basketball in college as an undergrad," Rosenthal said. "But I don't tell my story anymore without including my seasonal bipolar disorder, because that's a part of who I am."
Emanuel said talking with Rosenthal in their interviews had a big impact.
"She's a wonder to be around with the energy that she puts out," Emanuel said. "And it's cool because I also have issues with mental health, and I really appreciate her being comfortable enough to speak to us about her own experience. The fact that somebody who is so successful and a trailblazer in their field and who has also dealt with mental challenges means a lot."
Rosenthal said sharing all of her life story was part of the reason she agreed to the project.
"I want my students to know that you can have a successful career and a satisfying life, even in the presence of mental illness. And it's that same motivation for fourth and fifth graders," she said.
The Vanderbilt students said they admired the professors' willingness to show their humanity as much as their groundbreaking work. And that is exactly what they're hoping the elementary readers will take away from the books.
"It's really cool to be able to say that I was part of this book series and physically hold and read the books we worked on," Perrotta said. "I loved seeing how much these professors care and have a life and do their own things in addition to being really accomplished."