Media Inquiries
Latest Stories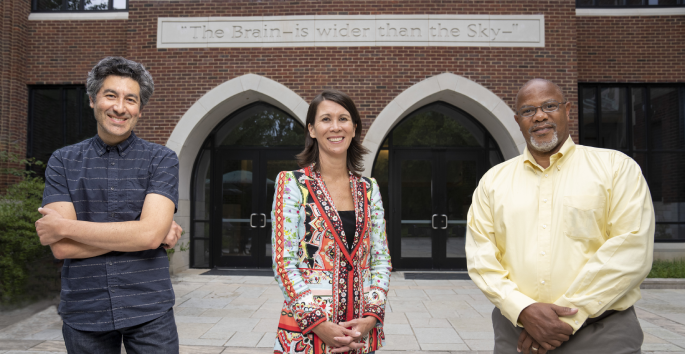 A team of Vanderbilt and Vanderbilt University Medical Center faculty are working together to produce a series of children's science books aimed at fourth grade–level readers. The books introduce science concepts, promote stronger identification with scientists of all backgrounds and establish a foundation of science literacy that children can carry forward throughout their lives.
The first three scientists featured in the Who Me? series are a digital doctor, a star gazer and a bone inspector. The trio of authors launching this series are Dr. Kevin Johnson, Cornelius Vanderbilt Professor and chair of the Department of Biomedical Informatics, professor of pediatrics and informatician-in-chief at VUMC; Keivan Stassun, Stevenson Professor of Physics and Astronomy and professor of computer science; and Tiffiny Tung, professor and chair of the Department of Anthropology.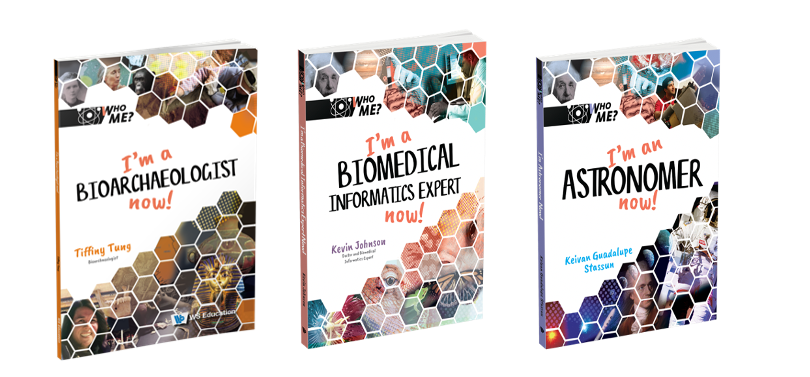 The books describe the paths each took to become a scientist and introduce readers to discoveries made by each scientist. The book series is co-edited by David Weintraub, professor of astronomy, history and the communication of science; Ann Neely, emerita professor of the practice, children's literature and literacy education; and Johnson. It is published by World Scientific Publishing Co.
Across the U.S., there is a declining interest in STEM careers among school-aged children. This may be because the experts who could be role models are not in their orbit; they are often in the lab or field, working to design the next engineering marvel or taking care of patients. These researchers felt that one of the best ways to help plug the leaky pipeline for students pursuing STEM careers was to give schoolteachers and families another resource to excite and inspire their young readers about the wonders of science and its exciting career opportunities.
Weintraub developed the idea in 2015 as a series for young readers across Tennessee. Stassun agreed to work on the first book in the series, and Neely, a children's literature expert, soon joined the project. Neely used her expertise to improve the book's structure and worked with Weintraub to find scientists with whom their target readers could identify.
"Stassun, Tung and Johnson are the ideal first authors in this series because each has a fantastic personal story and is working on exciting science," Weintraub said. "New planet discoveries! Mummies! Computer science! We were able to work together on writing compelling books that hopefully will encourage more authors to proactively come to us." The team purchased 1,000 copies of each book to distribute to as many fourth-grade classrooms and elementary school libraries in Middle Tennessee as are interested.
Kevin Johnson
"As a young kid, I didn't realize that my curiosity, love of caring for nature and creativity were the ingredients for a career in science. Luckily, others did, and they became my role models and guides along the way," Johnson said. His book shows how a childhood passion for science and caring for animals, combined with his engineering aptitude, turned him into a pediatrician who uses data science to improve health care. As a gay African American physician scientist, Dr. Johnson is a role model for many children who are underrepresented in medicine and science.
Keivan Stassun
"Growing up, there were very few examples of people with my interests—space science—who came from families and neighborhoods like mine. Or if there were, I wasn't aware of them. Their stories weren't being told," Stassun said. "My hope is that there will be young readers out there who can read this story and see something of themselves in it, because science is for everyone." Stassun's book details how he became interested in learning about planets orbiting other stars, ultimately becoming involved in a space mission as part of his research about exoplanets.
Tiffiny Tung
"When I was growing up, girls weren't encouraged to pursue science—or even a career—but we can see societal change that's giving girls more options. I hope this book series helps push those positive changes and makes science seem like a realistic path, no matter your gender or racial identity, where you grew up or who you love," Tung said. Her story covers her circuitous journey to bioarchaeology and the study of people and cultures from the distant past. She grew up with an immigrant parent, seeing the similarities and differences between Chinese and American society and also developing a love and curiosity for the outdoors. It's no wonder she loves to dig in the dirt and analyze skeletons. Today, Tung uses archaeology and biology to understand how people in the past lived and why they moved from one part of the world to another.
David Weintraub
"In each book, we first draw in young readers who want to learn about a person with whom they can identify. We address who each scientist is, how they were inspired to pursue science, when they 'knew' that science was in their blood and what they did to become successful," Weintraub said. "As readers follow that journey, they are introduced to scientific discoveries made by the author and the scientific concepts that underlie those discoveries. Because people like learning about people with whom they have something in common, our goal for each of these books is to teach science by making it a part of the scientist's story. We hope that our young readers learn exciting scientific ideas and are encouraged to remain curious about science, stay in school, aspire to go to college and get excited about reading another book in the Who me? series."
Four Vanderbilt undergraduates, Olivia Pembridge, Samantha Rosen, Marlee Silverman and Trae Stroud, worked with Weintraub to research and write the first draft of Tung's book. The students interviewed Tung, and their draft highlighted details that they felt were most captivating. Each will be credited as a guest editor and for some, the work will contribute to Immersion projects.
"It was a joy to work with our Vanderbilt students, sharing the excitement—and challenges—of doing bioarchaeological field work in Peru," Tung said. "The draft the students sent me was creative and thoughtful, and you'll see some of their wonderful ideas throughout the book."