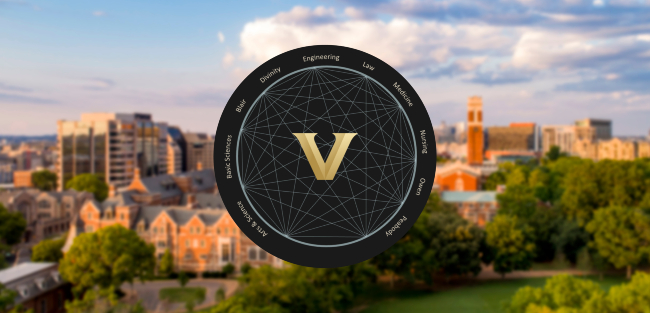 Vanderbilt's rigorous and collaborative approach to scholarship and the creation of knowledge has led to the launch of Discovery Vanderbilt to further catalyze the engagement, reach and impact of scholars' cutting-edge work across all of the university's schools and colleges. 
This initiative commits significant resources to dramatically increase faculty, student and staff success in the pursuit of bold new ideas and extend the global reach of discoveries made by researchers and innovators in all parts of the university. 
Learn how Discovery Vanderbilt will build upon the knowledge, perspectives and solutions generated by students and faculty within Vanderbilt's professional schools and colleges.  
Expanding the reach of professional education at Vanderbilt 
The expertise of Vanderbilt's faculty and the research and discovery coming out of the university reach new students and future practical experts through Vanderbilt's professional programs, further extending the university's global impact. 
Social innovation  
Vanderbilt's professional schools create environments where students and faculty can apply their knowledge and skills to real-world challenges, extending the discoveries made at the university to new markets and areas of practice. 
The

Center for Entrepreneurship

and the

Turner Family Center for Social Ventures

at the Owen Graduate School of Management encourage and facilitate collaboration among students, researchers, alumni and regional businesses to develop solutions to some of the world's most pressing problems.

 

Vanderbilt Law School's George Barrett Social Justice Fellowship carries out a one-year public interest project under the supervision of a partner nonprofit organization or public defender's office as part of the school's commitment to connect students to public interest practice opportunities during law school and beyond.

 

The

Wond'ry Innovation Consulting Program

 is a nonprofit, multidisciplinary consulting program led by Vanderbilt professional and graduate students interested in strategy, health care and management consulting. M.D., J.D., MBA and Ph.D. students provide local businesses and startups with services that include market/industry analysis, process improvement and operational strategy.

 
New partnerships to expand research 
Discovery Vanderbilt will expand on impressive research partnerships already in place, many of which are led by faculty and students in the university's professional schools. Examples of this include:  
The

MacArthur Foundation Research Network on Law and Neuroscience

is a partnership between Vanderbilt's Law School and Brain Institute, supported by the John D. and Catherine T. MacArthur Foundation, that focuses on issues at the intersection of neuroscience and criminal law. The partnership explores a range of problems, including investigating mental states of, and decision-making processes in, defendants, witnesses, jurors and judges, and the pitfalls of using large-group data to create arguments in individual cases. 

 

Vanderbilt signed a five-year partnership between the

Institute for Space and Defense Electronics

and global aerospace and defense technology company L3Harris to provide Vanderbilt professional students with opportunities to hone their space survivability design, analysis and test skills. 

 
Learn more about Discovery Vanderbilt, and watch for the next story in the Discovery Vanderbilt series.