By Jenna Somers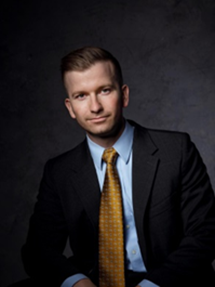 The first time Benjamin Parnell flew on an airplane, he jumped out of it. He was attending jump school at Fort Benning, Georgia, before continuing to Special Forces assessment and selection in North Carolina. Like his unconventional first flight, Parnell leapt into the rigorous Army Special Forces tryout and training process as an 18 XRAY, a civilian who joins the elite group without first serving in the regular Army.
Parnell served in the Army for 11 years, including eight years as a Special Forces communications sergeant, with deployments to Germany and Ukraine. He earned his bachelor's degree in American history from the American Military University.
The determination and confidence with which Parnell joined the Army reflects his commitment to being the best possible version of himself. Now he intends to become the best high school social studies teacher he can be, which is why, as a member of the Class of 2024, he is pursuing a master of education in secondary education in the Department of Teaching and Learning at Peabody College of education and human development. Parnell hopes to motivate his future students to also realize their full potential in high school and after they graduate.
"How to overcome failure is the greatest lesson I learned in the Army, and it's what I hope to teach my students," Parnell said. "We are all on a path to find the most excellent versions of ourselves, but you're going to fail along the way, and it's how you handle that failure that allows you to discover what makes you great instead of good—what makes you excellent instead of great. I came to Peabody to challenge myself in one of the top education colleges in the country because I want to become the best teacher I can be."
As a Special Forces Green Beret, Parnell is no stranger to teaching. For eight years he was part of a 12-man team that trained domestic and foreign battalions of 200 to 300 soldiers—although his classroom was usually the woods or a gun range. At Peabody, he has returned to conventional classrooms and engages with a diverse cohort of peers.
"The Army allowed me to see the world, but I was surrounded by like-minded soldiers who shared the same goal of accomplishing the mission. At Peabody, I'm in classes with students from all over the country and all over the world who think differently than I do," Parnell said. "My goal is to take full advantage of this opportunity that Peabody and the Bass Military Scholars program have provided and learn as much as I can from everyone."
This story is one of a three-part series on Bass Military Scholars at  Vanderbilt Peabody College of education and human development. Please continue by reading Joseph Behrendt and Timea Taylor's  stories.