Vanderbilt researchers' partnership with Ancora Innovation LLC, a Deerfield Management company that supports Vanderbilt University's innovative life science research, has added an effort to develop therapeutics for a rare form of epilepsy. This is the fourth drug discovery and development program supported through the Ancora-Vanderbilt collaboration.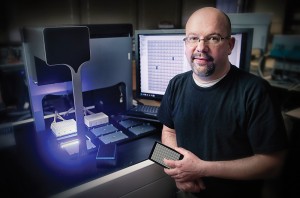 The program is aimed to address an infant-onset seizure disorder caused by mutations in a gene that affects neurotransmission in the brain and can result in abnormal electrical activity, such as seizures. These conditions are resistant to most current epilepsy treatments. Thus, new therapeutic approaches are desperately needed. 
The goal of the latest Ancora-funded research is to build on Vanderbilt research and advance this project from early development to identification of a clinically viable compound. The work, in conjunction with the Center for Technology Transfer and Commercialization, will continue to be led by C. David Weaver, associate professor of pharmacology, chemistry and associate director of the Vanderbilt Institute of Chemical Biology, and in collaboration with Eric Delpire, professor of anesthesiology and molecular biophysics at Vanderbilt University Medical Center.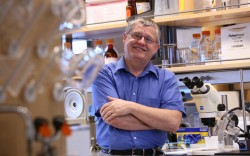 "My lab members, collaborators and I are grateful for the opportunity afforded by the Deerfield/Ancora partnership with Vanderbilt to bring to bear the resources to develop therapies for these devastating conditions," Weaver said. "We are also grateful for the past and continued support of the CTTC and university administration in helping to secure this funding."   
Vanderbilt's partnership with Ancora includes access to the Deerfield Discovery and Development team (3DC) at Deerfield who has the scientific expertise to help advance the project toward the clinic. 
"Thanks to our exceptional partners at Deerfield, its 3DC team and our leading researchers in this field are now able to turn their dedicated attention to this disease, with potential for transforming care for patients and their families," said Margaret Read, CTTC general manager for corporate alliances.  
"Vanderbilt is at the forefront of genetic research. By understanding the genetic causes of disease opens exciting new opportunities to develop drugs to treat them more effectively," said Matt Nelson, vice president, genetics and genomics, 3DC at Deerfield Management.
The Office of the Vice Provost for Research and Innovation and the Center for Technology Transfer and Commercialization continue to assist faculty interested in working with Ancora by providing advice and guidance and by sponsoring educational programming focused on drug discovery and development.  
Vanderbilt's partnership with Deerfield also benefits the university through: 
Sponsorship of women faculty to attend Women in Science Translational Symposia

 

Speakers, panelists, and funding for the VICB Annual Symposium for four years

 
Access to the Cure by Deerfield lecture series, including three Drug Discovery and Development lectures made available for the Vanderbilt community

 

Support for Appello Pharmaceuticals as an investor, corporate adviser, and domain experts for drug development through their Deerfield Drug Discovery team.

 
About Deerfield Management   
Deerfield is an investment management firm committed to advancing healthcare through investment, information and philanthropy. The Firm works across the healthcare ecosystem to connect people, capital, ideas and technology in bold, collaborative and inclusive ways. For more information, please visit www.deerfield.com.