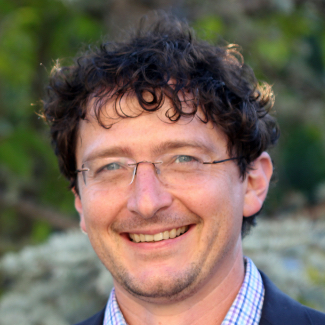 Richard Sando, assistant professor of pharmacology, has been selected to receive a 2022 Sloan Research Fellowship, one of the most competitive and prestigious awards available to early-career researchers. The fellowships, awarded annually by the Alfred P. Sloan Foundation, honor extraordinary U.S. and Canadian scientists and scholars whose creativity, innovation and research accomplishments make them stand out as the next generation of leaders in their fields.
Sando investigates the cellular and molecular mechanisms underlying synaptic circuit assembly and function in the mammalian central nervous system. "Vast numbers of diverse synaptic connections self-assemble into stereotyped circuits during mammalian brain development," Sando said. "These circuits are continuously refined and modified by our experiences and maintained throughout life. Our laboratory studies the genetic mechanisms driving synaptic circuit assembly in vivo."
His team interrogates fundamental principles of neuronal cell biology by using interdisciplinary techniques, including electrophysiology, light/super-resolution microscopy and in vivo analysis. His goal is to shed light on the mechanistic principles of mammalian brain development and function that will open new possibilities for the treatment of neurological disorders. As a 2022 fellow, Sando will receive a two-year, $75,000 award, which can be used flexibly to advance research he conducts in his lab and within the Vanderbilt Brain Institute.
"It is an honor to receive the Sloan Research Fellowship in support of these studies as we launch our laboratory at Vanderbilt University," Sando said. "This support will undoubtedly facilitate our progress toward understanding principles of how synaptic connectivity is established in the mammalian brain."
"Rick Sando's research addresses the fundamental question on how the brain's exquisite connectivity is built," said Ege Kavalali, William Stokes Professor of Experimental Therapeutics and chair of the Department of Pharmacology. "His work has provided one of the most surprising findings in developmental neurobiology in recent years by demonstrating that a class of molecules has dedicated functions in establishing specific synaptic connections in the brain. He richly deserves this award, and we are delighted to have him as a colleague."
Twenty-two faculty from Vanderbilt University, including Sando, have received Sloan Research Fellowships since the foundation began awarding them in 1955. "Today's Sloan Research Fellows represent the scientific leaders of tomorrow," said Adam F. Falk, president of the Alfred P. Sloan Foundation in a release. "As formidable young scholars, they are already shaping the research agenda within their respective fields—and their trailblazing won't end here."
"Colleges and universities with fellows on their faculty should feel incredibly proud," said Daniel L. Goroff, director of the Sloan Research Fellowship program. "These institutions vary in size, mission and other characteristics, but they are all attracting extraordinary people and then allowing them to flourish in remarkable ways."
About the Alfred P. Sloan Foundation
The Alfred P. Sloan Foundation is a not-for-profit, mission-driven grantmaking institution dedicated to improving the welfare of all through the advancement of scientific knowledge. Founded in 1934 by industrialist Alfred P. Sloan Jr., the foundation disburses approximately $80 million in grants each year in four broad areas: direct support of research in science, technology, engineering, mathematics, and economics; initiatives to increase the quality and diversity of scientific institutions and the science workforce; projects to develop or leverage technology to empower research; and efforts to enhance and deepen public engagement with science and scientists.